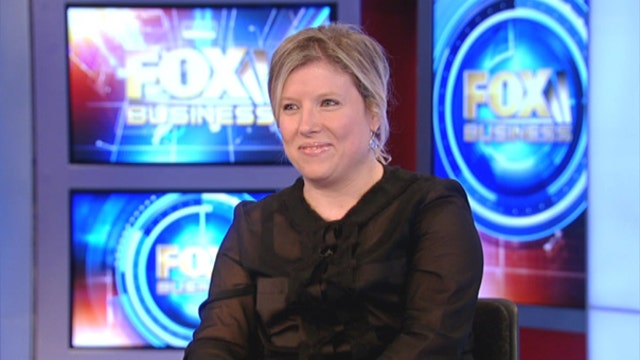 Finding your life's calling isn't always easy.
But sometimes, the instinct you have as a child can lead you to your dream job.
For Sophie LaMontagne and her sister Katherine Kallinis, their childhood dream of owning their own bakery turned out to be more than just fantasy. It became reality when they opened Georgetown Cupcake in Washington, D.C., on Valentine's Day in 2008.
But the path to success wasn't always so obvious.
LaMontagne graduated from Princeton with a degree in molecular biology, and then found herself working as a venture capitalist for four years. While she said she loved her career working with startups in the medical device and biotech fields, there was always something missing.
"Ever since I was a little girl with my sister, we always dreamed of owning a business together, specifically a bakery," she said in an interview with FOX Business. "And it's something we talked about all the time, but never quite acted on because we didn't think owning a bakery would live up to our parents' expectations."
The sisters sat on the idea of bakery ownership until 2007, when they both decided to quit their day jobs – LaMontagne in venture capital and Kallinis in fashion at Gucci – and jump head first into entrepreneurship.
"I think (entrepreneurship) is an intrinsic quality that you have inside you and it was just a matter of time before we did it," LaMontagne said. "We had a serious conversation in the summer of 2007 and said, 'Listen, if we don't do this now, we're never going to do it.'"
Now, five years later, the duo has successfully opened five cupcake shops in the U.S. spanning from New York to California. In addition to their success in the kitchen, the sisters and their cupcake shops are also the stars of the hit TLC show "DC Cupcakes."
But while their rise to fame was fast, LaMontagne said she's never lost sight of the endless nights spent with her sister in the bakery mixing and frosting hundreds of cupcakes each night, or the endless hours of sweat equity the pair and their families put into their stores before opening.
"If you're an entrepreneur, every day is troubleshooting. Every day is adapting to change and you really do have to live with a certain level of discomfort in your life, and I think that was the hardest thing for us," she said.
She added for first-time entrepreneurs angling to ditch their day jobs and launch the career of their dreams, there are more things to consider than just the idyllic scenario of being your own boss.
"When you work for a large company, all the worries and fears and problems are always dealt with by someone two and three levels above you. But when you're an entrepreneur, the buck stops with you. You have to deal with them," she said.
LaMontagne said she and her sister fell victim to the common misconception that opening your own business is a piece of cake. When she and her sister embarked on their cupcake shop dream, they underestimated just how much work they were in for.
"Everyone thought we were completely insane – our families, friends – everyone because we were giving up something (for the) unknown," LaMontagne said. "And that's a dilemma a lot of entrepreneurs face when they're making that decision. For us, it was like a do or die moment."
Still, despite all the worries and work involved in starting a business, LaMontagne's advice is simple. Forget all the worries and the what-ifs…and just go for it.
"It's one of the most rewarding decisions you can ever make," she said. "But it's going to be a lot of work so if you have a passion for something, that's fantastic. But you have to be willing to put your whole life into it. It's not just a day job, it's 24-7."