Ditch the Kennel: DogVacay Connects Your Pup With a Sitter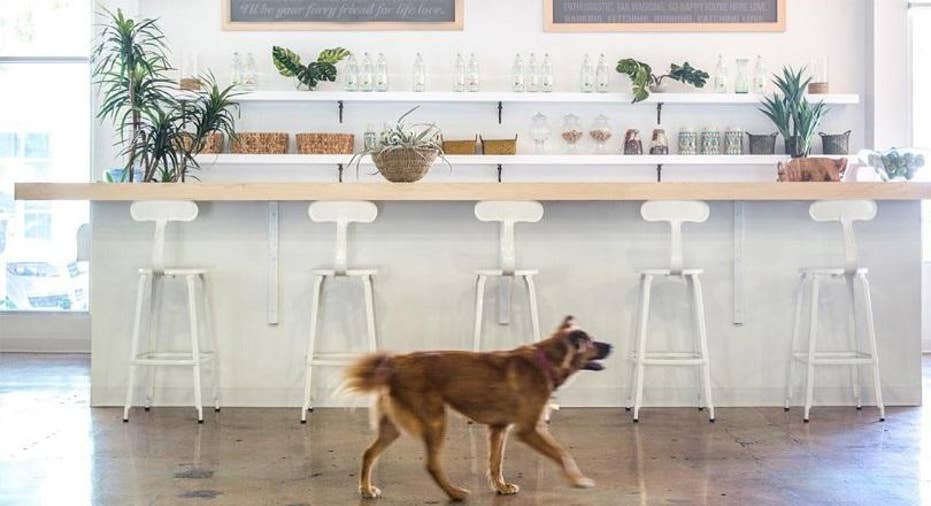 You finally booked a vacation somewhere warm and sunny. But you've exhausted the goodwill of friends and family who previously cared for your dog. You could try professional kennels, but what pooch wants to go there?
Aaron Hirschhorn and Karine Nissim Hirschhorn tried that with their goldendoodle Rocky, but he wasn't quite the same when he returned home, worrying his owners about the quality of his stay. So in 2012, they started DogVacay, which connects pet owners with reputable sitters.
On its five-year anniversary, DogVacay now has 60,000 sitters in 8,000 cities, over 100 staff, and raised $47 million in funding from investors including Benchmark Capital and Andreessen Horowitz.
During a recent visit to DogVacay's Santa Monica headquarters, most staffers unsurprisingly have a dog either napping under the desk or angling for treats in the in-office kitchen. It's the ultimate bring-your-pup-to-work sort of a place.
We sat down with CEO Aaron Hirschhorn, whose resume includes spells at Los Angeles-based venture capital firms GRP and Monitor Ventures, and tech veteran Michael Root, who recently joined as CTO after many years as Technical Director at Riot Games.
"There are many people who discover they can earn money by watching dogs at home, perhaps they're a retiree—or someone who works out of their house—and we've provided a platform to do this," Hirschhorn told PCMag. "They are experienced in looking after dogs, but prior to joining our community, they weren't necessarily professional dog walkers or sitters. It's a simple business model, sitters set their own fees, and we take a percentage."
Here's how it works: You search for a local sitter, swipe through their bio, pictures, experience, capabilities (some can administer medicine, others are more active for energetic dogs or puppies) as well as comments, caveats, and reviews. Then you book a meet and greet to see if your dog likes the sitter, their house, and most likely, any other canines in residence. DogVacay provides insurance to cover their dog sitters and 24/7 customer service at HQ for dog owners and sitters to get help, if needed.
As the number of hosts—and dogs needing vacation homes—has increased, the company has faced some growing pains, and there are a few grumbles online about the host vetting process. But DogVacay is working on this, using long-distance, video-based training and a new network of area-based mentors who will do home inspections and coach and support local sitters.
"With 60,000 sitters in 8,000 cities, we are managing a vast number of hyper-local interactions, in a very complex online to offline business, maintaining relationships that need to endure, as opposed to the one-off Uber driver encounter," Hirschhorn said. "It's also highly seasonal. For example, at Christmas, we had 30,000 dogs being watched at once. It's not a simple task."
To handle all those pets and their owners, "we needed serious firepower, which is why we brought Michael Root onboard as CTO," Hirschhorn told PCMag.
Root's hire drew attention to DogVacay as a tech startup with serious ambitions. In the last four months, he's pulled in software talent from Google as well as from his previous employer. After new staff, his first task was to shore up the back-end and make sure it's robust enough to handle demand.
"Not a lot of people have the opportunity to build tech at such huge scale, as I had with Riot Games," said Root, "And that's why I decided to come here; some of the same challenges exist at DogVacay."
It might look as if DogVacay is another smart concept enabling people to freelance and make money at home. But there's a whole other level of geeky and exciting futuristic triangulations that draw on animal identification microchips and IoT-enabled dwellings.
"When you look today, at DogVacay, to make a choice on dog sitters, you're searching on just a few data points to find a good fit," explained Root. "But, based on our amassed historical data, we'll soon be able to suggest the best host for you, based on your demographics, usage patterns, and breed of dog. We should be able to use machine learning to predict future services you might require; for example, you might need a dog walker and we know you work in the tech industry, so you'll probably be working late and need coverage for longer hours. We can set this up so it feels seamless."
In 2012, "everyone else took the same approach: fill out a profile online and let the social connectivity and reviews drive the market and let people make decisions, determine what's good and bad," Hirschhorn added. "We always knew we wanted more when it comes to caring for a family member, like your dog, to have a more sophisticated software approach to vetting and predictive analytics."
So what's next? There are privacy issues, but one scenario could link a dog owner's phone via the DogVacay app, to a remotely operated device that delivers video chats and treats. Hirschhorn and Root stress this is somewhat far out on the road map, but they are heading in an interesting direction.
"What I'm most excited about is the potential behind connected devices, which started between people, like Fitbit, and are now in dogs, in the form of microchips," explained Hirschhorn. "During a DogVacay stay, we'd like to be able to track not just your dog's activity, but their vitals and GPS—are they getting enough exercise or just slumped inside? Collate that data to give you a truly 360-degree view of your dog's health and wellness at a much higher level.
"So now imagine I've got a map of the US and Canada, and all our dogs are tracked, and we can start to rank our dog sitters, based on actual performance data. For example, this one is in the top 10 percentile if your dog needs constant exercise, and so on—that's the sort of stuff Root and I get really excited about."
So next time you need to pay for a dog sitter, you have a few options, including kennels, dog "hotels" (such things so exist, especially here in Los Angeles), and DogVacay's Airbnb-like approach. Pop your pooch on a chair and swipe right until you get a bark of approval from your furry friend.
This article originally appeared on PCMag.com.