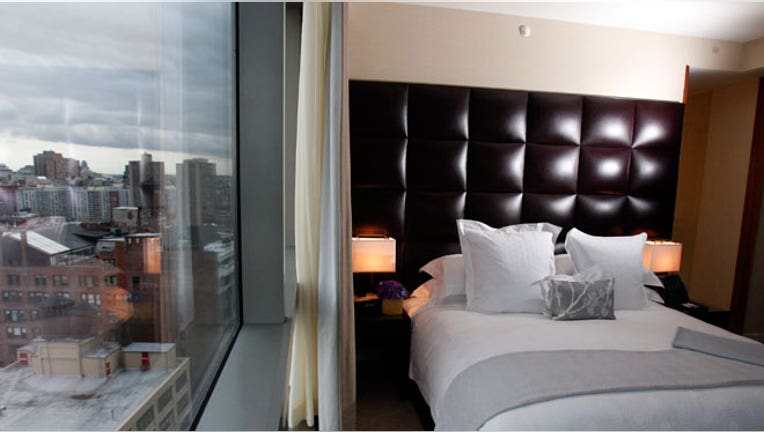 Welcome to OnSale at FOXBusiness, where we look at cool deals and insane bargains.
Book a cheap hotel room and get money back with this cool booking site. Find luxury décor for your home at a discount through this members-only online boutique. Take a shopping trip through your style guru's closet. And this new device will help you in the event of an accident.
Payback with Tingo
There's nothing worse than making a purchase then discovering weeks later it's selling for a lot less than what you paid. Hotel booking site Tingo understands this frustration, and has a way to help you take advantage of the bargain price – even after you've made your reservation. Tingo, a TripAdvisor company, automatically rebooks your hotel room at a lower price, then refunds the difference to your credit card. All you need to do is book a room with a "Money Back" symbol attached. Tingo will alert you every time the price drops so you can watch your savings grow. Find your next place to stay at Tingo.com.
Deals at Joss and Main
Give your home a makeover for less with flash sales site Joss and Main. The members-only site is free to join and offers furnishings, home accents, lighting, cookware and more for up to 70% off retail prices.
Specialized sales launch daily at 11am ET and last three days, featuring name brands and up-and-coming designers. You can also take advantage of free design inspiration tips through the site's Weekly Design Report, which discusses the latest trends and classic looks. The weekly Style Study introduces different design concepts and provides education about Art Deco, Mid-Century Modern and more. If you invite friends you get $20 if they make a purchase by March 13.Sign up at jossandmain.com.
Shop with Friends
Just in time for a little spring cleaning, social shopping site Poshmark makes it easy to share fashion inspiration with women across America.
Sort through your closet, pull out gently-used and rarely-worn items, take a photo with your iPhone (NASDAQ:AAPL) and apply it to your Poshmark page. Poshmark's Posh Parties let you list your items, browse others' closets and buy what you like. When someone decides to buy your old favorite skirt, scarf or sweater, Poshmark will send you a pre-paid, pre-addressed label. Put your sold items in a USPS box and drop it in the mail. Payments are finalized when the buyer receives the item.
Learn more at Poshmark.com.
In-Car Accident Alert
Many new vehicles on the road are equipped with accident alert systems that call for help in the event of a crash, but you don't have to buy a new car to keep your family safe. A company called Splitsecnd created a compact device that automatically detects if you've been in an accident. When the device is activated, Splitsecnd will contact you and then work with local 911 dispatchers to send help. There's also an emergency button you can activate in case of a non-impact emergency, such as a medical issue.
The splitsecnd device costs $199.95 and offers unlimited monitoring for $14.95 per month. Order yours at splitsecnd.com.