Discount Dental Plans for Oral Health Savings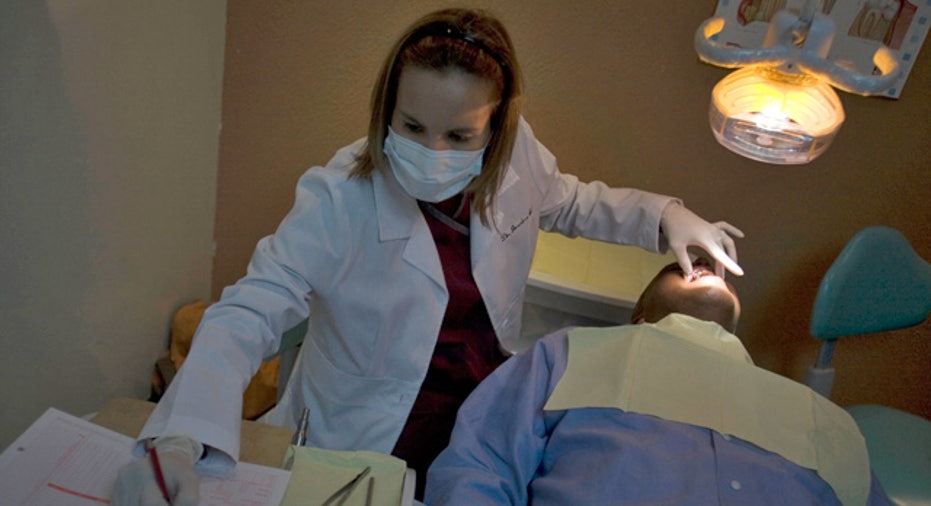 Seniors whose Medicare plans don't cover dental work, and families who have lost their dental coverage due to high costs or unemployment, still have cost-effective options for maintaining their oral health. Discount dental plans can offer seniors and families savings of between 15% and 60% on dental procedures, and can be used as a supplement to other dental plans or as a standalone.
Major insurance providers, including Aetna, Careington and CIGNA, now offer discount dental plans in addition to traditional dental insurance. And the annual payments on these plans tend to be more affordable than traditional coverage.
"Payments on discount dental insurance can be made monthly or annually, and range between an average of $79 per year for an individual and $189 per year for a family," says Kristen Reinke, vice president of marketing at DentalPlans.com. "Family plans include anyone who lives in your household."
Read More: Additional Supplements for Health Care Coverage
When participants book an appointment with a participating provider, they will receive a discount that can range from 20% to 60% off basic work or major restoration with some plans, and 15% to 50% off routine procedures, such as a regularly-scheduled cleaning. Many plans eliminate paperwork submissions to an insurer for reimbursement.
"Dentists really like these plans, too, because when someone uses a discount dental plan for service, they get paid immediately," says Reinke. "There's no extra paperwork for them to go through."
Some plans include free cleanings and x-rays every six months. Other plans offer additional benefits such as vision, hearing, or chiropractic services. And some plans come with an prescription card.
Discount dental plans can cover periodontal and orthodontic procedures. "If you or your children require braces, you can save 15% to 50% on orthodontia procedures," claims Reinke. "This makes discount dental plans extremely beneficial as a supplement for those whose traditional plans don't cover braces, and a lot of families use these plans for orthodontic work."
The plans can also be helpful to those who find themselves requiring a lot of extra dental work during the year, forcing them to reach their maximum with their traditional insurance much sooner than expected.  "Once you sign up for a discount dental plan, the activation takes one to three business days," says Reinke. "This allows you to book an appointment within 72 hours."
Read More: Concierge Health Care: Worth the Hefty Price Tag?
Discount dental plans aren't just for individuals and families. Businesses looking to provide dental coverage for their employees may also want to consider these types of plans to help control costs while providing an added savings benefit for workers.
Those who are interested in a discount dental plan can talk to their current dentist to see if they participate in a plan, or talk to an insurance broker. There are also several online resources for consumers to shop around and find the best discount dental plan for their needs. DentalPlans.com has more than 30 different plans to choose from. Dental plans and providers are searchable by zip code. NewDentalChoice.com lets you search by dental procedure, location, or dentist.  And DentalPlanProvider.com has both a Discount Dental Plan section and a Dental Insurance Alternatives section to help consumers maximize their savings.