Dimon Faces 'Whale' of a Battle to Maintain Dominance of J.P. Morgan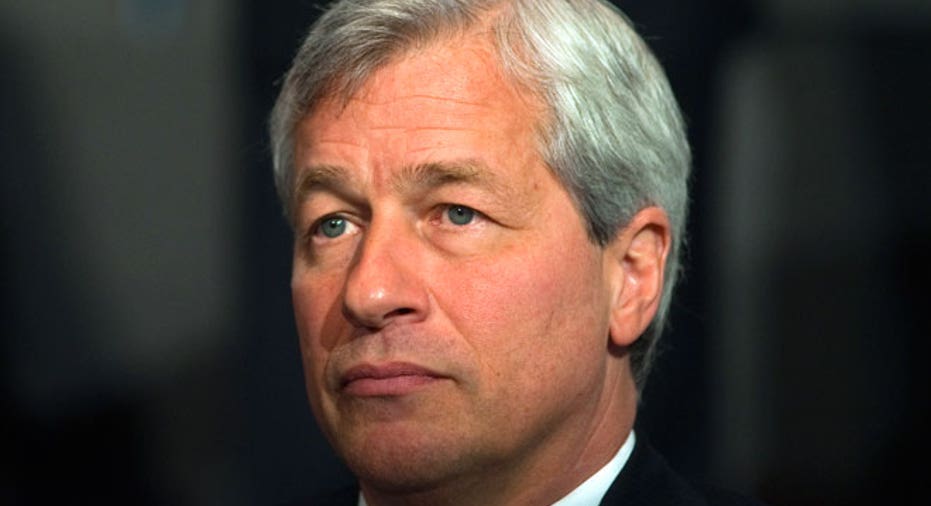 Long seen as the unofficial king of Wall Street, Jamie Dimon's grasp on power is now under unprecedented assault from those who fear he's grown too dominant.
The battle to strip Dimon of his chairman title highlights how far the CEO's stock has fallen since the days when he was seen as Washington's go-to banker, but also speaks to a broader movement aimed at enhancing corporate oversight by splitting the CEO and chairman titles.
The debate pits those who are still miffed about J.P. Morgan Chase's (NYSE:JPM) London Whale trading debacle against supporters who credit Dimon with turning the bank into the largest and most stable in the  U.S.
"We know stronger accountability is needed. But if the pendulum swings too far, then you have a board that is at odds with its CEO. They're going to have to thread the needle here," said Thomas Saporito, CEO of RHR International.
J.P. Morgan is now scrambling to persuade major shareholders to vote against a nonbinding proposal at the bank's May 21 annual meeting that would effectively cut Dimon's power by urging the board to appoint an independent chairman.
A similar proposal in 2012 received 40% of the vote, the largest amount of support since at least 2005.
And that was before the Whale wreaked havoc on J.P. Morgan's C-Suite.
Will Dimon Survive Harpoon Attack Unscathed?
Since disclosing the failed hedging strategy in May 2012, J.P. Morgan has racked up more than $6 billion in losses, reignited a long-running debate over too-big-to-fail banks and suffered an exodus of nine top executives.
"It's the big elephant in that room," said Saporito, author of Inside CEO Succession. "To his credit, he came out and said I own this. I think he did a masterful job of stepping right into the fray and not playing the denial game."
But the Whale losses still handed supporters of the split proposal crucial ammunition.
"The man who is being monitored shouldn't share the group monitoring him."
"Given the massive trading losses at the company, we believe shareholders would benefit from independent board leadership to prevent such loss of shareholder value in the future," proxy advisor Glass Lewis & Co. said in a report this week urging shareholders to approve the proposal.
Others believe the focus on the trading debacle is overblown, especially given the size of J.P. Morgan's $2.4 trillion balance sheet.
"It was a minor financial issue to the bank and has become a major political issue. If anything, it will serve as a constant motivator to not let something similar happen again," said Charles Wardell III, CEO of executive search firm Witt/Kieffer.
To Split, or Not to Split?
Ever since the financial crisis brought the U.S. economy to its knees, corporate-governance proponents have been winning the argument over splitting up CEO and chairman titles.
The thinking is that shareholders are safer if two different people hold those key positions, especially since the chairman is in charge of the board, which hires and fires key executives and approves major strategic plans.
"The man who is being monitored shouldn't share the group monitoring him,"said Charles Elson, a corporate-governance expert at the University of Delaware. "It's an excellent idea to split. Most companies are moving that way and so should J.P. Morgan."
Five years after this crisis, most major financial-services companies have moved to the dual-role structure, except J.P. Morgan, Morgan Stanley (NYSE:MS) and Goldman Sachs (NYSE:GS), which for the second year in a row made a union deal to avoid a messy public vote to strip Lloyd Blankfein of his chairman title.
"We believe vesting a single person with both executive and board leadership concentrates too much oversight in a single person," Glass Lewis said.
To support this argument, Glass Lewis pointed to a 2002 study published in the Journal of Corporate Finance that concluded: "The sensitivity of CEO turnover to firm performance is significantly lower when the CEO and chairman responsibilities are vested in the same individual."
Others are skeptical, noting that study examined companies before the implementation of Sarbanes-Oxley, which mandated public companies beef up board oversight.
"Look at Enron, look at H-P. A lot of these firms that had blowups had CEO and chairman roles that were separate. I don't think it's a guarantee that performance will improve or risk will decrease," said David Becher, a professor at Drexel University. "I'm waiting for empirical evidence."
What if Dimon Bolts?
The J.P. Morgan example is complicated by Dimon's outsized personality and impressive track record.
Before the London Whale debacle, Dimon was frequently mentioned as a possible candidate to become Treasury Secretary and was looked at as a smart risk manager. He answered calls from the government in 2008 by agreeing to acquire imploding investment bank Bear Stearns and then absorb failing Washington Mutual.
Dimon was in position to answer those calls because J.P. Morgan navigated the financial crisis far better than peers like Lehman Brothers, Citigroup (NYSE:C) and Bank of America (NYSE:BAC). Today J.P. Morgan is the largest U.S. bank by assets, raking in $6.53 billion in profits in the first quarter alone.
"He's done a superb job over a long period of time. That should be the primary consideration," said Wardell.
While the board will certainly be pressured to act if the nonbinding proposal receives anywhere near 50% of the vote, directors also need to weigh the consequences of removing Dimon's chairman title.
Even though it remains a low probability, Dimon's friends are not ruling out that he could resign from the bank if the board takes away the dual roles, sources told FOX Business's Charlie Gasparino. That would leave J.P. Morgan in a serious bind because there is no clear successor in place.
"If he said, 'Play me or trade me,' that creates a dilemma for the board. They've got a tough balancing act on their hands," said Saporito.
It's not clear how the vote next week will play out, but it seems a safe bet it will come down to the wire.
Three major investors that control more than 12% of the outstanding shares -- BlackRock (NYSE:BLK), Vanguard Group and Fidelity Investments -- have yet to be persuaded to vote against the split proposal, The Wall Street Journal reported.
Saporito predicted the board's hand will be forced and urged directors work with Dimon to select a chairman he can work with who has "real stature."
"Politically, they are going to have to do something," said Saporito.