Digital Media Darlings BuzzFeed, Vice & Vox Losing Their Luster?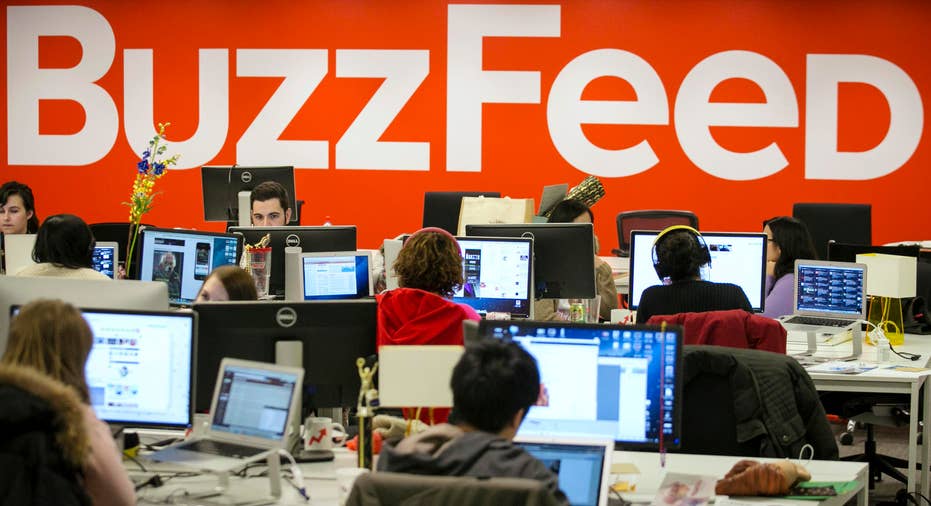 When online news upstarts Vox Media and BuzzFeed landed interviews with Barack Obama in February 2015, it was a crowning achievement. At long last, digital media had arrived, and driven another nail into the coffin for traditional publishers.
Never mind that the President had also been interviewed by Stephen Colbert, Zach Galifianakis (host of the Emmy award-winning Funny or Die web series "Between Two Ferns") and YouTube personality Glozell Green and her fluorescent green lipstick (sans bathtub, milk and Froot Loops, thankfully).
None of that mattered, at least not at the time. Venture capitalists were pumping billions into hundreds of digital media startups. Everyone was sure that software would eat the publishing world, just as surely as it was gobbling up everything else.
You could just imagine a newsroom full of starchy, bow-tied journalists getting trampled by a wild herd of millennial unicorns in hoodies. Or not.
What seemed like a hot new trend, though, is looking more and more like fleeting fashion – just another fading fad to fall out of the now rapidly deflating private equity bubble. And why should that surprise anyone? BuzzFeed is all about trending content. What better way to hype a media fad than by using a media machine? No, that's not a trick question.
Now that venture capitalists from Menlo Park to Union Square have regained their sensibilities when it comes to risk, and institutional investors have woken up to the fact that, unlike IPOs, late-stage mega-funding rounds are not liquidity events, the smart money is realizing that online publishers may have gotten out ahead of their skis.
The problem, in my opinion, is the business model. It simply doesn't work.
The vast majority of online ad dollars are being consumed by two hungry giants. Not only do Alphabet's Google (NASDAQ:GOOGL) and Facebook (NASDAQ:FB) together account for three quarters of U.S. internet advertising revenue, the pair is on a far steeper growth trajectory than the thousands of companies fighting over the ever-shrinking remainder, according to CB Insights.
It's easy to see why. Google AdWords dominates search advertising on desktop and mobile, while Facebook's programmatic and native formats are tops in display ads. For brands big and small, marketers see two choices, and neither generates content. Users and journalists may create the news, but I argue that they do not benefit much from it.
That's why BuzzFeed slashed its 2016 revenue forecast in half after falling way short of its 2015 sales target. Ev Williams just laid off a third of Medium's staff and called its business model broken. And many question whether Vice's whopping $4 billion valuation is more about CEO Shane Smith's sizzle than the site's substance.
Fred Smith, founder of Union Square Ventures and a very savvy guy, recently included in his predictions for the new year: "It will be nearly impossible to raise money for an online advertising business in 2017." Make no mistake, that's a reaction, not a cause. The cause is that the business model is neither sustainable nor scalable.
And therein lies the rub. The only real value proposition for Vice, Vox and BuzzFeed was that their format attracted the coveted millennial demographic. The question is, what happens when Gen Y finally grows up? Will Gen Z share the same fascination with, as I see it, silly content about fast food trivia and bionic sex organs?
The thing is, I'm not sure any of that matters. Since VC firms tuned out digital media startups, the latest mega-rounds for Vice, Vox and BuzzFeed were led by none other than NBC, a subsidiary of Comcast (NASDAQ:CMCSA) and Walt Disney (NYSE:DIS).
Turns out, all the traditional media giants are acquiring and investing in hundreds of online publishers to hedge their bets against the coming age of cable-cutters and over-the-top video content.
You have to laugh at the irony. If all the hype is true and the media landscape is being transformed, then why are the new leaders the same as the old ones? Or, as The Who famously sang, "Meet the new boss, same as the old boss."