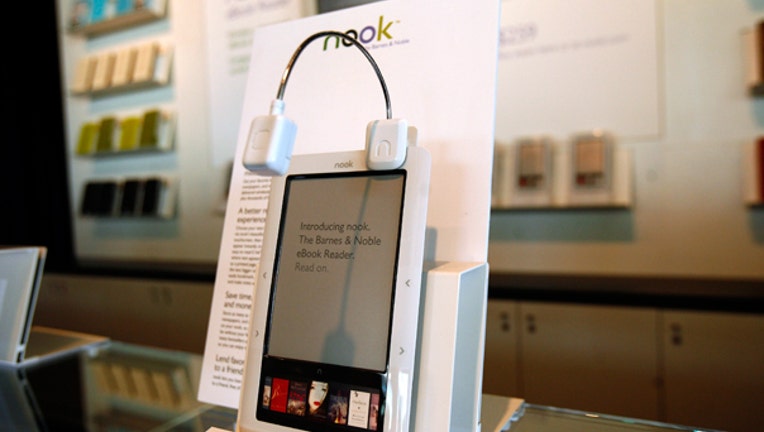 Welcome to OnSale at FOXBusiness, where we look at cool deals and insane bargains.
Barnes and Noble is offering some big deals on its tablets, and you will have plenty on your reading list with this new app. The Wii gets even more entertaining with this new feature. Chegg wants students to share their schedules and win big. And a new screen protector for iPhone promises to kiss air bubbles goodbye.
Tablet Discount
Exciting news for readers in the market for a new tablet: Barnes and Noble (NYSE:BKS) lowered the pricing on select e-reading devices. The new 8GB Nook Tablet now costs $199, down from its original $249 retail price. It features 512MB of RAM, and has a battery life that allows for nearly 12 hours of reading time – plenty for perusing a few of the 2.5 million digital books available on the device.
Want to view a few favorite videos, too? It's easy to connect to Netflix and Hulu Plus, among other streaming video and music apps. Looking for something a bit less expensive? Check out the Nook Color. It just had a price cut of $30, and will now cost you just $169. The Nook Color gives you access to the Internet, email, and video downloads via Netflix. Get yours at BarnesandNoble.com.
Must-Read List
Speaking of books, if you've ever wondered what to read next, you'll definitely want to check out this new iPhone (NASDAQ:AAPL) app. The app is based on the best-selling book 1001 Books You Must Read Before You Die, which lists numerous literary masterpieces old and new, including novels and fictional short stories.
The app lets you keep a list of must-reads, easily accessible via mobile device. Each title has a link to additional information. Download it on Feb. 29 at the app store.
Wii Hulu
Those who have a Nintendo Wii console can now keep themselves all the more entertained by instantly streaming TV shows and movies via Hulu Plus for just $7.99 per month.
The Hulu Plus application is available via the Wii Shop Channel, for free. And, for a limited time, those who get Hulu Plus for Wii can sign up for a new, two-week-free trial. See what's on at Hulu.com
Share and Win
Online textbook rental resource Chegg wants to help students find study buddies by sharing their class schedules on Facebook. The new Facebook Timeline App also lets scholars get inside information from friends who've already taken the class.
The best part about sharing with Chegg is that the first 1,000 students to do so will be entered to win a brand new iPad 2 with Wi-Fi. Runners-up in this contest will be able to add some caffeine to their cramming sessions with a $20 Starbucks (NASDAQ:SBUX) gift card. Get all the details at Chegg.com.
Screen Saver
Seeking a new protective shield for your smartphone, but find yourself prone to air bubbles whenever you try to apply it yourself? This new kit, made specifically for iPhones, promises to keep your screen scratch and bubble free. Made by Pure Gear, the PureTek Roll-On Screen Shield Kit costs $24.00, and lets you apply a 0.22-mm shield with a roller eliminating potential bubbles.
Order yours by clicking here.
Know of a killer deal or insane bargain? Email the goods to OnSale@FOXBusiness.com and share the wealth.