Diddy Donates $250,000 to Teach Future Entrepreneurs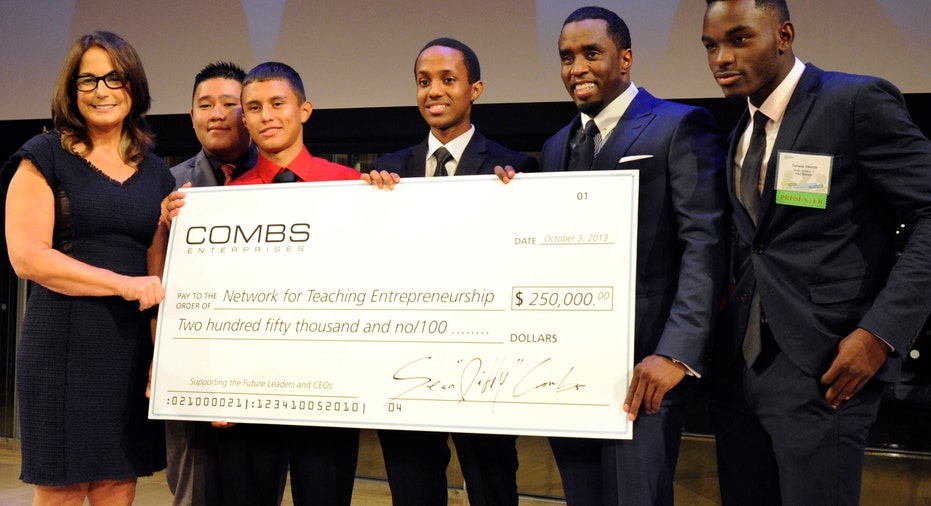 Sean 'Diddy' Combs wants to give some young students the ability to become successful entrepreneurs in their own right.
Last week, the artist formerly known as Puff Daddy announced a donation of $250,000 to the Network for Teaching Entrepreneurship (NFTE), which he's been working with for the past two years.
NFTE president and CEO Amy Rosen says the donation will be used to continue NFTE's work teaching business basics to low-income students. The 25-year-old organization has taught more than half a million students worldwide and is working with 68,000 students this year.
"We're trying to connect kids with school by making it real," says Rosen, who says NFTE will help teach entrepreneurship at as many as 100 schools in New York City this year. The organization is currently focusing on harnessing the power of technology to reach more students.
Diddy Donates Both Time and Money
Rosen says Combs' own upbringing in Harlem helps him relate to NFTE's aims.
"He was a young kid who became an entrepreneur early, so it inspires him to want to help other kids," says Rosen.
Combs presented the check publicly at NFTE's annual contest, which brings together top students from around the country for a business-plan competition. Combs, the hip-hop mogul who runs brand labels Sean John and Enyce, marketing firm Blue Flame and record label Bad Boy, also helped coach three of the finalists before they went onstage to compete.
"He is the hero of so many young people, so hearing him endorse it and validate [NFTE's] work for young and old alike is very powerful for us," says Rosen.