Deutsche Telekom Improves Terms of T-Mobile-MetroPCS Merger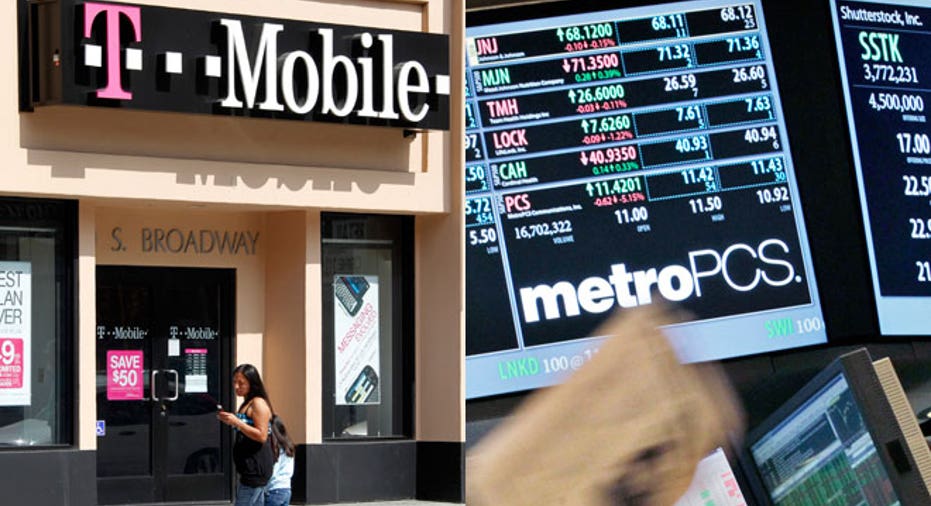 Deutsche Telekom gave in to pressure from MetroPCS shareholders and upped its bid for the wireless carrier, a move that could save a merger that was in danger of being derailed this week.
The German telecommunications giant has sought to merge its T-Mobile USA unit with MetroPCS, the fourth- and fifth-largest U.S. carriers, respectively. But Deutsche Telekom faced the possibility that MetroPCS shareholders would strike down the deal at a meeting on Friday, following calls from major investors and proxy advisory firms to vote no.
Deutsche Telekom said late Wednesday it submitted its "best and final offer," winning the initial support of at least two major MetroPCS shareholders.
The revised terms address some common concerns raised by shareholders. The amount of debt that will be transferred to the combined company was narrowed by $3.8 billion, while the interest rate on that debt was cut by half a percentage point.
Under the previous offer, the new company was set to have almost $19 billion in net debt.
Deutsche Telekom, which previously attempted to sell T-Mobile to AT&T (NYSE:T), also agreed to hold onto its shares in the new company for at least 18 months.
The rest of the deal is unchanged from Deutsche Telekom's original offer, which gives MetroPCS shareholders $4 a share in cash and a 26% stake in the new wireless carrier. Although decreasing the amount of debt raises the value of that equity stake, shareholders such as P. Schoenfeld Asset Management have said they are not getting a large enough stake.
"This improved offer underlines Deutsche Telekom's commitment to establishing a new, stronger competitor in the U.S. mobile communications market that will offer customers a greater selection of attractively priced products and services on a best-in-class wireless network," Deutsche Telekom said in a statement.
After Deutsche Telekom sweetened its bid, MetroPCS delayed its shareholder meeting to April 24.
While the final tally was set for Friday, The Wall Street Journal reported that Deutsche Telekom was keeping tabs on early votes that indicated the merger was in danger of losing.
The revised offer comes after weeks of mounting criticism of the proposed merger. Major proxy advisers Institutional Shareholder Services and Glass Lewis urged shareholders to vote against it, backing calls from shareholders such as Paulson & Co. and PSAM.
Analysts said the merger should now clear a shareholder vote.
"This is a much better transaction for PCS," Oppenheimer wrote in a note to clients.
Macquarie also told clients the revised deal is a good one for MetroPCS, which it called "the most compelling name in our coverage universe."
"The downside scenarios of the initial deal closing or DT walking are gone. We view NewCo as extraordinary value with tons of strategic optionality and would begin to build a [long-term] position ahead of the closing," the firm added in its research note.
Paulson, which owns 9.9% of MetroPCS shares, announced on Thursday afternoon it intends to vote for the improved offer, although it will review the revised proxy statement before making a final decision.
PSAM also indicated it is now in support of the merger.
"While the revised transaction terms do not reflect all the improvements we were seeking, we feel our central goal of making the combined PCS/T-Mobile company more competitive and valuable for all shareholders, including Deutsche Telekom, resulted in obtaining superior value for PCS shareholders and believe that these revised terms are the best available alternative for PCS shareholders at this time," PSAM said in a statement.
Shares of MetroPCS were down 4 cents at $11.52 late Thursday morning.