Deutsche Bank Won't Raise Capital to Meet Regulations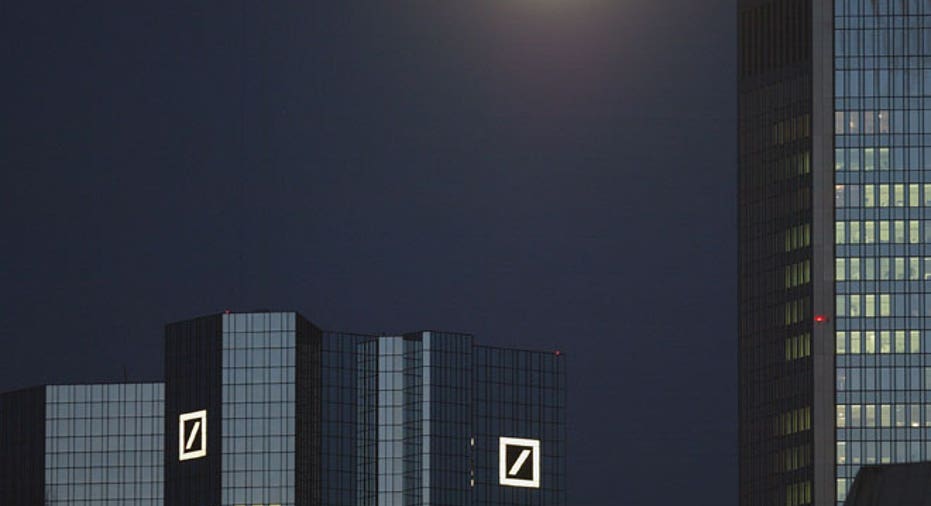 Deutsche Bank (NYSE:DB) relieved shareholders on Tuesday by saying it plans to meet capital requirements through cost-cutting moves aimed at saving 4.5 billion euros a year, not via a dilutive stock sale.
U.S.-listed shares of the German banking giant rallied 4% on the news.
Deutsche Bank said it is aiming to achieve a Basel 3 Core Tier 1 capital ratio of at least 8% as of March 31, 2013 and more than 10% two years later.
To meet this goal, Deutsche Bank said it will improve its cost-income ratio to less than 65% through a restructuring effort generating 4.5 billion euros of annual savings by 2015. The restructuring will result in a one-time charge of 4 billion euros.
The bank said the cost-cutting moves will lead to lower bonuses as well as more job losses than the previously-announced plans to cut 1,900 positions.
Deutsche Bank also said it is targeting 45 billion euros in asset sales and aims to move 125 billion euros in risky assets to a non-core unit.
"The medium-term economic and regulatory outlook is challenging, hence we need to significantly improve our operating performance and efficiency," co-CEOs Anshu Jain and Juergen Fitschen said in a statement.
The executives said the bank plans to create an external panel for compensation review and that the recommendations will impact 2012 year-end pay.
Deutsche Bank also signaled a shift in its profit focus, aiming to boost loan volume by at least 10 billion euros by 2015 by zeroing in on the Americas, Asia-Pacific and especially Germany.
Frankfurt-based Deutsche Bank saw its shares jump 4.21% to $41.88 Tuesday morning, leaving them up about 10% on the year.