Despite the Volatility, NFL Still a Strong Buy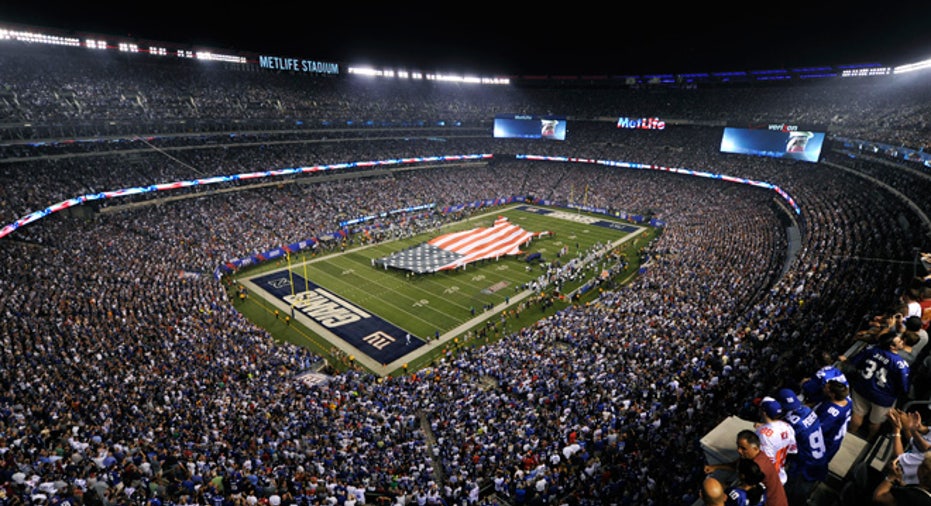 The National Football League's stock -- its reputation -- may have seen more volatility than U.S. stock markets in recent weeks.
For their part, sports business executives are sounding like seasoned stock investors who remain bullish on the league and say the NFL's underlying fundamentals remain strong.
"Everybody complains about the NFL, but until ratings are impacted and sponsors won't sponsor the games, nothing will change in terms of asset value. It's just not," asserts a source close to the league, who didn't want to be identified, adding, "NFL teams consistently make money, it's great media content, and the Super Bowl's a national holiday."
The league suffered a huge public relations hit after a shocking sequence of events to start the season: the TMZ video that changed everything in the Ray Rice domestic violence case, the NFL Commissioner's denial of seeing that clip and his admitted mishandling of the Rice investigation, a chorus of calls for the commissioner to resign or be fired, plus a growing rap sheet of domestic and/or child abuse charges against several players including 2012 MVP Adrian Peterson.
All of this comes just as the NFL's popularity, like major stock averages, reached record territory ahead of this season's September 4 kickoff.  The league posted near record ratings last season with sponsorship and TV revenue raking in more than $9 billion. NFL Commissioner Roger Goodell has ambitiously stated his goal of tripling that figure to $25 billion in revenue by 2027.
But just as chart watchers keep an eye on shifting sentiment for public company shares, football watchers monitor the pendulum of support for the nation's most popular sport.
"There are some cracks showing," notes Professor Robert Boland, a former sports agent who teaches sports management at New York University.  He asks the prudent questions an investor might when looking at a corporate balance sheet.  "Are the existential cracks to the core? Or can they be patched up?"
The evidence so far shows nothing more than a surface scratch.  Despite the off-the-field troubles, so far the league's grip remains tight on two key constituencies: fans and sponsors.
Ratings for the first few weeks have remained near record levels and so far few high-profile advertisers have backed away from the league.
"The story really is that sponsors and fans are not backing off," says Robert Tuchman, CEO of Goviva which sells high-end "bucket list" sports packages.  "It's really incredible, but the NFL brand is literally bullet proof."
Tuchman says there's been no drop in demand for his corporate clients booking NFL games. And if companies did drop Super Bowl suites, Tuchman says there are plenty of buyers waiting in the wings to snap them up.
Marketers Long NFL Futures
The NFL is clearly still a buy for any company looking to sell almost anything to Americans.  As marketers told Fox Business, there's nowhere else in this country to capture 100 million eyeballs watching TV at the same time.
NYU's Boland says bluntly, "Anyone who is an NFL sponsor is reluctant to jump off the bus. You didn't choose it because you love football. After concussions and the (2011) lockout you know the risks.
"(The NFL) is the best platform for exposure. If you're a beer company, an insurance company, or a soft drink maker you want to be on this platform.  In your heart of hearts, you know if you jump off the bus, one of your competitors is jumping on as an official sponsor, because they probably got locked out."
It's also a sign of the NFL's power, prestige and long memory that half a dozen prominent sports business executives that work with the league or its partners either refused to comment or go on the record for this story; they don't want to get locked out, either.
One source who didn't want to be identified and is close to national NFL sponsors, says, "Brands are dealing with (the abuse cases) to their tolerance levels.  None are minimizing it, [but] no brand is going to walk away from (the vast NFL audience) unless they have to."
Leveraged Ad Buyout?
Sponsors including Anheuser-Busch InBev (NYSE:BUD), Pepsi (NYSE:PEP), and Visa (NYSE:V) have voiced their concerns over the abuse cases, but no national sponsor has cut ties with the NFL. Radisson Hotels did suspend its sponsorship of the Vikings after the child abuse charges were filed against Minnesota's Peterson.
Still it seems unlikely that brands will finally have leverage to get better terms sponsoring the NFL, especially since most are locked into long-term deals.
People close to NFL sponsors say the NFL has been slightly more flexible with partners in recent weeks, which may seem like a "give" compared to the league's normal rigidity, but by no means is there total flexibility.
Earlier this week, NFL Senior VP of Sponsorships & Partnership Marketing Renie Anderson told a panel at the CSE Sports Marketing Symposium that there has been "no measurable impact"  on league sponsorships from the abuse cases, according to a report in SportsBusiness Daily.
Procter & Gamble's (NYSE:PG) Crest toothpaste is the only national sponsor to back away from the NFL, pulling out of an on-field promotion tied to the league's long-standing Breast Cancer Awareness campaign this month.
Observers say they are keeping a close eye on other female-friendly brands. These companies may be more apt to drop the NFL if the league's move to hire four women as advisers to help on domestic violence policies doesn't improve the situation.
"Brands are prepared to walk away if these initiatives don't pan out or there's more to the story," says an NFL marketing source. "Brands are even more sensitive to issues that matter to a great number of their consumers given the age of social media and the ability for the consumers' voice to be heard so easily and directly."
Likewise, the NFL is loath to lose the female fans it has worked hard to cultivate.  "Long-term, will this (domestic abuse issue) erode the fanbase? Forty-three percent of (NFL) fans are women.  They can't ignore that," says one sports business executive, adding, "At a point, sponsors may become reluctant to be associated with the league."
It's too early to call whether the spate of abuse cases has hurt the marketability of most NFL stars. "Now isn't the time to evaluate brands, sponsorship and athletes. It's next year when planning for next season," notes one talent representative, who also spoke under the condition of anonymity.
The exec added that Tiger Woods' fall from grace basically ended the era of buy and hold athlete endorsers.  "The number of deals didn't go down, but it was a changing of the guard where brands still did deals, but terms were shorter.  The brands didn't want to risk a long-term investment."
In other words, brands became more risk averse. But David Meltzer, CEO of Sports 1 Marketing says, "Unlike our stock market, which will probably continue to fall as it's overvalued, there is this undeniable emotional attachment to football which will carry over to its technological advantage—it's the last reality TV that can't be recorded."
So unless fans suddenly lose their appetite for the game, Meltzer, who recently wrote a book, "Connected to Goodness", about the morality of business and life, sees clearer player punishment policies in place soon and new highs ahead for the league.
"If you could imagine, the NFL is like Apple, but the difference is there are no competitors and there will be no competitors," posits Meltzer, adding, "The market may go down but you just have no competition.  Their stronghold is unique.  It's like being Apple, but there's no Samsung, no competition."