Despite Apple Watch's lead, Samsung, others seek piece of nascent smartwatch market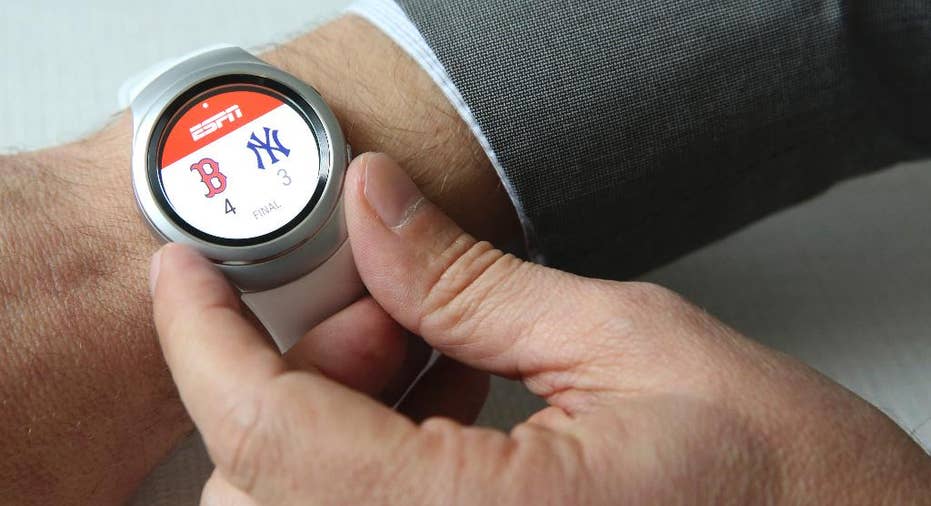 Samsung and other tech companies showcased new computerized wristwatches this week — all aimed at challenging Apple, a relative newcomer to selling smartwatches.
Apple Watch was the leading smartwatch in the second quarter, with an estimated 4 million shipped worldwide, for a market share of more than 75 percent, according to Strategy Analytics. Samsung was a distant second with 400,000 shipped and a 7.5 percent market share.
However, the market is still nascent, and Apple Watch isn't an option for people who use Android smartphones.
Samsung's Gear S2 will work on Android — and for the first time, not just Samsung's Android phones. Meanwhile, watches running Google's Android Wear software will now work with Apple's iPhones.
Here's a look at how the watches compare and how the marketplace is shaping up in light of this week's developments at the IFA tech show in Berlin.
___
SAMSUNG
Although Samsung has been making smartwatches for about two years, its previous models have felt like miniature phones. Apps are presented on the rectangular screen the way they are on phones. You swipe on the screen to flip through pages of apps.
The Gear S2's interface is more fitting for a watch. The S2 has a circular frame that can be rotated to scroll through notifications and apps, so your fingers won't tire out from endless swiping. The watch itself is also smaller — roughly the size of the larger version of Apple Watch. The original Gear S felt huge around wrists.
Samsung says about 1,000 apps should be available when the S2 launches. That's promising, though less than Apple Watch's 8,500 and Android Wear's 4,000. So far, many leading app developers have focused on Apple Watch and Android Wear instead, as Samsung watches use a little-known system called Tizen. Samsung is letting app developers customize watch faces, so you can see baseball scores from ESPN or the latest posts from Twitter.
Availability: early October in the U.S., with prices to be announced. Later, Samsung will have a version with 3G cellular capabilities, which will let the watch do more without a companion phone nearby.
Requirements: In a surprise move, Samsung is making the S2 work with a range of Android smartphones, though some features, such as setting alarms, might not work with all phones.
___
GOOGLE
Several manufacturers (but not Samsung or Apple) are making smartwatches based on Android Wear. Manufacturers can focus on designing the hardware, while letting Google worry about the functionality.
Consumers get choice, without compromising on app selection, as developers can write apps just once for multiple devices.
Among the choices:
— Motorola's latest Moto 360 watches come in three lines — men's, women's and a premium "Sport" version for fitness enthusiasts. Sport will have GPS built-in, along with a screen that can adapt to bright sunlight, with high-contrast text and graphics for better visibility in glare. Mix and match sizes, bands and bodies for $300 to $430. The men's and women's watches will come out in late September. Prices and release plans for the Sport version will come later.
— Huawei Watch will have luxury versions, with bodies plated with rose gold, for $699 or $799. The bodies won't be entirely made of gold, as Apple Watch's Edition models are. But those go for $10,000 to $17,000. The Huawei Watch and the Apple Watch both start at $349.
— On the flip side, Asus's new ZenWatch 2 will be notable for its price — starting at 149 euros ($167) when it comes out in October.
Requirements: Though these will now work with an iPhone, you get more functionality with Android.
___
APPLE
Despite its late start, Apple Watch has been the one to beat in terms of design, functionality and app selection. Its 18 hours of battery life is still short of what others promise, though. The new Gear S2, for instance, promises two to three days on a single charge.
Some of the Apple Watch's limitations will be addressed with a free software update this fall. With that, it will be possible for outside companies to write games and other apps that won't need a phone nearby. Apps will also be able to interact directly with sensors on Apple Watch — permitting apps that analyze golf swings, for instance.
Requirements: You need an iPhone.