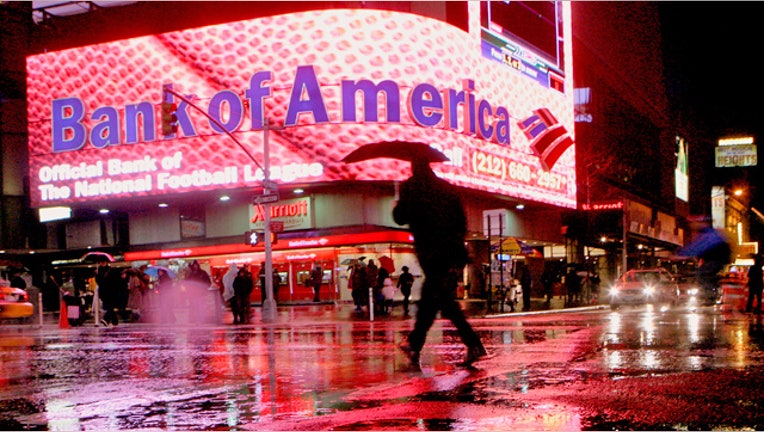 Profits at Bank of America (NYSE:BAC) tumbled by 68% last quarter due to a $4.8 billion accounting charge, but the rehabilitating banking giant's adjusted results soared beyond Wall Street's expectations.
Shares of the Charlotte-based lender jumped as much as 6% in the wake of the generally upbeat results.
BofA said it earned $653 million, or 3 cents a share, last quarter, compared with a profit of $2.05 billion, or 17 cents a share, a year earlier.
Excluding the $4.8 billion charge related to fluctuations in the company's debt, it earned 31 cents a share, blowing past the Street's view of 12 cents.
BofA said its total revenue slumped 17% to $22.28 billion, or slid 2.8% to $27.26 billion minus the accounting charge. Analysts had been calling for revenue of $22.51 billion.
"With the economy steadily improving and because of the work we have done to strengthen and simplify our company, we saw improved profitability in all of our businesses this quarter compared to the fourth quarter of last year," CEO Brian Moynihan said in a statement.
After struggling as the financial sector's problem child last year, BofA has enjoyed a strong 2012 amid increased confidence about the company's financial health and the economy. BofA's shares have soared more than 60% so far this year, helping to lead the financial sector's impressive rally.
Shares of BofA were recently up 3.08% to $9.20, but earlier they had been more than 6% higher earlier.
BofA had to take an accounting charge of $4.8 billion, or 28 cents per share, due to narrowing of the company's credit spreads, an improvement in its perceived financial healthy.
"The narrowing of our credit spreads reflects the significant progress we've made to strengthen the balance sheet," said Bruce Thompson, the company's chief financial officer.
Specifically, BofA said its global excess liquidity increased to a record $406 billion from $386 billion the year before and its Tier 1 common equity rose by 2.14 percentage points sequentially to 10.78%.
In a further sign of improving credit conditions, BofA said its provisions for credit losses tumbled to $2.42 billion, the lowest level since the third quarter of 2007. That marks a steep drop from $3.81 billion the year before and $2.93 billion at the end of the fourth quarter.
Net charge-offs slid to $4.06 billion from $6.03 billion in the prior-year period and the charge-off ratio dropped to 1.8% from 2.6%.