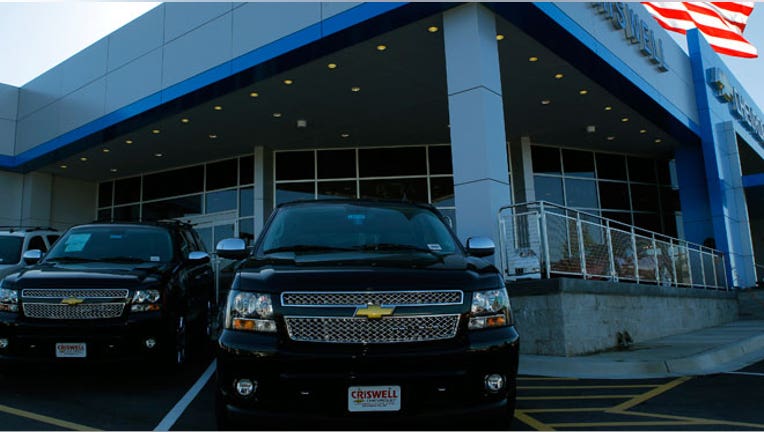 Automakers continued to widely report higher monthly sales thanks to demand for pickup trucks and passenger cars, with August new-vehicle sales reaching highs not seen by some manufacturers since 2007.
Auto sales in the U.S. have been on a tear, largely due to consumer and industry demand for pickups. Increased activity in home building and the energy sector has proven to be a boon for truck sales, while consumers have become increasingly enamored with new car and truck offerings from Detroit's Big Three in particular.
Research firm Autodata said light vehicles hit an annual sales pace of 16.1 million units in August, the highest annualized rate since October 2007. Kelley Blue Book was anticipating just 15.6 million. In July, weaker-than-expected sales led to an annual pace of 15.8 million vehicles.
General Motors Leads Pack in August 
General Motors (NYSE:GM) saw broad demand and outpaced its rivals with 275,847 total vehicles sold in August, a 15% jump over last year and the best month for the company since September 2008.
Car website Edmunds.com estimated just an 11% increase in total sales for GM.
Every GM brand saw a double-digit increase in sales, led by its two luxury brands. Cadillac's total sales were up 38% to log its best August since 1989. Fellow luxury brand Buick rose 37%. Chevrolet sales climbed 10% and GMC was up 14%.
Karl Brauer, a senior analyst at Kelley Blue Book, said Cadillac's rebuilding efforts have come to fruition. The brand's revival began with the success of its Escalade large sport-utility vehicle but was stalled by the economic downturn. After a decade of rebuilding, Cadillac is now benefiting from strong sales of its CTS sedan, compact ATS and other luxury vehicles.
And based on Kelley Blue Book data, there is a wider "increased appetite for luxury vehicles," Brauer added.
Full-size pickup sales, which include the redesigned Chevrolet Silverado and GMC Sierra, were up 15%. Sales of SUVs outpaced trucks with 29% growth.
Car sales also picked up, rising 8% as the Chevrolet Impala, which was rated by Consumer Reports as one of the best cars it ever tested, leapt 76%. GM said the Impala increased its retail share of the large car segment by about three percentage points, according to J.D. Power.
August had 28 selling days, one more than in 2012.
"The second half of 2013 is off to a very solid start for GM and our model-year change over and new product launches are going smoothly," Kurt McNeil, GM's vice president of U.S. sales operations, said in a statement.
McNeil added that GM, the largest U.S. automaker, has built "a lot of momentum" and has a positive outlook for the direction of the U.S. economy. The company is also preparing for the launch of several new vehicles, including a redesigned Cadillac CTS and the new Chevrolet Corvette Stingray.
GM shares jumped 4.5% to $35.66 in late afternoon trading Wednesday.
Chrysler Logs Best August in Six Years
For Chrysler, it was the best August in six years. The company's sales last month climbed 12% amid strong performances from its Dodge and Ram Truck brands.
Chrysler beat an estimate from Edmunds, which anticipated a 9% increase in August sales.
The automaker sold 165,552 vehicles last month, up from 148,472 a year earlier and an 18% improvement over July's total.
Truck sales jumped 12% year-over-year, while car sales also posted strong growth at 11%.
Sales at Chrysler's namesake brand were up 2%, while the Dodge brand climbed 12% and Jeep rose 8%. Ram Truck saw its sales leap 29%.
Chrysler wrapped up the month with a 62-day supply of inventory.
"All aspects of our business continue to improve as evidenced by our streak of 41-consecutive months of year-over-year sales gains," Reid Bigland, Chrysler's head of U.S. sales, said in a statement.
In late July, the company said its second-quarter profit improved 16%, citing better sales of pickups and sport-utility vehicles. Chrysler's strong quarter boosted Italian parent company Fiat, which has become fairly reliant on the U.S. car maker.
Ford's August Showing Best Since '06 
Rival Ford (NYSE:F) matched Chrysler's sales growth at 12%, logging its best August since 2006. Edmunds anticipated a 9.4% increase.
Ford's car and truck sales each recorded 18% growth, while SUV sales remained roughly level. U.S. retail sales, which exclude vehicles purchased by fleets, soared 20%.
The Ford brand accounted for 213,078 vehicles sold in August, up 13%. Sales of Ford's Lincoln luxury vehicles edged up 0.6% to 8,192.
F-series truck sales topped 70,000 units for the second time this year, jumping 22% year-over-year, Ford said.
The continued success of pickup trucks for Ford and its rivals will depend on the strength of the housing market, which is closely tied to interest rates, Brauer explained. Sales peaked in May when there were signs that interest rates were close to an upward swing.
Brauer expects demand for trucks will likely remain strong and plateau at a high level in the next six months.
"I think like the auto industry, there's some pent-up demand in housing. My sense is we'll continue to see strong sales," he said, adding that significant growth rates seen in the first half of this year are unlikely to be repeated during the remainder of 2013.
Ford also noted that its Fusion car line had its best-ever August with 24,653 vehicles sold, citing strength in the western region of the country where retail sales are up a whopping 63%. Ford recently started to make the Fusion in the U.S. at an assembly plant in Flat Rock, Mich.
Overall sales of small cars, which include the Fiesta, Focus and C-Max hybrids, rose 30% with combined sales of 30,148.
"Small cars and hybrids continue to outpace the market in the coastal regions of the U.S., with Ford brand retail small car sales growing at more than three times the rate of the U.S. small car industry," said Ken Czubay, Ford's vice president of U.S. marketing, sales and service.
Ford shares rose 3.7% to $16.95 after the report.
Toyota Back in Business
Japanese manufacturer Toyota (NYSE:TM) managed to accelerate ahead of Ford in total sales, beating expectations with 231,537 vehicles sold.
The result was 18% above last year's August total and reflects Toyota's best month in more than five years. Toyota also beat an estimate of 16% growth from Edmunds.
Sales at Toyota's namesake brand rose 18.4%, while Lexus posted equally strong growth of 18.5%. Total Lexus sales hit 29,792 vehicles.
The Tacoma mid-size pickup truck was in high demand, with sales up 25%. Several automakers, including GM and Ford, have been absent from the segment. GM is eyeing a 2014 return for its mid-size pickups, the Chevrolet Colorado and GMC Canyon.
Sales of the Camry sedan jumped 17.4% to 44,713 vehicles. The larger Avalon posted its sixth-consecutive month of triple-digit growth, climbing 241% to 6,241.
Toyota's August sales serve as one of the strongest signs to date that Toyota has turned the corner after recalls related to sudden acceleration and the tsunami in Japan that crippled production.
"It seems like their past challenges are overcome," Brauer said. "What I think is most important is the market is stronger. GM, Ford and Chrysler didn't have as strong a lineup the last time Toyota saw these kinds of sales numbers. For those brands to be selling as well as they are, and for Toyota to be selling as well as it is, the results show that no one brand is dominating this recovery."
Shares of Toyota were up 1.4% at $126.07 in recent trading.
Honda Outpaces Rivals
Honda (NYSE:HMC) checked in just ahead of Chrysler, logging 27% sales growth to 166,432 vehicles due to strong demand for its Accord and Civic cars. Edmunds was looking for a 19% jump.
Car sales were up 26%, slightly outpaced by the 27% growth in truck sales. Honda division sales led the way with a 29% jump. The company's Acura luxury brand saw a 9% increase in sales.
Honda's Accord sedan rose 11%, and the smaller Civic soared 58%. CR-V sales set a record by leaping 45% last month. Sales of the Pilot were up 40%.
Honda was trading 1.6% higher at $37.09.
Fellow Japanese car maker Subaru reported its best month in the U.S. in company history with 41,061 vehicles sold.