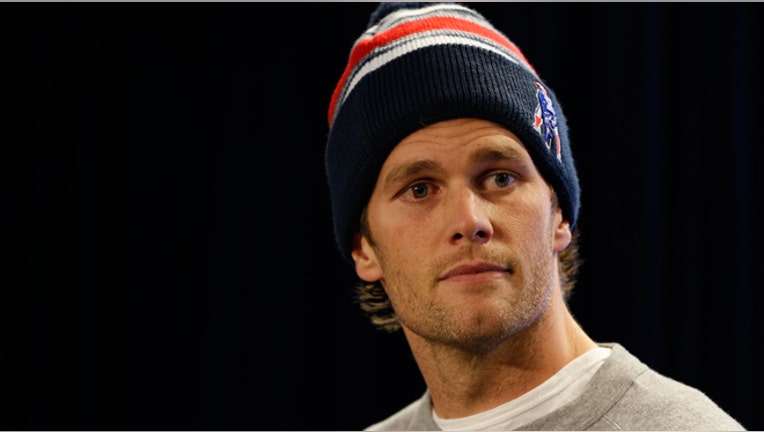 The National Football League levied one of its harshest-ever penalties on the New England Patriots and their star quarterback Tom Brady. But the repercussions from "Deflategate" may not end there.
Following last week's release of a report by attorney Ted Wells, the NFL suspended Brady for the first four games of the 2015 season for his role in deflating footballs used during the AFC Championship. The Patriots were hit with a $1 million fine and lost two draft picks.
The league also announced indefinite suspensions for two Patriots employees, who have been accused of secretly letting air out of game balls. Lighter footballs are easier for quarterbacks to grip.
"Each player, no matter how accomplished and otherwise respected, has an obligation to comply with the rules and must be held accountable for his actions when those rules are violated and the public's confidence in the game is called into question," said Troy Vincent, executive vice president of football operations for the NFL.
Don Yee, Brady's agent, called the suspension "ridiculous" and said the Super Bowl MVP will appeal.
The controversy over deflated footballs places a rare blemish on Brady's career. The ten-time Pro Bowl quarterback has won four Super Bowl titles, six AFC championships and two NFL MVP awards, while his reputation off the field has shined at a time when the NFL has dealt with a string of behavioral issues.
Brady will go down as one of the greatest quarterbacks to ever play the game. A Hall of Fame induction is certainly in his future. At present, there's some work to do if Brady wants to maintain his status as a star in the board room.
Kevin Adler, president and founder of Chicago-based Engage Marketing, said he "wouldn't be surprised at all" if Brady loses sponsorships as a result of the Deflategate fallout, adding that a multiple-game suspension sends a clear message.
"On a local level, I think the Patriots are Teflon. On a national level, Tom Brady is not Teflon," Adler said.
Brady has endorsement deals with shoemaker UGG, owned by Deckers Outdoor (NYSE:DECK), and apparel company Under Armour (NYSE:UA). Forbes estimates that Brady made $7 million through sponsorships in 2014, plus roughly $31 million in salary and winnings.
The Investigation
The Wells report, despite its own admission that investigators lacked evidence directly linking Brady to the Deflategate scheme, cast doubt that Brady was in the dark. It was "more probable than not that Brady was at least generally aware" of the actions by two Patriots staffers, investigators wrote.
On Monday, Vincent said the evidence presented in the Wells report suggested the Patriots also played with flattened footballs during past games.
The Patriots and Indianapolis Colts met in last season's AFC title game with a trip to Super Bowl XLIX on the line. Following an interception by the Colts, team personnel measured the football and notified referees that they believed New England was using underinflated footballs.
Game officials inspected the footballs at halftime. According to the Wells report, all 11 of New England's game balls were inflated below 12.5 pounds per square inch.
NFL rules require that game balls must be inflated between 12.5 and 13.5 psi. Four Colts balls from the AFC Championship measured within the permitted range.
Deflategate kicked off shortly after the game, when reports first surfaced that the NFL was investigating whether the Patriots used underinflated footballs.
The Wells report confirmed reports that a Patriots equipment staffer--revealed to be Jim McNally, the officials locker room attendant at Gillette Stadium--made a pit stop with the game balls in tow.
Using camera footage and witness interviews, investigators found that McNally removed the footballs from the officials' locker room against protocol. On his way to the field, McNally entered a bathroom with two large bags containing footballs for both teams.
'Teflon Tom'
This isn't the Patriots' first rodeo.
In 2007, New England and head coach Bill Belichick were caught videotaping New York Jets coaches as they used hand signals to communicate with players on the field. "Spygate" cost Belichick and the team a combined $750,000 fine, along with a first-round draft pick.
If there's a silver lining this time around for the Patriots and their public image, the fallout from Spygate was relatively short-lived.
"Patriots fans are not going to turn their backs on the team," Adler said. "The impact on Brady is more tangible should more evidence come out."
Investigators acknowledged they had "less direct evidence linking Brady to tampering activities than either McNally" or John Jastremski, an equipment assistant for the Patriots. Text messages between the two Patriots employees offered an inside look at Deflategate.
McNally and Jastremski discussed Brady's displeasure with the game balls used during a game against the New York Jets in October. The Wells report said Brady "complained angrily" about how the footballs were inflated.
"Remember to put a couple sweet pigskins ready for Tom to sign," McNally wrote to Jastremski. In response, Jastremski said McNally would have a "big autograph day."
The next game was a playoff contest with the Baltimore Ravens on Jan. 10. Shortly before kickoff, Jastremski and Brady presented McNally with two autographed footballs. McNally, who referred to himself in text messages as "the deflator," also had Brady sign a game-worn jersey.
Brady participated in an interview, but investigators said he declined to provide documents or records of electronic communication.
"Right now, there is a cloud of suspicion. I think he can survive that," Adler said of Brady's alleged involvement.
Brady has three days to appeal his suspension. Some NFL analysts already foresee a lesser penalty on the horizon, suggesting Brady's suspension could be reduced to two games. Still, as long as Brady remains benched for the start of the season, companies are more likely to keep their distance until the dust settles.
What if clear-cut proof emerges? That changes the equation, Adler believes. "He would still go down as one of the great quarterbacks. But for brand relationships and earnings potential, it would have a trickle effect."