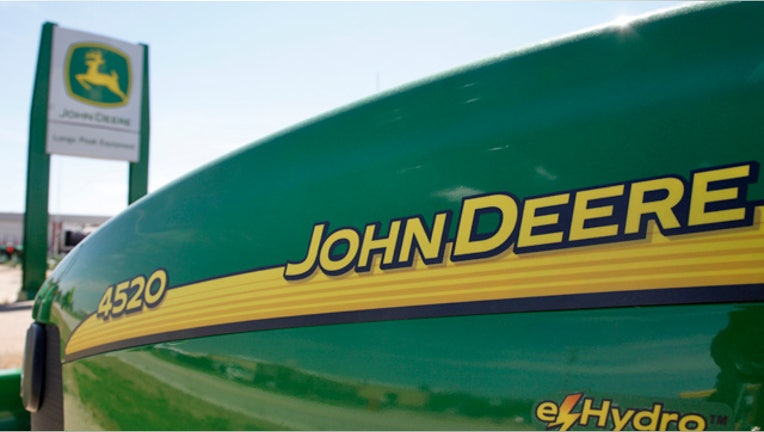 Deere (NYSE:DE) reported earnings that slipped 9.5% in its second quarter, as sales of the company's farm equipment were worse than anticipated.
Deere said Wednesday its profit was $980.7 million, or $2.65 a share, compared to $1.08 billion, or $2.76 a share, in the year-ago period. Revenue fell 8.9% to $9.95 billion.
The results beat Wall Street expectations. Analysts were looking for per-share earnings of $2.47 and revenue of $9.65 billion.
Demand for farm equipment has slumped in recent months, with farmers holding back on spending amid lower commodity prices. According to the Association of Equipment Manufacturers, tractor sales were down about 13% in April, while sales of harvesting combines fell 12.7% across the industry.
Deere, the world's largest maker of farm equipment, is forecasting global equipment sales to drop 4% in the current quarter and the full year, while sales of agriculture and turf equipment will likely fall 7% in fiscal 2014.
The Moline, Ill.-based company did back its full-year outlook for net income of $3.3 billion.
"We're confident our extensive investments in new products and markets, coupled with a tight rein on costs and assets, will keep the company on a sound financial footing and help sustain our growth plans," chairman and CEO Samuel Allen said in a statement.
In the latest period, Deere's equipment sales declined 10% to $9.25 billion. The company provided guidance in February for a 6% drop. Equipment sales in the U.S. and Canada were down 12%.
Agriculture and turf sales checked in at $7.65 billion, down 12% year-over-year. Construction and forestry sales climbed 1.7% to $1.6 billion.
Deere shares retreated 1.5% to $92.25 in recent trading.