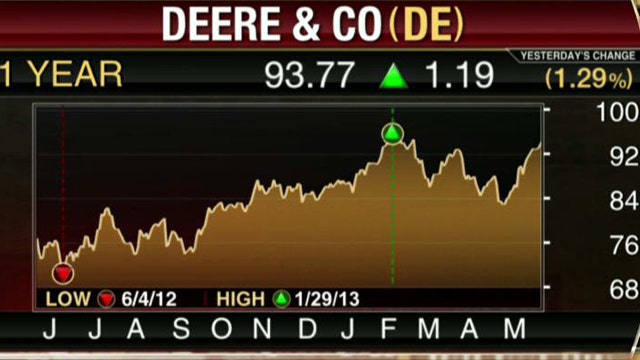 Deere (NYSE:DE) revealed a better-than-expected 3% improvement in second-quarter earnings amid surprisingly strong sales on Wednesday but said adverse weather and other financial worries have it cautious on the near term.
The Moline, Ill.-based tractor maker reported net income of $1.084 billion, or $2.76 a share, compared with a year-earlier profit of $1.056 billion, or $2.61 a share.
The results topped average analyst estimates of $2.72 a share in a Thomson Reuters poll.
Revenue for the three months ended April 30 climbed 9% to $10.9 billion from $10.0 billion a year ago, marking the highest quarterly sales level in Deere's history and beating the Street's view of $9.85 billion.
The company attributed the performance to positive conditions in the global farm economy and an "adept execution" of its operating and marketing plans aimed at expanding its global presence. Worldwide equipment sales increased 9%, led by higher shipments and prices.
"After a record-setting second quarter, John Deere is well on its way to another year of strong performance," chief executive Samuel Allen said in a statement.
Deere expects to deliver record earnings for the year, however, it warned that global financial pressures and adverse weather have "added a note of caution" to the short-term outlook.
Allen said he remains confident about the company's longer-term prospects.
Deere anticipates equipment sales growing 3% in the third quarter and 5% in the fiscal year, with full-year net income of $3.3 billion. Analysts on average are calling for fiscal 2013 net income of $3.36 billion.
Shares of Deere fell close to 4% premarket to $90.29.