Debt-laden Neiman Marcus says exploring options, including sale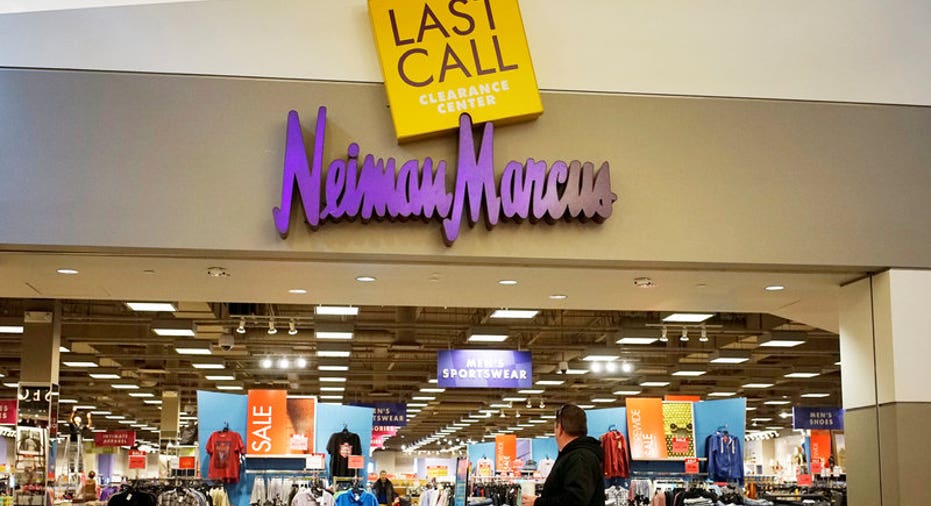 Luxury fashion retailer Neiman Marcus Group said on Tuesday that it was exploring options, including changes to its capital structure or a sale, as it seeks relief from a swelling debt load amid renewed buyout interest from Hudson's Bay Co .
The announcement follows a Reuters report earlier this month that the company had turned to investment bank Lazard Ltd to explore ways to bolster its balance sheet. Neiman Marcus has total liabilities of $6.4 billion, including $1.2 billion of deferred income taxes.
Hudson's Bay, owner of the Lord & Taylor and Saks Fifth Avenue retail chains, is in exploratory talks to acquire Neiman Marcus, people familiar with the matter said. It last considered acquiring Neiman Marcus in 2013, sources said at the time.
Hudson's Bay's interest comes as the retail sector faces headwinds that have dented the company's own sales and made it difficult to line up equity financing for a bid for department store operator Macy's Inc , sources had told Reuters.
With Neiman Marcus' bonds trading at about half their par value, a sale of the company would likely require creditors accepting a steep haircut on their holdings, making an acquisition challenging to structure and pull off, especially for Hudson's Bay, which has market capitalization of C$2.1 billion ($1.6 billion) and net debt of $4.5 billion.
Hudson's Bay and Neiman Marcus declined to comment.
Hudson's Bay, Neiman Marcus and Macy's are under pressure to offer discounts to entice shoppers who increasingly prefer the prices and convenience of internet retailers.
Dallas-based Neiman Marcus' woes have been exacerbated as affluent Texans have cut back on shopping because of a drop in energy prices, while a stronger U.S. dollar has restrained spending at Bergdorf Goodman department store, a popular New York tourist destination that is owned by Neiman.
The Wall Street Journal reported earlier on Tuesday that Hudson's Bay was seeking a deal that would give it control of Neiman without having to assume its debt. It did not provide details as to how this can be achieved without at least partially compensating creditors.
Neiman Marcus also said that it made changes to its corporate structure, including naming subsidiary online store My Theresa and some of its properties in Virginia and Texas "unrestricted," meaning not subject to the same rules under credit agreements as other units of the company.
However, experts said this was aimed more at helping the company better manage its debt liabilities.
"They want to increase flexibility to deal with creditors," said Anthony Canale, head of high yield research at research firm Covenant Review LLC. "They want a bargaining chip."
The company wrote down the value of the Neiman Marcus brand by $153.8 million, after having reduced it by $466.2 million last September. It also reported a net loss of $117 million for the 13 weeks ended Jan. 28, compared with year-earlier net earnings of $7.9 million, which it blamed in part on an inventory management system that failed to work properly, leaving it unable to fill orders.
REAL ESTATE USED AS FINANCING
Private equity firm Ares Management LP and the Canada Pension Plan Investment Board own Neiman Marcus, after acquiring it for $6 billion in 2013.
Neiman Marcus would be a significantly smaller acquisition than Macy's. It had $4.9 billion in sales in 2016, compared with Macy's $25.8 billion, and has roughly 40 stores, compared with more than 700 stores operated by Macy's.
Still, the company owns some of its real estate, long core to Hudson Bay's strategy of borrowing against its real estate to finance acquisitions or taking out large mortgages, as it most famously did on Saks' flagship fifth avenue location. Neiman's real estate was valued at roughly $1.2 to $1.5 billion, according to a recent Citi analyst note.
Hudson's Bay has used its real estate partnerships with U.S.-based Simon Property Group Inc to finance the acquisition of Galeria Holding, the parent company of German department store Kaufhof, for approximately $3 billion. It also has a joint venture with Canada's RioCan Real Estate Investment Trust .
"Looking at the Hudson's Bay playbook, what they have done with the German department store and with Saks, real estate was a key piece of the consideration," said Helena Song, an analyst at credit ratings agency Standard & Poor's. "I wouldn't be surprised if we see a similar consideration here, as well."
(Reporting by Lauren Hirsch and Jessica DiNapoli in New York; Additional reporting by Sruthi Ramakrishan in Bengalaru; Editing by Lisa Von Ahn and Bernard Orr)