Deals World Set for More Shrinkage in 2012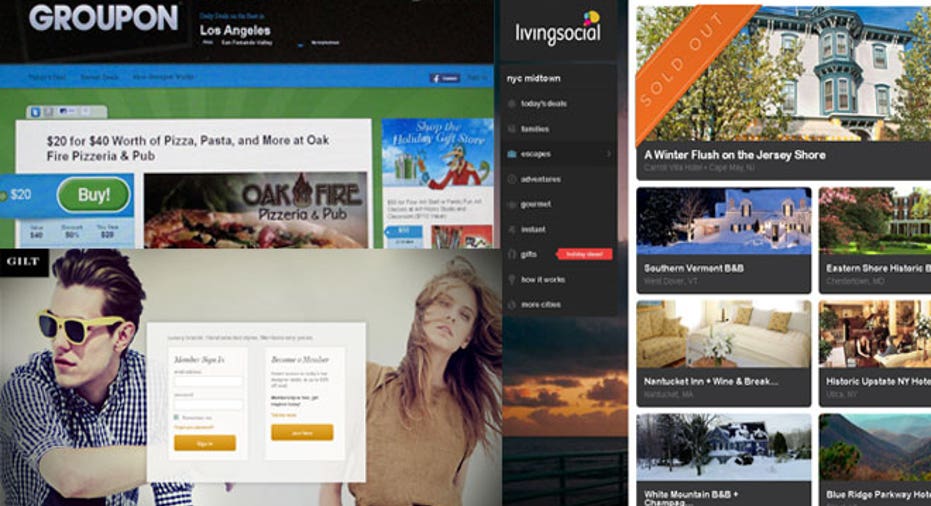 After bursting onto the scene in 2010 and Groupon's headline-grabbing IPO this year, the standalone daily deals industry may be in store for further consolidation in 2012 as businesses continue to adapt to this elusive but potentially rewarding market.
The rapid transformation of this new area of the Internet is being fueled by the high costs associated with offering deals and the need to have a deep and loyal customer following.
"It's kind of a winner take all" environment, said Martin Tobias, founder and CEO of TIPPR, which runs a daily deal software platform aimed at assisting companies compete with Groupon and other deal sites. "After third place, there's nothing."
The success of Groupon, the clear leader in the daily deals industry, spawned the launch of hundreds of clones that offer deals for different niches. It also lured a slew of other big-name companies like Google (NASDAQ:GOOG) and Facebook into the arena.
High Costs Force Out Competitors
However, Yipit.com estimates 170 Groupon wannabes went extinct this year. Likewise, Facebook, Yelp, OpenTable (NASDAQ:OPEN) and others have all dropped out of the deals world over the past six months.
"This is a very challenging business. Fewer companies are trying to do this on their own," said Scott Kessler, head of technology sector equity research at S&P Capital IQ. "That could perhaps signal they don't see the potential, but I think it is more indicative of the fact it's hard to be successful in this area."
Tobias said that while he expects other companies to thrive in this business, standalone daily deals companies will continue to struggle. He predicted an additional 200 deal sites will shut their doors by the end of June 2012.
"It's just too expensive to build a consumer brand," said Tobias, saying Groupon spent $1 billion to build its brand before going public. "That's just too expensive. No one else can afford that."
BuyWithMe, which was another big player in the daily deals world, slashed its headcount and then sold itself to Gilt Groupe's Gilt City in November for what is believed to be a relatively low sum.
But none of this means the daily deals market itself will see a decline in overall revenue. Instead, analysts see it expanding in this tough economic recovery.
"I think people have become accustomed to and maybe even conditioned to expect something more than simply retail," said Kessler. "It is a very large, very exciting and ultimately perhaps very profitable category that could show growth across a number of dimensions for years and years to come. There are a lot of big and small companies alike that see the opportunity and want to seize upon it in some way."
LivingSocial IPO in Doubt
There has been much speculation about whether or not LivingSocial, the No. 2 player in daily deals, will go public.
While that door appeared to be open a year ago as Wall Street was enamored by the next-generation of Internet companies, that love affair has faded in recent months.
Nowhere has that sentiment shift been more clear than Groupon, which has suffered a number of pre- and post-IPO stumbles. Due to concerns about its business model and revenue metrics, the Chicago-based company's IPO valuation of $12.7 billion was less than half as previously anticipated. Worse, its stock tumbled as low as $14.85 late last month -- significantly below its IPO price of $20 and marking an alarming development.
"You can't go public when the No. 1 guy is trading below IPO price. You're done," said Tobias. "Their only choice is to sell the company."
This atmosphere could lead LivingSocial, which operates in 21 countries, to open itself up to a sale. This week LivingSocial disclosed a $400 million fundraising that reportedly valued the company at $6 billion, compared with Groupon's current $13.5 billion market valuation.
The Groupon experience "has made going public less attractive and being acquired relatively more attractive," Rob Enderle, principal analyst at the Enderle Group, wrote in an e-mail.
Potential Suitors
One company that may be interested is online retail giant Amazon.com (NASDAQ:AMZN), which received an undisclosed percentage of the company after a $175 million investment in December 2010.
Other companies that could look to acquire LivingSocial and its 40 million subscribers include Microsoft (NASDAQ:MSFT), eBay (NASDAQ:EBAY) and Google, which launched its own service, Google Offers, earlier this year. Enderle also pointed to Chinese Internet companies Alibaba and Baidu.com (NASDAQ:BIDU) as well as whichever company acquires Yahoo! (NASDAQ:YHOO).
Several big technology companies have tons of cash on hand -- Microsoft had $57.4 billion in cash and short-term investments at the end of September -- and believe buying back stock has fallen out of favor.
"Many companies are both relatively inexpensive and are limited by scale suggesting acquisitions can prove the greatest and most assured return on investment across the available choices," said Enderle.