Deals for Brides and a Gadget for Gardening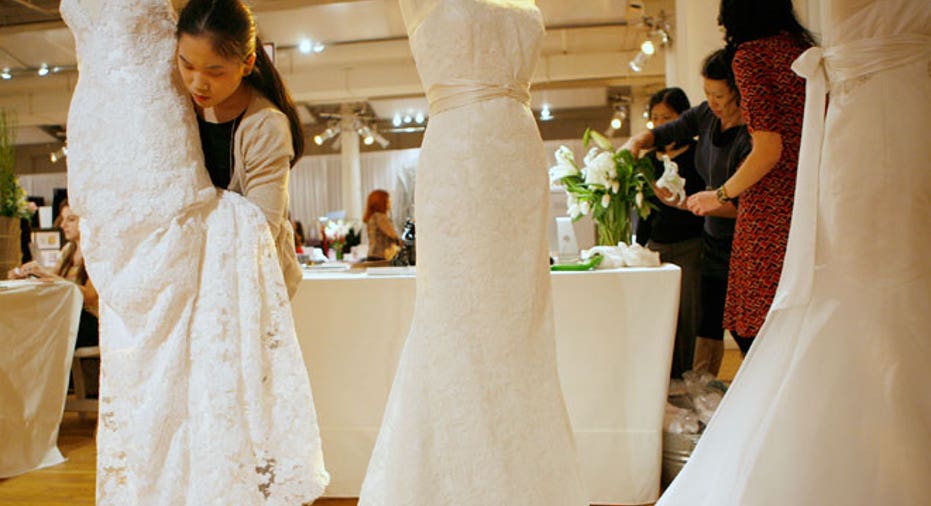 Welcome to OnSale at FOXBusiness, where we look at cool deals and insane bar gains.
Find great fashions for the bride's big day no matter what your budget may be.  This wristband says it aims to help you prevent sunburn. This gadget will keep your garden in good shape.
Budget Bridal
Two great resources for brides are now available – just in time for wedding season.
FOXBusiness told you about Target's (NYSE:TGT) new bridal line that offers wedding dresses from in-house line Tevolio with a price tag of $130 or less, and now Etsy is also entering the wedding market.
Brides can find lower-cost, unique bridal gowns on Etsy through a a shop called Lace Over Heels which is offering items up to 40% off this month. The collection features veils, vintage dresses, rings and other accessories. Visit Etsy.com for a closer look at the line, and if you don't see what you're looking for, keep in mind that the shop also does custom orders.
And don't forget to check out the sale at TheKnot.com where you'll find great deals on bridesmaid and groomsmen gifts, party supplies and favors, and more. Take an extra 15% off orders of $75 or more with the code 3DAY75 and an extra 30% orders of $125 or more with code 3DAY125. The discounts are good through May 29.
Smart Sun
The start of summer means warmer weather and more time spent in the sun, and health and beauty supply company JADS International wants to make sure you're keeping your skin protected while out in the sun, in the pool or at the beach.
The company hopes that their new Sunscreen Bands will help provide a reminder to regularly reach for the sunscreen. The wristbands turn purple when first exposed to the sun, then transition to a light-purple, lavender shad when it's time to reapply. If the band turns an off-white color, it's time to get out of the sun. Get three packs (or a total of 15 bands) for $18.99. You can order them here.
May Flowers
Keep your plants looking their best this season with a little help from Parrot. The company's new Flower Power tool, which won a "Hot Stuff" award at this year's Consumer Electronics Show, takes a quick soil sample and transmits the information via Bluetooth to your smartphone or tablet. The tool's sensor can tell you just how much sunlight your plant is getting, the fertilizer and soil moisture levels, and more. When certain levels are above or below where they should be, your smartphone or tablet will alert you with a friendly reminder. It's perfect for both indoor and outdoor plant life. The device isn't available yet but you can enter your email address here for more information.