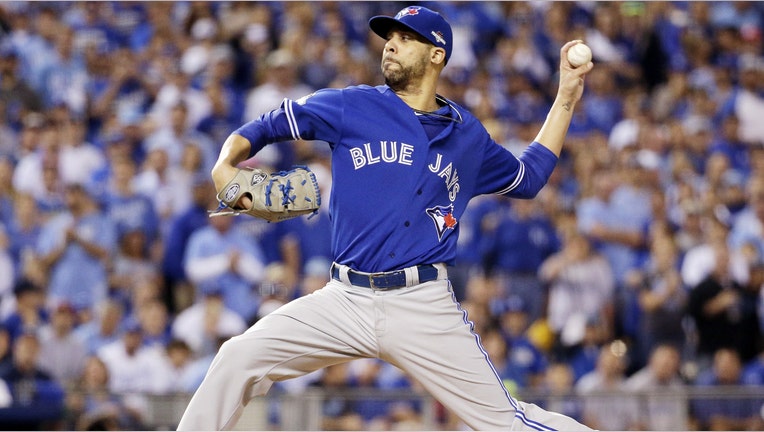 The cost of acquiring top-tier free agents is at an all-time high, and pitcher David Price's record-breaking deal with the Boston Red Sox has set an even higher bar.
The left-handed ace landed a reported seven-year, $217 million contract with the Red Sox. It's the largest sum ever given to a pitcher, eclipsing Clayton Kershaw's $215 million total. At $31 million, Price will tie Detroit Tigers slugger Miguel Cabrera for the highest annual average salary not just in Major League Baseball, but across all major sports.
This will have a ripple effect. The next four or five pitchers are going to find that most of the negotiating has been done for them.
Price also received an opt-out clause that kicks in after three seasons. If there's a possibility of a bigger payday on the open market, he can elect to re-enter free agency early.
Some of the same clubs looking at Price are also in the hunt for other starting pitchers such as Zack Greinke, Johnny Cueto or Jordan Zimmermann, who already scored a five-year, $110 million deal from the Tigers.
Price's new contract, the biggest signing so far this offseason, has likely added value to remaining free agents.
"As these pitchers come off the board, it certainly helps because there are more than four teams that wanted one of these guys," said C.J. Nitkowski, an analyst for FOX Sports and a former major-league pitcher.
Supply vs. Demand
Longtime sports agent Leigh Steinberg predicted that Greinke, as the last A-plus pitcher available in free agency, will get more dollars per-year than Price.
"There's supply and demand here," Steinberg said. "Any team that's not satisfied with their outcome last year is looking to improve, and the clearest way to improve the roster is by adding a quality starter."
Cueto reportedly turned down a six-year offer worth $120 million from the Arizona Diamondbacks. Jeff Samardzija, another right-hander, has at least one offer of more than $100 million in hand, according to ESPN.
Greinke could attract a five- or six-year deal from the Dodgers or San Francisco Giants. The Red Sox, searching for a pitcher to lead their starting staff, were also said to be interested in right-hander Greinke, who is coming off a strong season for the Los Angeles Dodgers.
"This will have a ripple effect," Steinberg, the founder of Steinberg Sports & Entertainment, said in reference to Price's deal. "The next four or five pitchers are going to find that most of the negotiating has been done for them."
Price, 30, was part of a blockbuster move near last season's trade deadline that sent him to the eventual American League East champion Toronto Blue Jays. Including his time with the Tigers, Price recorded an 18-5 record and an earned-run average of 2.45, the lowest in the league. He finished second in AL Cy Young award voting.
The deal between Price and the Red Sox is pending a physical. An official announcement is expected on Friday.
Golden Arms
Red Sox President of Baseball Operations Dave Dombrowski, who was fired by the Tigers in August, appeared committed to finding an elite pitcher that would lead Boston's rotation.
Peter Gammons of MLB Network had said the Red Sox were prepared to outbid rivals by $30 million to $40 million in order to make it happen. After news of the Price deal surfaced on Tuesday night, USA Today reported that the St. Louis Cardinals were the runner-up and $30 million short of Boston's offer.
Dombrowksi has proven that he values having an ace, and he's willing to pay top dollar for it.
"They needed an ace," Nitkowski said of the Red Sox, "and they brought in a new GM who knows the value of that."
While serving as the Tigers' general manager, Dombrowksi successfully signed six-time All-Star Justin Verlander to an extension before the 2013 season, and he traded for Price in 2014. The veteran baseball executive also tried to keep Max Scherzer with a six-year, $144 million offer, but the pitcher opted to test free agency. He signed with the Washington Nationals for $210 million last winter.
Keeping Young Talent
Many MLB clubs have pursued long-term deals with young players before they are eligible for free agency. The Red Sox themselves gave 26-year-old starter Rick Porcello a four-year contract extension earlier this year.
For MLB franchises, "one of the major lessons to be learned from the signing of Price and the impending signing of Greinke is the necessity to take young, promising pitchers, sign them long-term and delay free agency," Steinberg said.
However, locking up young players is not an easy task.The Tampa Bay Rays signed their young ace, Chris Archer, to a six-year extension worth around $25 million, a relatively cheap deal, Nitkowski noted. Other teams aren't as fortunate. Certain players may not be receptive to the idea of delaying free agency, especially when offers to free agents continue to grow.
"It's hard to get guys to give up multiple free-agent years. It's definitely ideal, but some players are not willing to do it," Nitkowski said.