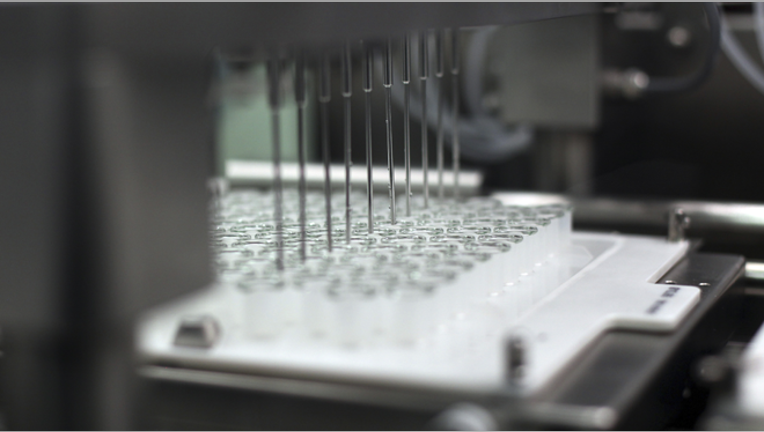 In the world of drug development, collaboration is key.
When Kathy Giusti was diagnosed with a rare and fatal blood cancer nearly 20 years ago, there wasn't a single drug in the pipeline to help her fight her grim prognosis, and she was expected to die within three years. That is until the then-new mother found determination, launching the Multiple Myeloma Research Foundation, which now is helping to develop 20 treatments at various stages in the pipeline.
Big companies working with smaller ones that have evolved happens more now and it's good for, frankly, science and the patients.
Like Giusti, Ilan Ganot is facing a similar tragic circumstance. At just two-years old, his son was diagnosed with Duchenne muscular dystrophy, a muscular degenerative disease that usually kills those it affects by their teen or early adult years. Rather than sit and wait for his son to die, Ganot quit his job as a banker at JPMorgan Chase (NYSE:JPM), devoting his life to finding a cure and starting his own firm called Solid Ventures.
The treatments for more common ailments like asthma, diabetes, and depression are well known and often very lucrative for pharmaceutical companies. But for the more rare diseases like myeloma or DMD, it's sometimes more difficult to fast-track the development process to get treatments to market.
"It was the worst thing in my life, no question," Ganot said of his son's diagnosis.
He allowed himself to feel hopeless, like Giusti did, for only a short time before digging in his heels to fight the deadly disease.
"I started reading more online, making phone calls to companies, charities, drug developers. And I started to network my way into understanding what's going on, who's doing what, interesting programs, why nothing is working, where the money is missing," Ganot said. "I tried to figure out what other parents in my situation were doing…and it quickly became clear to me I'm not going back to work at a bank because I'm convinced I can make a big difference."
Struggle to Survive
Ganot is up against a ticking clock. If no treatment is developed, his son will begin losing the ability to walk by around age 7. For him, it's all about finding some way to help his son…and fast. After writing the business plan and organizing the right team of scientists and drug developers, the next step was to gather the funds needed to help spur development. For that, Ganot turned to professional investors, and managed to raise $17 million in less than one year.
"We're looking to get our hands on the science and be active in developing the drugs ourselves. It can be in collaboration: With partners, people in the community, and the industry. But we're going to be actively involved and lead the effort," Ganot said.
Solid Ventures is essentially a gathering place, a springboard to help spur the development process. Ganot noted the firm isn't starting from scratch and taking drugs all the way to market – there are plenty of other companies that already facilitate that need.
"We figure out which (drugs) are the best, and which ones need more focus, capital, and passion," he said.
The capital Solid Ventures raises and provides will "prove" whether the drugs are viable options, and then help bring them to clinical trials. Ganot said at that point, he hopes to grab the attention of larger drug developers who can "finish" the drugs and take them to market.
He said this model works because few firms want to operate from pre-clinical to clinical phases.
All-Encompassing Approach
Giusti's model, however, is a little different.  Instead of working to infuse capital into drugs for early development and then hand them off to other companies who put on the finishing touch, the MMRF works as an end-to-end solution to the drug development process and a philanthropic-focused fundraising platform.
"We have many collaborative models that the industry can utilize," she said. "We have a tissue bank with thousands of bone marrow biopsies and we provide insights into the disease. We have our own genomic initiative that takes that tissue and looked at sequencing to understand the disease, and we offer that data in a myeloma portal for others to see and use."
In addition, the MMRF has 16 centers where research happens in order to validate the use and efficacy of drugs designed to treat myeloma in their various stages. There, large pharmaceutical companies or small biotechs are able to conduct phase I or II trials and the MMRF helps with protocol, design, site selection, contracting, and trial accruals. Giusti noted her foundation is constantly in contact with the U.S. Food and Drug Administration to define unmet needs in the space and looking for ways to understand regulatory strategies to help aid in the development process.
Once the drugs are approved, the MMRF collaborates with drug companies to drop in various drugs they might be working on at the clinical trial stage to determine whether they could be a viable treatment, and help in ongoing education for myeloma patients.
"There's this huge end-to-end solution. Some big companies will only use us at certain spots within that continuum, others work with us every step of the way," she said.
Coming Together to Conquer
Giusti and Ganot are both dedicated to completely different diseases. It might seem, with exception of their intense desire to fight for survival, their lives would never intertwine. But their stories together outline a trend that's emerged in the biotech and drug development arena: collaboration.
Though two diseases might affect the body in different ways, they sometimes share a common thread. Drugs developed for one disease could, when used as part of a cocktail of other drugs, be used as an effective treatment for a totally different illness. It's an approach Ganot is hoping will eventually work to help treat DMD, and one Giusti says is beginning to emerge for myeloma patients.
Bahija Jallal, executive vice president at AstraZeneca unit MedImmune, responsible for biologics research, development, and clinical activities, said the idea of more disease-focused companies and foundations is helping the drug industry move to help treat patients at a much faster rate.
"When we used to say 'breast cancer,' you could see it as a big spread with a lot of patients. We would bring one drug to trial and treat all these patients. But really, you have only a part of those people who respond," Jallal explained.
"With the advances in translational medicine, it's more personalized because it allows you to go into breast cancer and say, 'These are the subgroups that can respond to this drug or another,' and you develop it that way,"
Like Giusti's MMRF, MedImmune is seeing success in developing drugs using this formula for treatments in the asthma and blood cancer realms. She said there's no right way to go about finding the means for collaboration -- whether big pharma seeks smaller companies or the other way around -- as long as the communication and collaboration happens.
For example, MedImmune is in the process of developing a treatment for a blood cancer affecting a very slim number of people. In this case, the company is working alongside an institution and patient advocacy group to find a treatment.
"We try to follow the science," Jallal said. "We don't discriminate small versus larger indication (in a disease). Science doesn't happen (only) in our company and you need to be open to the outside – the more you seek (information from the) outside, the more people will come to you when they have an opportunity. We go to meetings where we look at small companies and what they're doing, and at the same time, they're also seeking us."
It's a similar philosophy Ganot holds ….only from the other end of the spectrum. His firm is in the process of collaborating with larger drug companies to advance development of treatment for DMD.
"We are currently evaluating 60 different drugs and programs and the number keeps growing," he said. "We are in very advanced dialogues with some bigger companies that could become partnerships and collaborations."
He declined to mention specifically what companies he's in discussions with, but said an announcement is on the horizon. Giusti is also on the precipice of a big announcement with the MMRF to build a collaborative model for new drugs.
"We see a new field emerging like immunotherapy with blood cancers," she said. "We've spent a lot of time looking to how we build out that filed, whether we're looking at antibodies, vaccines, new approaches, we're looking for companies with good drugs in the field and accelerate their efforts to make sure we're providing future funding for those technologies."
She said she and the foundation are constantly evaluating new options and ventures, working closely with new partners to accelerate their efforts.
In the end, the partnerships and efforts to work together all come down to a common denominator: Finding a treatment to help others survive.
"I think that's how science is going," Jallal said, speaking about big efforts to combine resources with smaller and larger firms. "I think big companies working with smaller ones that have evolved happens more now and it's good for science and the patients."