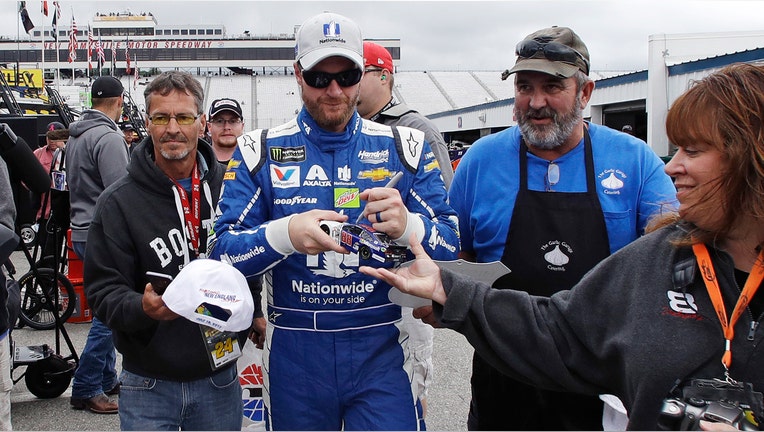 Amy Earnhardt, the wife of NASCAR star Dale Earnhardt Jr., said she would not give her blessing on soon-to-be retired racing legend potential entrance in next year's "Clash" exhibition race out of concern for his health.
Earnhardt Jr.'s wife posted on social media on Tuesday night that competing in the Feb. 11 Advance Auto Parts Clash is "not worth the risk." Earnhardt is retiring after this season, but he is eligible to compete in the race after winning the pole for the race at Daytona earlier this month.
"Considering his struggles last fall with his injury, we are very blessed that he is now healthy, happy and able to enjoy his final season…and hopefully many years beyond racing," Amy Earnhardt said.
Earnhardt was NASCAR's second highest-paid driver in 2016, with more than $21 million in total earnings. He has an estimated net worth of $225 million, according to Forbes.
Earnhardt missed the final 18 races of last season due to concussion-related symptoms. He announced that this would be his final season on April 25. He said on his podcast "The Dale Jr. Download" on July 5 that being able to qualify for the Clash was nice and that he had discussed the matter briefly with team owner Rick Hendrick.
"I told him if I run it was something that Amy would need to warm up to. I told him to 'see what the boss says.'" Earnhardt said.
He has said he plans to compete in two Xfinity Series races next season for his own team.
Going into this weekend's Brickyard 400 at Indianapolis, Earnhardt Jr. is 21st in the NASCAR Monster Energy Series standings, meaning he would likely need a win in one of the next seven races to make the postseason.
Earnhardt Jr.'s best result this season is fifth, which was April 9 at Texas. In 19 races this season, he has the same number of did not finishes — five — as top 10's.
The Associated Press contributed to this report.