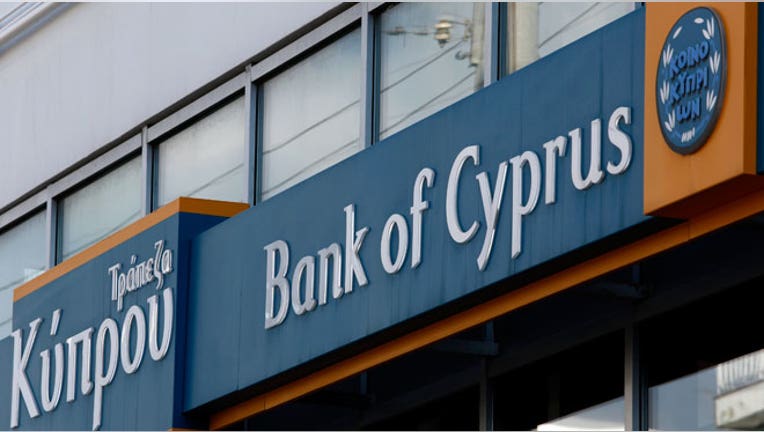 Cyprus's government proposed on Tuesday to spare small savers from a divisive tax on bank deposits in a last-minute attempt to win parliamentary backing for an international bailout and avoid default and a banking collapse.
Lawmakers still seem likely to reject the unprecedented levy, a government spokesman said, plunging one of the smallest European states closer to financial oblivion with potentially severe consequences for the rest of the troubled euro zone.
A weekend announcement that Cyprus would break with previous practice and impose a levy on bank accounts as part of a 10 billion euro ($13 billion) EU bailout sparked outrage among Cypriots and unsettled European financial markets.
Stunned by the backlash and fearing rejection by Cypriot lawmakers, euro zone finance ministers urged Nicosia on Monday to avoid hitting accounts with less than the EU-wide guaranteed 100,000 euros, and to raise the required 5.8 billion euros instead from a higher levy on larger accounts.
However, the Cypriot government has gone only part of the way. A revised draft bill seen by Reuters would exempt savings under 20,000 euros, charge a rate of 6.75 percent for amounts between 20,000 and 100,000 euros and maintain a 9.9. percent tax on deposits above that level.
Cyprus's central bank chief said the new structure would raise less than the amount required by euro zone partners and the International Monetary Fund as a contribution to rescuing the island's shattered financial sector.
It was not clear how the government intends to plug the funding gap but French Finance Minister Pierre Moscovici said the euro zone could not lend Cyprus any more, since the country's debt would become unmanageable.
"Above 10 billion euros we are entering into a size of debt that is not sustainable," Moscovici told reporters in Paris.
Passage of the bill in the 56-member chamber, where no party has a majority, seemed unlikely and it was not clear if the vote would even go ahead later on Tuesday if leaders were sure it would be rejected.
"It looks like it won't pass," Cypriot government spokesman Christos Stylianides told state radio.
"TROJAN DONKEY?"
The House of Representatives was expected to meet at 1600 GMT. Rejection of the measure would effectively block a bailout that Cyprus needs to keep its banks afloat and the government paying wages and welfare.
Tuesday's vote, originally planned for Sunday, has been postponed twice already. Three parties have said outright they will not support the tax, while a fourth, in the governing coalition, said it cannot support it as it stands either.
IMF Managing Director Christine Lagarde said in Frankfurt that the global lender supported Cyprus's effort to achieve what she called "more progressive rates" in the levy on deposits.
New Cypriot President Nicos Anastasiades continues to resist raising the levy on big deposits - many held by foreigners including rich Russians - beyond 10 percent, fearing for the island's banking business model and reputation as a safe haven.
Anastasiades asked the EU for more aid during a telephone conversation with German Chancellor Angela Merkel on Monday, with a second call expected on Tuesday.
Stylianides said Anastasiades may also speak to Vladimir Putin, the Russian president, who described the tax on Monday as "unfair, unprofessional and dangerous."
The divided east Mediterranean island, home to two large British military bases key to Western power projection and eavesdropping on communications around the Middle East, is a pawn in geopolitical rivalry.
An influx of Russian money and influence since the collapse of the Soviet Union has led some Brussels officials to complain privately that Cyprus acts at times as a "Trojan donkey" for Moscow inside the European Union.
Cypriot Finance Minister Michael Sarris was due to hold meetings in Moscow on Wednesday, partly to try and get an extension to an existing 2.5 billion euro loan.
Russian authorities have denied rumours that the Kremlin might offer more money, possibly in return for a future stake in Cyprus's large but as yet undeveloped offshore gas reserves, which have further raised the island's strategic importance.
ATM RAID
Stunned Cypriots emptied cash machines over the weekend and banks are to remain shut on Tuesday and Wednesday to avoid a bank run. Hundreds of protesters rallied outside parliament on Monday, honking horns and holding banners saying "We are not your guinea pigs!"
"If they vote for this tax they will face the fury of the people," said Markos Economou, a 47-year-old physics teacher and father of two. "The banks and the politicians should pay for this mess, not the people."
The island's stock exchange also suspended trading for another two days.
International market reaction has been muted so far but if a vote was lost, or postponed, that could change. The uncertainty saw the euro drop 0.2 percent as it remained near a three-month low and European shares fall 0.4 percent in early trade.
While Brussels has emphasised that the measure is a one-off for a country that accounts for just 0.2 percent of European output, fears have grown that savers in other, larger European countries will be spurred to withdraw funds.