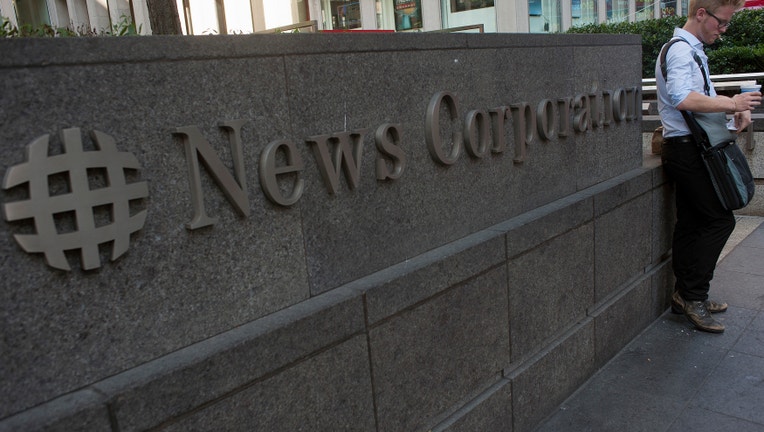 Rupert Murdoch's News Corp. (NASDAQ:NWSA) on Monday reported fiscal first-quarter adjusted profits and revenue that trailed forecasts as the parent of The Wall Street Journal grappled with a 22% drop in Australian newspaper revenue amid currency fluctuations.
Shares of the media conglomerate and former parent of FOX Business declined about 2% in extended trading on the earnings miss.
News Corp. reported net income of $38 million, or 5 cents a share, last quarter, compared with a loss of $83 million, or 16 cents a share, a year earlier.
Excluding one-time items, the owner of the New York Post earned 3 cents a share, down from 6 cents the year before. Analysts had been calling for stronger non-GAAP EPS of 5 cents.
Revenue slipped 3% to $2.07 billion, trailing the Street's view of $2.20 billion. The company cited weaker ad sales, foreign exchange fluctuations and the sale of the Dow Jones Local Media Group.
"There are certainly headwinds in Australia, magnified by inauspicious foreign currency movements, but we have been consistently cost conscious and are transforming our publishing operations longer-term into multi-platform businesses," News Corp. CEO Robert Thomson said in a statement.
News Corp. reported a 10% drop in news and information services revenue to $1.5 billion as Australian newspaper revenue tumbled 22%.
The segment's total ad sales slid 12% due to a slowdown in Australia and moderating declines at Dow Jones and News U.K. Circulation, and subscription revenue fell 6% amid lower print volume and a decline in institutional revenue at Dow Jones.
News Corp. said foreign exchange fluctuations had a 4% negative impact on ad sales and a 3% negative impact on circulation and subscription revenue.
"We are vigorously pursuing a strategy to improve our revenue prospects and we look forward to updating all in future quarters," Thomson said.
News Corp., which owns HarperCollins, said book publishing revenue fell 7% to $328 million. The company cited its divestiture of the Women of Faith live events business, "softness" in the Christian publishing space and its exit of the third-party distribution business in the U.S.
However, News Corp. said e-book sales soared 30% year-over-year and accounted for 22% of revenue, up from 15% the year before.
New York-based News Corp. saw its shares fall 2.41% to $17.00 in extended trading on Monday evening.
Earlier this year, News Corp. separated its faster growing TV and film assets by forming 21st Century Fox (NASDAQ:FOXA), which owns FOX Business, FOX News Channel and FX.
Last week, 21st Century Fox posted non-GAAP earnings that narrowly trailed estimates even as revenue jumped by a stronger-than-expected 17.6%.