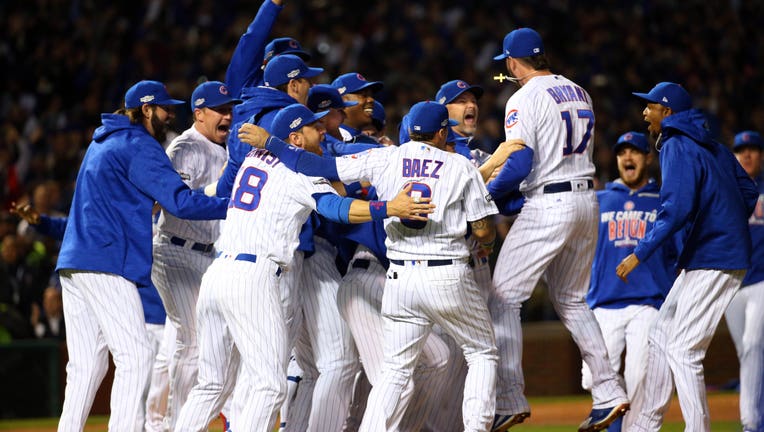 It didn't take long for the customary white victory flag to be hoisted above the Wrigley Field scoreboard on Saturday night.
But this banner featuring a large blue W celebrated a very special win, one 71 years in the making.
The Chicago Cubs are going to their first World Series since 1945 thanks to Saturday's 5-0 National League Championship Series-clinching triumph over the Los Angeles Dodgers.
Owner Tom Ricketts, representing generations of Cubs fans, knows the significance.
"It really feels great because of all the people who supported us through some pretty lean years," said Ricketts, a longtime fan before his family bought the Cubs. "Getting to the World Series is great but the goal is to win. We broke a 71-year streak, now let's break that other one."
The Cubs, just four years removed from a 96-loss season, will face American League champion Cleveland in the World Series next week as they seek their first world championship since 1908.
The players, who hugged and cheered each other on the field after the game, also saluted fans before adjourning to the clubhouse for champagne and beer showers.
"Definitely this is for them," said right-hander Kyle Hendricks, winning pitcher in Saturday's clincher. "They have been waiting a long time for it. Best fans in baseball."
Saturday's win started with a sterling effort from Hendricks, who allowed just two hits over 7 1/3 scoreless innings while teammates provided early and ample support.
The Game Six victory in front of 42,386 exhilarated fans gave the Cubs a 4-2 NLCS triumph over the Dodgers as they solved the previously unhittable Clayton Kershaw.
Cubs left-hander Jon Lester and second baseman Javier Baez were named co-MVPs of the series.
Hendricks (1-1 postseason) allowed a leadoff base hit and then little else as he dominated the Dodgers -- recording 18 straight outs until Josh Reddick's one-out single in the eighth.
Hendricks, who struck out six and walked none, departed after that and closer Aroldis Chapman took it from there with an inning-ending double play in the eighth and a scoreless ninth.
Dexter Fowler went 2-for-4 with an RBI and a run scored while Willson Contreras and Anthony Rizzo added solo home runs for the winners.
Kershaw (2-1) took the loss after an uncharacteristically rough outing.
He gave up five runs (four earned) over five innings, including two home runs. Kershaw, working on six days rest, struck out four and threw 94 pitches while allowing runs in four of five innings worked.
"This is kind of ironically one of the few days that he did have extra rest," said Dodgers manager Dave Roberts. "He had the psyche, the preparedness obviously is never in question, and it's just one of those nights that they took advantage of some mistakes."
In his previous start last Sunday against the Cubs, Kershaw gave up just two hits and struck out six in seven shutout innings in a 1-0 win. Hendricks took the loss in that game even as he allowed just one run on three hits in 5 1/3 innings.
"There was a lot of talk, obviously, about the guy on the other side there -- Kershaw," Hendricks said. "Best in the game, lived up to it in Game Two. But my focus was the same as always, make good pitches, simplify as much as I can and keep my team in the game." (Editing by Andrew Both)