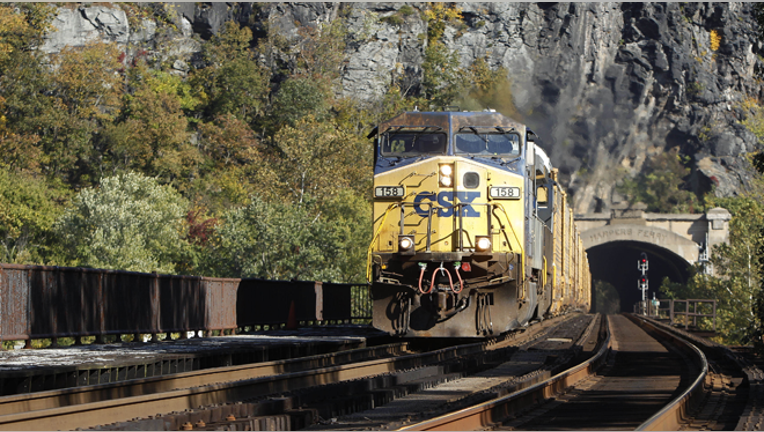 CSX Corp (NYSE:CSX), the third-largest U.S. railroad, on Tuesday reported a higher quarterly profit that was in line with analyst expectations and said it expected a strong increase in its freight business and double-digit earnings growth during 2015.
CSX's fourth-quarter profit rose on the back of an 11 percent rise in coal shipments, a 5 increase in intermodal and 5 percent for its "merchandise" shipments that include agricultural, chemical and construction products. The railroad reported a 6 percent rise in revenue for all three business segments.
"(W)e expect to continue growing our intermodal and merchandise businesses faster than the economy, pricing above inflation, and driving efficient asset utilization," Chief Executive Officer Michael Ward said in a statement.
Jacksonville, Florida-based CSX reported a net profit of $491 million, up 15 percent from $426 million a year earlier.
CSX reported quarterly earnings of 49 cents per share, a near 17 percent increase from the 42 cents per share posted for the fourth quarter of 2013. Wall Street analysts had expected earnings per share of 49 cents for the quarter.
The railroad reported revenue of $3.2 billion, from $3.03 billion in 2013 and slightly above analyst expectations of $3.18 billion.
During the quarter CSX's oil expenditures dropped nearly 12 percent to $361 million from $408 million as the price of oil fell. The fuel surcharges the company uses to pass on higher fuel costs to customers dipped to $284 million from $292 million. There is always a time lag between spikes and drops in the price of oil and the change in a railroad's surcharges.
But while the railroad was paying less for diesel fuel for its locomotives in the fourth quarter, CSX said the main driver for the rise in its chemicals business came from crude oil and other fuel shipments to East Coast refineries "due to increased supply of crude oil from domestic shale drilling activity."
Like the other major U.S. railroads, CSX has been playing catch up with an unexpected rise in demand over the past year as the economy has grown, adding locomotives and crews to handle more freight.
In after-market trading CSX shares were up nearly 1 percent at $33.86.
(Reporting by Nick Carey; Editing by G Crosse and Lisa Shumaker)