Crowd-Funding Site Allows People to 'GiveForward'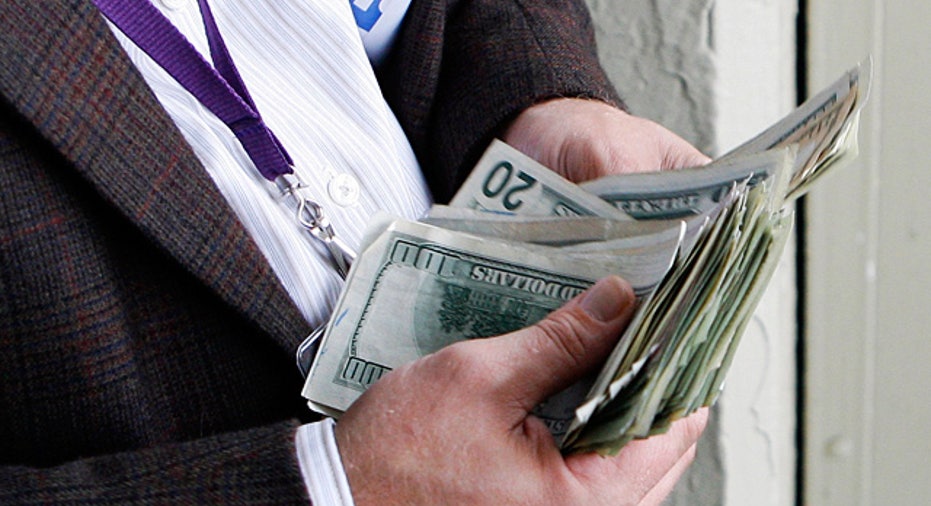 While there is certainly satisfaction to be derived from writing a check to a global or national non-profit when we're feeling generous, sometimes it is eminently more satisfying to direct our funds to a specific individual or family.
People giving to people as opposed to people giving to organizations.
For Ethan Austin, COO and co-founder of GiveForward, this realization has been a life changer. Before crowd funding was all the rage, Austin and GiveForward CEO and co-founder Desiree Vargas Wrigley began collaborating on a website that would be a destination for that kind of giving.
"My original idea was, let's help people raise money for their favorite non-profits," Austin tells me in our recent interview. "Desiree's was different, as in, let's help people raise money for anything -- a scholarship fund, a honeymoon, a volunteer travel trip."
They launched the site in 2008, but about a year in, it became clear that it was a primary destination for people trying to help other people with exorbitant medical expenses. It is now, according to its press materials, "the world's leading medical fundraising platform, providing families with the No. 1 answer to the question, when a loved one is sick, what can I do to help?" Early this year, the giving tally surpassed the $10 million mark and the success stories are heartwarming and heartwrenching.
What intrigues the life coach in me, though, is the path that brought Austin here. And, more specifically, how his a-ha moments always seemed to be accompanied by a banana costume. Yes, you read that right. This is a guy who knows how to get mileage out of a Halloween getup. Shortly after GiveForward launched from its home base in Chicago, Austin was in his native California preparing for a run in Santa Monica.
"The website had just started and was going nowhere," he says. "We had zero traction. I was running to raise money for a scholarship fund for a buddy's daughter whose mom had passed away from cancer. I was in this banana costume, passing out flyers and someone came up and said, 'you made my day.' I smiled and kept going … later I came back and checked my fundraising page and that guy had donated $500, which at the time was the biggest donation we had ever seen at the site.
"That's when it hit me. Maybe it's not about non-profits, but about people giving to people. He doesn't know who my friend is, but there's something about that situation he connected with."
Austin had had another epiphany a few years earlier while in law school in Washington, D.C., also while clad in the banana costume. He had been training for a marathon and decided it was a good opportunity to run for a cause. Since his father died of colon cancer when Ethan was just 13, he had been passionate about raising money for cancer, so he picked St. Jude's Children's Research Hospital and set up a page they provided. He reached $1,000 pretty quickly and decided to set a goal for $5,000. About halfway there he hit a wall and got an idea – the banana costume. He passed out flyers, started getting $10 and $20 donations and eventually surpassed his goal.
"I was just blown away by how one goofball in a banana costume could raise this much money," he says. "That's a lot of money for one person, especially with such small donations."
Now he sees that strategy work over and over again at GiveForward. Plus, having seen the value in the fundraising page as a tool but also realizing the possibilities for expanding it was a major spark for his bigger vision.
"What if your cause is battered women shelters or environmental or kids in Darfur?" he says. "Everyone should have the opportunity to raise money for a cause that they care about."
Here's why they do now. Austin returned to the West Coast after law school and pursued – what else? – jobs at prestigious law firms. Despite "more second-round interviews than anyone I know for these big law firm jobs," he didn't get one.
"It feels like a blessing in disguise now," Austin says.
That's because in the meantime his ex-girlfriend from college had run into Vargas Wrigley at a Super Bowl party and noted that she'd had a similar vision for a fundraising site. She encouraged Austin to reach out to her, which he eventually did. Their first conversation was hours-long and both had the feeling that someone else finally "gets" what they wanted to do. Austin moved to Chicago in May of 2008 and GiveForward was launched in August of that year, in no small part because Vargas Wrigley had this posted on her refrigerator – Leap and the net will appear.
"My Dad passed away at an early age, so I had an early lesson that you should be doing something that you love because you never know how long you're going to have," Austin says. "I think more and more people are doing that, wanting to find meaning in their work. The hard part is taking a leap and actually doing it. I knew that all along since my Dad passed away … and I still didn't do it. I went to law school and that was a safe route. It took me that one lesson to say I'm not going to do this again. I don't want to have regrets."
It's not like his will wasn't tested even then. The first year the site didn't make enough to support one salary, let alone two. In January of 2009 there was a day when it had one visitor. But back then Vargas Wrigley – Yale degree and all – waited tables and Austin, a board-certified lawyer in the state of California, took a crack at freelance writing while also dipping into his savings so they could stay the course.
"The hardest thing about a startup is committing to it," Austin says.
And he means for the long haul. Not just during the early phase when there is so much bubbling excitement about the idea it carries you, but later when you're working seemingly non-stop and the rewards are not clear.
"One of the last things I learned from my father was, if you're going to work and do something, work your butt off and do it right," he says.
Now Austin oozes job satisfaction and in fact, tells me unabashedly that he would do it for free.
"I kind of did for two years," he says with a laugh. "The fact that we get paid is the cherry on top."
That might sound sappy unless you know a little more. Like the fact that GiveForward helped skier Sarah Burke's family raise money to offset her medical expenses when she had a tragic accident and died in January. Or that one father wrote to say his 6-year-old daughter so loved Burke that she pledged years worth of her birthday money to the fund and he matched it. Or that it brought more than 14,000 visitors to GiveForward's site in one hour, providing a place for so many to go during a difficult time.
Austin tells me a "really incredible" story of a father with stage four renal cancer and a fundraising page for him that reached its goal of $10,000. But through some exploration Austin learned that his treatments uncovered by insurance would exceed $100,000, so he coached the friends and family on ways they could raise more using social media.
"They ended up raising close to $90,000," Austin says. "They had a Facebook page where hundreds of people from around the world were donating. It was a remarkable feeling for them to have such great success, but the most remarkable thing for me was realizing the power of social media. They had zero traditional media attention."
Austin cites that around the same time there was a "truly heroic story" of a skydiving accident that left a man a quadriplegic that received coverage on the major networks and within a few weeks they raised $50,000. Yet, with only social media, the aforementioned fund for the father with cancer was almost double that.
"I think [with the Arab spring] everyone recognizes that [social media] is powerful now, but at the time it wasn't universally recognized that it's useful beyond just wasting time," Austin says.
Bringing that together with not forgetting where it all started has been key to GiveForward's success. Employees are required to "hug one user" a day, meaning they pick a fundraiser on the site that speaks to them and reach out so users know "there are humans here, not just robots behind a website." Austin admits in the beginning they did that because the site was less than stellar and they wanted to make up for it with "awesome" customer service. But now it just feels right for a company whose core values are – cultivate through compassion, take fun seriously, and authenticity is king. Not to mention the big mantra painted on the office wall – Create unexpected joy.
GiveForward got some of that in November when it was honored at the White House as part of the 2011 Empact100, which recognizes top companies run by entrepreneurs age 30 or under who "impact our economy and inspire others to join the movement to revitalize it by starting a business of their own."
"We were very proud in that moment and humbled," Austin says. "We never thought when we started we'd end up at the White House … The reason we got there was because we helped thousands and thousands of people get through difficult times. That made it sweet for us. It was surreal."
And while he wasn't wearing a banana costume at the time, he was sporting what he dubbed a "lame-o" mustache to raise money for LiveStrong and the Prostate Cancer Foundation.
And the beat goes on.
Nancy Colasurdo is a practicing life coach and freelance writer. Her Web site is www.nancola.com and you can follow her on Twitter @nancola. Please direct all questions/comments to FOXGamePlan@gmail.com.