Credit Suisse CEO Eyes Long-Term Benefit of Capital Moves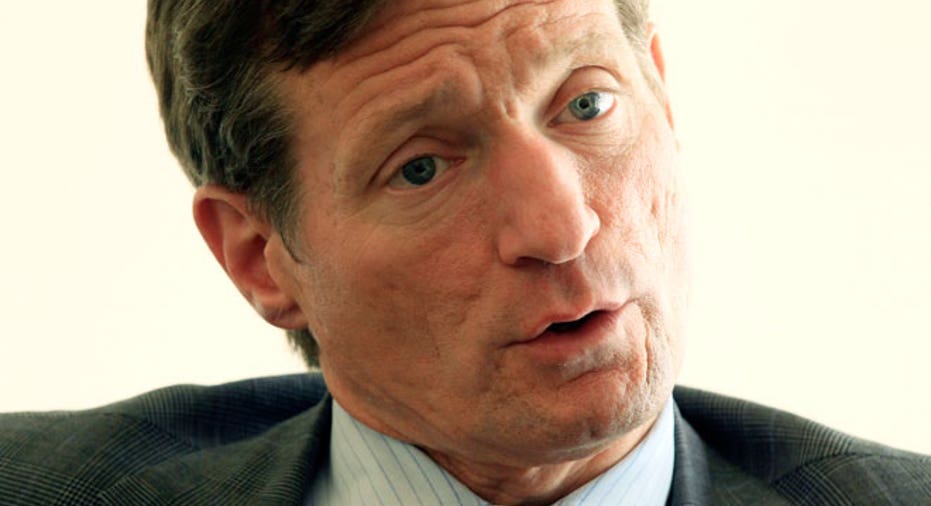 Credit Suisse boss Brady Dougan said he is willing to take short-term pain in the form of capital measures because bolstering capital will allow the bank to eat into rivals' market share.
In an interview at Credit Suisse's Zurich headquarters after unveiling measures to boost the Swiss bank's capital by 15.3 billion Swiss francs ($15.63 billion) in total, Dougan appeared in good spirits as he fired a warning shot to competitors.
"We do believe there will be a dramatic restructuring of the industry, one that has to happen. When others have to do it we'll be able to take market share and win," Dougan said.
Though initially burdensome, experts say Switzerland's efforts to demand far more capital from its largest banks than international rules demanded, may ultimately place Swiss banks at an advantage to foreign rivals as they will be a safer business proposition.
For investment banking, "The capital and regulatory changes will mean a dramatic retooling of the industry has to happen," Dougan said.
"On the private banking side, it's driven by the fact that around the world it is imperative to have a completely compliant structure in terms of how to do cross-border business."
The tone represents a feisty comeback from just five weeks ago, when Dougan was on the ropes after the Swiss National Bank (SNB) publicly rebuked Credit Suisse over its capital shortfall and urged action such as halting dividends or raising cash by issuing shares.
Credit Suisse shares slid amid concern Dougan could boost the bank's capital through holding back profits alone, and doubts about his future swirled among bank observers.
Since then, Credit Suisse has quieted many Dougan critics by bringing high-profile investors such as Singapore-based Temasek on board, as well as convincing smaller ones such as Norway's sovereign wealth fund an d Blackrock Inc. to up stakes.
"I think it is a good plan, and I think they've adequately drawn a line under the argument about being undercapitalized in terms of common equity," said Andrew Lim, a banking analyst at Espirito Santo Investment Bank, who had said Dougan's job looked vulnerable given the SNB's attack. He rates the stock a sell.
Swiss banks are still seen as relatively safe investor havens because of their private banking arms which attract wealthy clients and have more stable income than volatile investment banking earnings.
A closely-watched industry benchmark released by Scorpio Partnership on Wednesday ranked UBS second and Credit Suisse fifth when measured by client assets.
The Swiss regulator and central bank argued UBS and Credit Suisse need extra safeguarding due to their importance to the Swiss economy when they set out far stiffer regulation than international Basel III rules.
Though Dougan was widely credited with successfully steering Credit Suisse through the 2008 turmoil without the state aid that rival UBS took, he came under heavy fire for failing to extend Credit Suisse's success in navigating that crisis.
Credit Suisse continued to hold fast to its investment banking ambitions even as the stricter Swiss rules made risky business far costlier. Credit Suisse finished 2011 with 20,900 investment bankers, 200 more than at the end of 2010, and far more than the 15,184 at Deutsche Bank, which has traditionally outpowered Credit Suisse in fixed income league table rankings.
Still, it wasn't until the SNB report that Credit Suisse sprung into action.
"We felt and still feel we are one of the strongest capitalized banks, but when the central bank comes out and questions your capital the only prudent, the necessary response is decisive action," Dougan said.
On Wednesday, Dougan voiced contrition for holding out hope some businesses would snap back, a bet which left Credit Suisse wrong-footed when the economic crisis worsened.
"If we had battened down the hatches earlier we would probably be better off, but in this business you have to take decisions based on how you want to be sized and positioned," Dougan said.
Now, Credit Suisse is chopping an extra 1 billion Swiss francs of costs -- some through an undisclosed number of staff cuts -- after reaching a target to slash spending by 2 billion francs early.
Though some detractors said his credibility was undermined by the capital moves, Dougan was sanguine about criticism.
"It seems to be part of the job description. I don't like that, but I feel like we've done the right things," he said.
(Reporting by Katharina Bart; Editing by Elaine Hardcastle)