Credit Cards of the Future: 4 Exciting Trends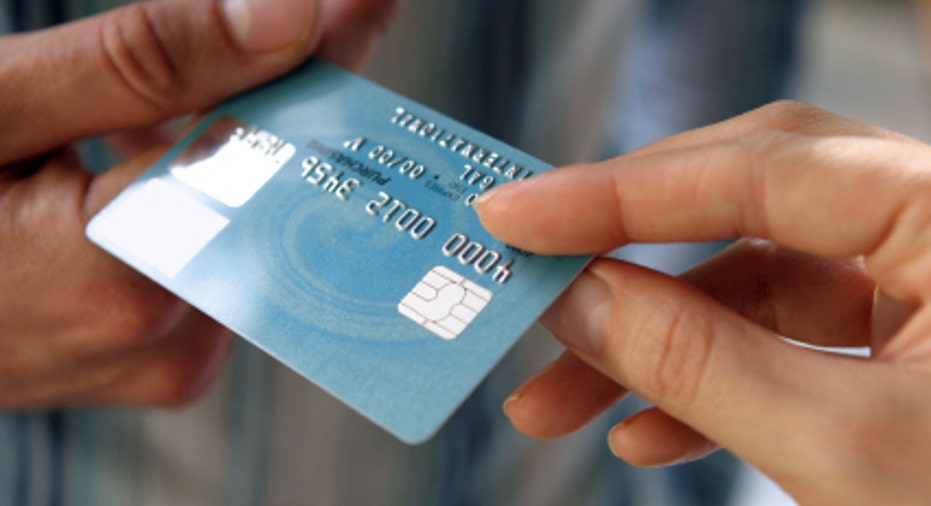 Change doesn't come quickly to the credit card business. It took almost two decades for engineers to agree on the standard for the magnetic stripe. Another 25 years passed before European banks issued cards with embedded microchips, a technology that never took off in the United States.
Even today's contactless credit cards handle fewer than 1 in 20 transactions. Yet, banks, retailers and consumers demand more secure alternatives to today's plastic payment tools. By 2020, you might not recognize your own credit card, if your issuer picks up on one of these four payment technology trends.
Credit cards that don't look like credit cards
Wallet, watch, keys and cell phones. That's the checklist most of us run through before leaving the house. If Silicon Valley engineers get their way, shoppers of the future will only have to worry about remembering their phones.
You've probably already checked the time on your phone instead of your watch. Some home security systems and apartment building access doors let residents buzz themselves in by dialing a secret phone number. Thanks to near-field communication technology, cell phones might replace credit cards as our preferred way to pay. If you can't wait, you can elect to pay with your watch.
Phones like Samsung Galaxy Nexus can mimic a credit card's contactless EMV chip. Just wave the phone at a MasterCard PayPass or Visa PayWave terminal for a speedy authorization that retail analysts claim will shave up to 8 seconds off the length of a transaction. You might not notice the difference, but a fast food restaurant or a convenience store will appreciate the extra few customers it can handle during rush hour, one of which may be you.
If your cell phone doesn't support NFC, attach an EMV sticker to your current device, or to anything else you want to convert into a conduit for legal tender. Tapping your favorite toy against a gas station counter could pay for your soft drink someday.
Biometrics that let you pay with your body (legally)
Visitors to the Walt Disney World Resort in Florida can see the future, just by entering a theme park. Disney launched one of North America's first broad deployments of biometric devices in 1996 to combat ticket scalpers. With a technology revision in 2006, annual pass holders need only scan a single finger at theme park turnstiles.
Instead of capturing fingerprints, biometric scanners combine key fingerprint points with maps of the veins beneath the skin. As retailers, banks, and consumers become more comfortable with the technology, shoppers could link biometric scans with securely stored credit card accounts.
Of course, some retailers still support the ultimate biometric device: a personal relationship with the customer. The merchant terminal service offered by Square allows retailers to set up a "tab" for customers who can "pay by name." A barista or cashier who knows a regular patron well can select their name or photo from a list, charging a purchase to a card already swiped through one of Square's magnetic stripe readers.
The service may feel like a return to Mr. Gower's pharmacy in "It's a Wonderful Life," but mom-and-pop retailers can use the tool to encourage loyalty without investing in costly equipment.
Using the cloud to keep data secure
Workers at a big box retailer like Home Depot might not recognize a repeat customer by sight. That's why the hardware megastore has teamed up with PayPal to eliminate the need for credit cards at its checkout counters. Typing in an email address and password can authorize Home Depot's register to bill your bank account or credit card stored on PayPal's secure servers.
The process resembles that of another PayPal service, Bill Me Later, that uses a customer's email address, date of birth and social security number instead of an account number to process credit purchases.
Reaching this payment nirvana may require a hefty dose of ginkgo biloba as a memory aid, though. Compared to shoppers elsewhere in the world, Americans often struggle to remember passwords and personal identification numbers. When Visa studied differences in PIN adoption between Europe and the United States, they found that many Americans struggled to remember even the four-digit PINs attached to their debit cards.
Company spokeswoman Stephanie Ericksen actually wrote a blog post to assure American customers that a planned rollout of contactless EMV chips wouldn't require cardholders to memorize any personal identification numbers.
Smarter smart cards
Consumers have embraced the convenience of loading prepaid debit cards at supermarkets and drugstores. Yet, keeping tabs on your balance still requires calling a customer service hotline or logging on to an issuer's website. Asian banks have already piloted next-generation debit cards with electronic ink displays. The readout updates a user's remaining balance with each purchase or reload. Banks may consider using the same technology to inform customers about available credit or potential fees for an upcoming transaction.
Clinging to the form factor of the traditional credit card could bring future benefits. Razor-thin batteries and microchips can reprogram credit cards on the fly, enabling users to summon an entire wallet's worth of accounts from a single piece of plastic.
Sliding or tapping an interface can update the account number displayed on a credit card's face, while reprogramming the magnetic stripe and EMV card to match. Instead of tapping a PIN number on a retailer's point of sale terminal, you might tap a PIN directly on your card to unlock it. Technology like this makes a lost or stolen card useless to thieves, while blocking skimmers who might try to swipe or remotely scan your account information.
Even if the credit cards of the future carry the same shape as those of today, we predict they'll look, feel, and act remarkably differently.
The original article can be found at CardRatings.com:Credit cards of the future: 4 exciting trends