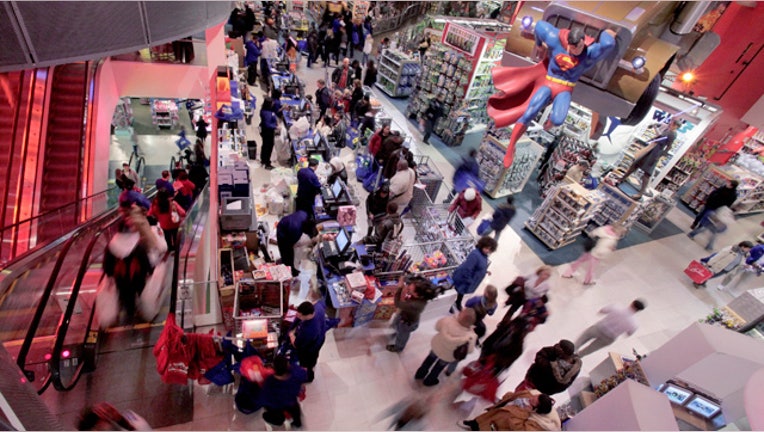 Buying gifts and booking traveling may be on your holiday to do list, and using your credit card rewards for some of these expenses can help ease holiday spending.
"The holidays are a very busy time, and folks have a lot on their minds," says Manan Mahadevia, vice president of Card Rewards at Capital One. "Everyone is trying to simplify their lives and get the most for every dollar they spend. Anything we can do to save time and money will allow us to do what's most important."
Using a credit card with a low interest rate and a rewards program that meets your needs can be an integral part of your holiday budget. On average, people celebrating Christmas, Kwanzaa and/or Hanukkah will spend $804.42, up nearly 5% over last year's actual $767.27, according to the National Retail Federation.
Most cards offer point-based rewards that can be redeemed for merchandise, gift cards or transferred to frequent flyer programs. Some cards also allow cardholders to use points to offset charges on your bill, while others give cash back to cardholders.
How you decide to use your rewards depends on your lifestyle. "Some people love using their points for travel and will save up their points for a plane ticket, but not everyone travels so being able to use points for everyday purchases provides more choice," says Melanie Backs, director of public affairs for American Express.
Since credit cards offer more promotions during the holiday season, experts provide tips for how to benefit the most from these while keeping your budget in check.
Stick to a budget
Having a holiday budget will help you know what you can afford to spend. "It's a time of year when we're emotional and buying gifts for loved ones — you don't want to be surprised with your bill at the end of the month," says Backs.
As you develop your budget, think about where you can use points instead of cash. Since planning to use rewards for a big trip is only practical if you take that trip, experts suggest using rewards for every day charges.
While you can track spending with a mobile app, make sure you've enough savings to pay off your credit card bill. "If you neglected to do that, you'll have to cut back in January to pay off your bill," says Kelley Long, certified public accountant in Chicago, Illinois. If you can't afford to pay your bill in January, spread the payments over three months, but don't tap your emergency fund. "While it might feel like an emergency, it's not," she adds.
Comparison shop
"Make a list of everything you need to buy before going shopping so you are not tempted to overspend," says Natalie Brown, Wells Fargo spokesperson. Sticking to your list will help you stay within your spending limit.
To get the best prices on your purchases, use websites to compare prices from different merchants to get the best deal. "There are so many tools that help you get the most bang for your buck," says Mahadevia.
Use the mobile apps
Along with using mobile apps to track spending and pay bills, the app can help you take advantage of offers, rewards and membership benefits that are relevant to you. Benefits are automatic and built into your card, but you have to use the app or website to enroll in a credit card's special offers or services to be able to take advantage of those. "Some apps will send you a text when you're close to that store so you can use that offer," says Backs.
Buy gifts with points and special offers
Experts suggest understanding how many points you've accumulated and how you can redeem them. Points can be redeemed for merchandise that you intend to buy as a gift. As the season progresses, offers don't tend to change. "Offers are starting now when holiday shopping is starting to ramp up," says Backs. "Make sure you know the terms of the offer — when they expire, start and what you need to do to make sure you get them."
If you can't find what you're looking for, you can also redeem points for gift cards that you can then use at a store or website to buy gifts, suggests Long.
If you shop online, some cards offer benefits like free shipping, which requires enrolling your card in a special program. Some credit cards also offer insurance and other protections, such as purchase and return protection that allow you to return items on final sale that you can't send back.
Pay for travel with rewards
Airline tickets and hotels are less expensive when you book early. "Find flexible programs that help you redeem your rewards no matter when you purchase your travel," says Mahadevia. "Find the best deal and use your hard earned rewards for that purpose."
Many credit cards allow you to transfer points into frequent flyer miles or you can use points like cash to pay for the ticket — book your ticket with your credit card and then use your points to pay your credit card bill. "The airline looks at that flight as if you paid for it with a credit card and you still earn miles on that flight because the airline doesn't recognize that as a reward seat," says Backs. "During the holidays, it can be a nice way to use your points without worrying about transferring point to miles and finding a rewards seat."
If you're flying on a blackout date, you can still use points for a free night at a hotel or a rental car, says Long. "If you have a card that gives you special reward for travel, make sure you book your travel with that card so you get the most benefits."