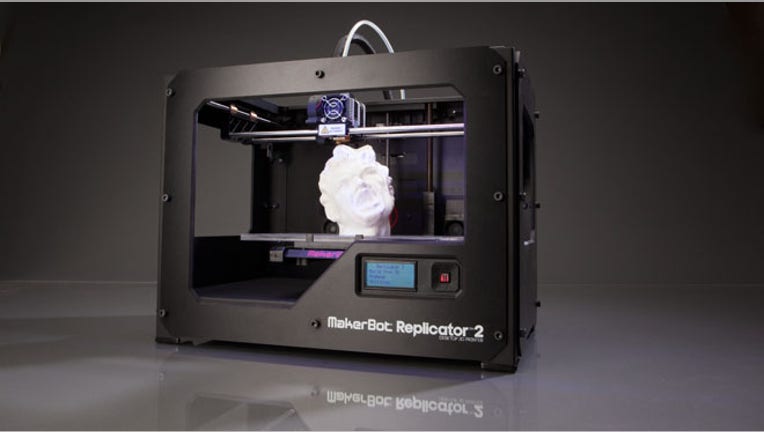 After being adopted by rocket scientists, manufacturers and doctors for years, three dimensional printing is finally getting to the point where regular people can understand it, and now they are starting to use it in their homes.
With the help of smaller, user-friendly at-home printers and growing awareness, 3D printing is reaching new levels of adoption, allowing people for the first time since the technology's inception to buy personal printers for in-home use to make anything from basketballs and wine glasses to edible pastries.
A report released this week by Citi (NYSE:C) predicts 3D printing is on the "cusp of seeing much broader adoption" that could more than triple the current $2 billion market by 2017.
The brokerage started coverage on the major publicly-traded 3D makers – 3D Systems (NYSE:DDD) and Stratasys (NASDAQ:SSYS) -- with a "buy," sending their stocks to new highs on Monday.
"As awareness of the technology's capabilities evolves, we believe demand for print systems, materials and custom parts will accelerate," said Kenneth Wong, an analyst at Citi.
President Barack Obama once called 3D printers the future of manufacturing. And now, after years of building parts for jet engines and consumer products like Invisalign (NASA even tested the largest-ever rocket engine component last week and generated a record 20,000 pounds of thrust), 3D printing is starting to make its way into the standard home.
"For the average American consumer, 3D printing is ready for showtime," Michigan Technological University researcher Joshua Pearce said in an interview with the university, where he serves as an associate professor.
Pearce sees demand surging as real cost savings begin adding up for families that opt to use 3D printers. In a recent study around the cost of making versus buying household items, Pearce says consumers could save anywhere from $300 to $2,000 a year by adopting open-source 3D printers, with the printer paying for itself in a few months to a few years.
"The typical family can already save a great deal of money by making things with a 3D printer instead of buying them off the shelf," he said.
Attempting to address the growing consumer market, 3D Systems now offers a suite of at-home personal computers that start for $1,399 or as much as $4,399 for more advanced ones capable of printing multiple colors and materials simultaneously.
However, Pearce warns costs will have to come down further for 3D printers to become as ubiquitous as electronic 2D printers that etch ink onto paper.
Brownie on the Spot?
Among some of the initial adaptions of at-home 3D printing will likely be on-the-spot food like pastries or entertainment items like toys, says Hod Lipson, Cornell University's leading voice on 3D printing and the author of "Fabricated: A New World of 3D Printing."
He says 3D printing today is equivalent to the state of computers in the early 1980s and has the potential to grow very quickly.
"Will it end up in every person's home? I think the answer is yes," Lipson said, though he hedged by saying they'll likely come in many forms, some plastic, others in the cloud, similar to the way computers have transformed over the last 30 years.
For example, people illiterate in the kitchen may find the printer a necessary tool one day, enabling them to whip up meals like eggs or pastries using edible inks while working off a seemingly endless Rolodex of online recipes.
Of course, there are more than just cost challenges that linger, including educating people on the benefits of 3D printing. Most people, for example, don't realize Invisalign see-through braces are made at a pace of roughly 50,000 a day using industrial 3D printers, according to Lipson.
In fact, 3D printing is responsible for a vast array of materials and products on the market today.
Other people won't want to wait the few hours it takes to build something like a cup or bother with the learning curve.
But once consumers begin to understand the real-life capabilities of 3D printing, and as prices decline, printer manufacturers like 3D Systems may be able to tap a new market of designers and entrepreneurs able to think up, design and produce new items in ways they've never been able to do before.
"With the exponential growth of free designs and expansion of 3D printing, we are creating enormous potential wealth for everyone," Pearce said. "It would be a different kind of capitalism, where you don't need a lot of money to create wealth for yourself or even start a business."