Cowboys owner Jerry Jones rips Goodell's handling of Elliott suspension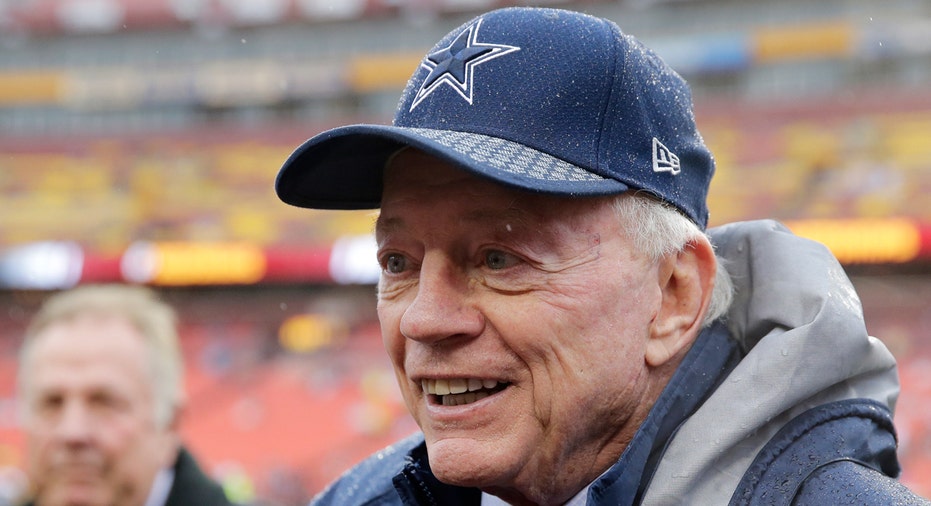 Dallas Cowboys owner Jerry Jones ripped NFL Commissioner Roger Goodell's handling of star running back Ezekiel Elliott's suspension on Tuesday, in the latest sign of a growing rift between the two amid stalled talks related to Goodell's pending contract extension.
Elliott lost a legal bid for a preliminary injunction on Monday that would have stalled his NFL-imposed six-game suspension related to allegations of domestic violence. In an interview with a Dallas radio station, Jones argued that Goodell dealt a stiff punishment to make up for his highly-criticized handling of a domestic assault case involving former Baltimore Ravens running back Ray Rice in 2014.
"Zeke is a victim of an overcorrection," Jones told 105.3 The Fan in Dallas, according to ESPN. "[Goodell's] swing of judgement has been unbelievable from the Ray Rice thing [from] one or two games all the way up to a six-game suspension when you truly have got a debate.
"Even this judge said it shows that very reasonable people could possibly come down on both sides of this. Well, under our legal system, it has to be stronger than that for someone to have done it. Now, we all know we were not there to see it, but I do have every point of contention on both sides, and in our system in this country, Zeke would not have any issue here as to his workplace," Jones added.
Goodell originally suspended Rice for two games after he was accused of physically assaulting his girlfriend. However, Rice received an indefinite suspension after a video of the incident emerged, in which Rice knocked his girlfriend unconscious in an Atlantic City casino elevator. The NFL subsequently altered its policy on domestic violence, mandating that first-time offenders receive a six-game suspension and second-time offenders receive a permanent suspension.
Jones' critical comments toward Goodell came days after multiple reports said the Cowboys owner was among a group of NFL owners holding up talks on the commissioner's contract extension. The group of dissatisfied owners reportedly questioned Goodell's handling of several key issues, including the league's domestic violence policy and ongoing player national anthem protests.
Despite Jones' opposition, Goodell is expected to remain as the NFL's commissioner. He earned more than $31 million during the NFL's 2015 fiscal year, the last time the league was required to report his salary.
Elliott was suspended after a former girlfriend accused him of multiple instances of physical assault during the summer of 2016. Elliott has maintained his innocence and was never arrested or charged with a crime.
At present, Elliott's suspension is set to begin on Tuesday and last into December, pending possible further appeal.