Cowboys Loss Sacks Super Bowl Ticket Prices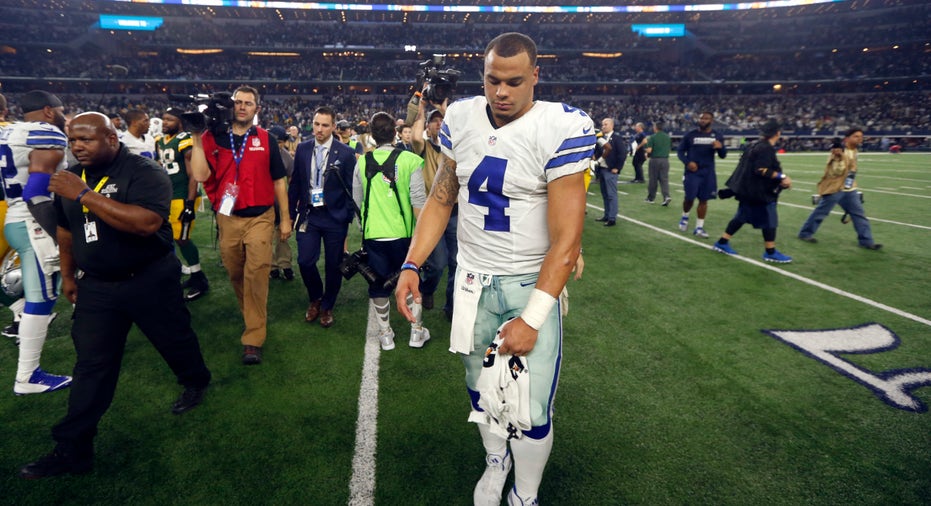 Fans interested in buying tickets to Super Bowl LI in Houston, Texas next month are in for a substantial discount now that Dak Prescott and the Dallas Cowboys are eliminated from the NFL playoffs.
The "get-in price" for the cheapest available seat at Super Bowl LI fell by approximately $1,000 (to $3,755) after the Cowboys, one of the NFL's most popular franchises, lost to the Green Bay Packers on Sunday in the NFC Divisional playoffs. As of Monday morning, the average listed ticket price stood at $4,603 – a 25% decrease from $6,109 last Friday, according to SeatGeek data. The elimination of the Houston Texans, whose home field NRG Stadium will host the Super Bowl, also factored into the decline.
"Prior to this weekend this Super Bowl had prices higher than we had ever seen before, mainly because of the potential that either the Cowboys or Texans could be in the game," SeatGeek analyst Chris Leyden told FOXBusiness.com. "With both teams eliminated we have seen prices come down to a more typical level."
Late-game heroics by Packers quarterback Aaron Rodgers set up kicker Mason Crosby's game-winning field goal, securing a 34-31 victory -- as time on the clock expired -- and a berth in next weekend's NFC Championship game. The Packers are set to face the Atlanta Falcons, while the New England Patriots will face the Pittsburgh Steelers in the AFC Championship game.
While the Cowboys loss is a welcome development for some ticket buyers, it is a negative outcome for NFL brass. Dallas' resurgence this season was a boon to the league's ratings, which otherwise sagged amid an intense election cycle. A Thanksgiving Day clash between the Cowboys and the Washington Redskins drew more than 35 million viewers – the highest total for a regular-season game in more than two decades.
But the continued presence of the Packers, Patriots and Steelers – all popular teams with national followings – should place Super Bowl ticket prices roughly on par with seasons past, according to Leyden.
"I still think we will see above average demand for tickets to the game," he said.
While Super Bowl ticket prices are down slightly compared to last season, prices for seats at the NFC Championship game are up 18% after the Falcons' 36-20 drubbing of the Seattle Seahawks. The average resale price for the Packers-Falcons game stands at $484, up from $405 for last year's game between the Carolina Panthers and the Arizona Cardinals.
Demand is even higher for the AFC Championship game, where Patriots quarterback Tom Brady will continue his pursuit of a 5th Super Bowl ring against Ben Roethlisberger and the Steelers. Tickets to the game are selling for an average of $686 on SeatGeek, up from $500 for last year's AFC title game between the Patriots and the eventual champion Denver Broncos.