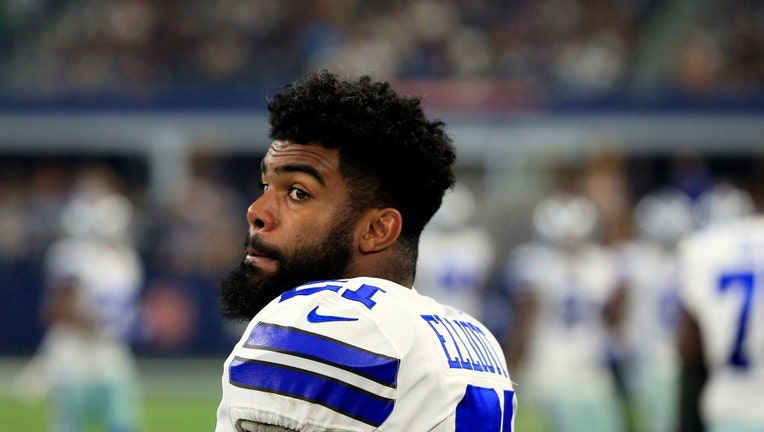 Ezekiel Elliott said Sunday he is "relieved" by a Texas judge's decision to grant an injunction that blocked his six-game suspension, in the Dallas Cowboys running back's first public comments since last Friday's ruling.
Elliott rushed for 104 yards in the Cowboys' 19-3 victory over the New York Giants on Sunday night. The 22-year-old star was slated to miss the Cowboys' games from Week 2 through Week 8 until Judge Amos Mazzant granted a temporary restraining order on the NFL-imposed suspension, ruling that league officials did not adhere to fundamental fairness during the appeal process.
"Just relieved for the fact that I finally get a fair trial," Elliott told reporters after Sunday's game, according to ESPN. "I finally get a chance to prove my innocence and just happy that I'll get to be with the guys for as long as permitted and not miss time and not having to be away from them."
The NFL filed an appeal to Mazzant's decision on Monday. It's unclear if the league will pursue an emergency injunction of its own which, if granted, would block Elliott from returning to the field. But for now, Elliott is expected to play without interruption while the legal process unfolds – possibly for the entire 2017 NFL season.
Elliott was initially suspended last month after a year-long NFL investigation into allegations that he physically assaulted his ex-girlfriend, Tiffany Thompson, on multiple occasions in July 2016. The former first-round draft pick was never arrested or charged with a crime and has repeatedly maintained his innocence.
"It's definitely been a tough last 14 months," Elliott added. "At times it's gotten so hard you start to lose faith.
If enacted, the suspension was expected to cost Elliott more than $2 million in lost salary and bonus repayments.