Could Surging Web Valuations Signal a Mini Bubble?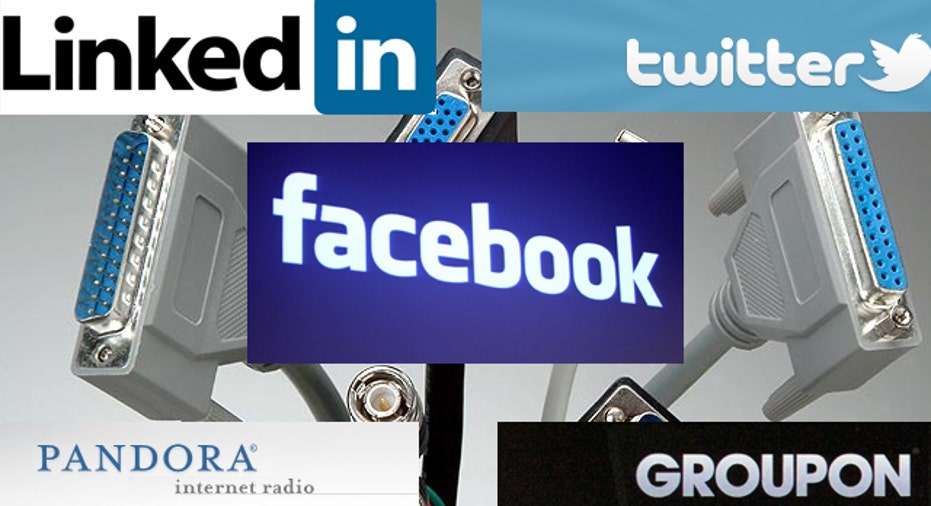 Jolted by momentum in the economy and a flurry of potentially-revolutionary companies, the Internet sector is being showered with enthusiasm unseen in more than a decade.
From Twitter to Groupon, the price tags on Internet companies are soaring, highlighted by a reported $65 billion valuation put on social-networking king Facebook in recent weeks.
The eyebrow-raising valuations are viewed by many as a clue the tech world is in the midst of another mini-bubble in which businesses are being judged strictly on their growth potential rather than their scarce track records or still-evolving business models
"Valuations can't be described as anything short of stratospheric," said David Menlow, president of IPOfinancial.com. The price tags "appear to be out of control, increasing on a geometric, if not exponential basis."
To be sure, even if the price tags on today's Internet darlings prove to be wildly out of whack with reality, this mini-bubble would be on a far smaller scale to its predecessor and thus would likely do far less damage to the economy and markets.
The surging valuations come as many of these companies are gearing up for expected initial public offerings by securing new capital infusions from investment banks and private-equity firms.
Greenwich-based private-equity firm General Atlantic reportedly reached a deal to buy a stake in Facebook that values the Internet phenomenon at a whopping $65 billion. That's a 30% bump from an already-hefty price tag of $50 billion placed on the company earlier this year after a $1.5 billion investment from Goldman Sachs (NYSE:GS).
Likewise, JPMorgan Chase's (NYSE:JPM) reported talks to buy a $450 million stake in Twitter would value the microblogging company at $4.5 billion, a 22% increase from a December round of fundraising.
Dotcom Bubble Remembered
The race to get a piece of Internet companies reminds some of the dotcom bubble that peaked in March 2000 when the Nasdaq Composite hit 5132.52 (it stands at just 2692 today).
During that boom, companies like The Learning Company and theGlobe.com, with little or no earnings and flawed business models, IPO'd for billions of dollars. Traditional methods of valuation like price-to-earnings ratios went out the window as investors and hedge funds followed the herd gobbling up Internet stocks.
Many IPOs saw enormous first-day gains, highlighted by VA Linux Systems, which went public at $30 a share and closed at $239.25 – a record debut surge of 698%.
At its peak, the bubble led to a crush of bad M&A moves, like Time Warner's (NYSE:TWX) $164 billion purchase of AOL (NYSE:AOL), often called one of the worst acquisitions on record. (AOL's stock hit all-time lows this week after it closed its own deal to acquire the Huffington Post for $315 million.) When the bubble burst a string of bankruptcies followed and $5 trillion evaporated from the stock market.
"I'd say for the most part you're not talking about substantial or any profitability at this point. That without question is reminiscent of what we saw 10 years ago," said Scott Kessler, a Standard & Poor's equity analyst specializing in Internet companies. He said there is again a "concept of valuing companies so highly strictly because of their perceived growth potential and not focusing on business models, profitability and cash flows."
Still, Kessler stresses that, "we're only really talking about a handful of companies that have gotten to the point where people are kind of scratching their heads."
The Facebook Effect
Facebook, which was founded in 2004, gets most of the attention. If the company went public at the current $65 billion price, it would have a higher market capitalization than a slew of blue-chip companies, including Home Depot (NYSE:HD), American Express (NYSE:AXP) and Kraft (NYSE:KFT).
Critics take issue with its breakneck price appreciation and the potential it could be overtaken by an unseen competitor as Myspace was by Facebook. Myspace is owned by FOX Business parent News Corp. (NASDAQ:NWSA).
On the other hand, Facebook, which has nearly 600 million members, is said to have posted 2010 revenue of $2 billion and reportedly is hauling in more than 15% of total display ad revenue on the Internet, putting it on track to pass Yahoo! (NASDAQ:YHOO) in that category.
"They already have a significant base of revenue and they have only just begun scratching the surface of monetization," said Kessler.
Facebook has already achieved almost iconic status. Its co-founder, Mark Zuckerberg, has become a household name as the subject of a popular movie and serving as host of Saturday Night Live.
"They've proven monetization, they've proven profitability and they've proven they can be a generation-defining company. They are past the question of whether or not they are a fad," said Jeffrey Bussgang, author of Mastering the VC Game and general partner at Flybridge Capital Partners.
Facebook's soaring price tag has become a measuring stick in the industry.
"Everyone is pegging themselves off Facebook and it trickles down from there," said Bussgang. "They all say, 'What fraction of Facebook do you think I'm worth?'"
That thinking may have played into Groupon's decision to reportedly rebuff a $6 billion takeover attempt from Google (NASDAQ:GOOG).
Groupon, which is expected to go public later this year, has grown at warp speed offering discounts in more than 500 markets and employing more than 4,000 people. A memo recently showed the company's 2010 sales soared 20-fold to $760 million.
Yet Kessler has "a lot of questions" about Groupon, highlighted by how "sustainable" its short-term success will be and how "durable" its "perceived competitive advantages" are.
Already, there has been buzz about Google and The New York Times Co. (NYSE:NYT) throwing cash behind similar projects. Kessler also expressed concern about the relative inexperience of founder and CEO Andrew Mason, 30.
Leading Internet radio service provider Pandora, which was founded in 2000, may also face obstacles as it prepares to go public. While it has more than 80 million users, Kessler said Pandora has a "very challenging business model" complicated by international intellectual property laws and competition from Apple's (NASDAQ:AAPL) iTunes and Rhapsody. In fact, Pandora said it ended 2010 in the red by more than $16 million.
Menlow believes the IPO of LinkedIn, which operates an online professional network with more than 90 million users, may prove to be a "litmus test" for market sentiment on the sector.
Yet LinkedIn, which said it brought in $161 million in revenue during the first 9 months of 2010, is being valued in the private markets at just $3 billion, making it "among the least-richly valued," Kessler said.
Even if a mini bubble is being inflated, few believe the subsequent bursting will be nearly as painful as the dotcom bubble. That's because the sheer number of Internet companies in focus today pales in comparison.
"They were driving so much of the economy. When they showed weakness, that affected advertising, office space, employment, a whole host of different things," said Kessler. "These companies have much less overall impact."