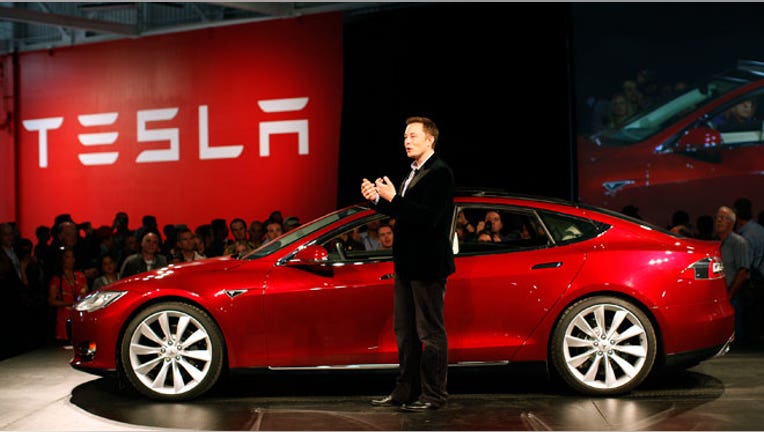 Shares of Tesla Motors (NASDAQ:TSLA) popped 3% to all-time highs on Tuesday following reports Elon Musk, the electric car maker's CEO, met with Apple's (NASDAQ:AAPL) M&A chief last spring.
According to the San Francisco Chronicle, Musk met with Apple M&A chief Adrian Perica at the iPhone maker's headquarters in Cupertino, Calif. last spring. The meeting occurred around the time that some analysts were floating the idea of Apple acquiring the fast-growing electric car giant, which now has a market cap north of $25 billion.
It's not clear what the executives talked about or whether Apple was seriously considering making a play for Tesla.
Both Tesla and Apple declined to comment.
Still, Wall Street bid Tesla 3.38% higher to $204.99 in Tuesday afternoon trading. Earlier, Tesla hit a new all-time high of $205.72.
The rally to a new record comes in the face of another Tesla-related fire, this time in a garage in Toronto.
German investment banking analyst Adnaan Ahmad wrote an open letter to Apple CEO Tim Cook in October 2013 suggesting the iPad maker bid on Tesla.
"I know this is radical and potentially 'transformative' but this would radically alter Apple's growth profile," Ahmad wrote. "In Elon Musk, you could strike up a partnership and obtain a new iconic partner to lead Apple's innovation drive."
Investors and analysts alike have expressed concern over Apple's growth trajectory now that the early buzz for transformative products like the iPod and iPhone has died down and few new product categories have emerged.
About six months before Ahmad's open letter, Musk met with Perica and "probably" Cook, the Chronicle reported.
Considering Tesla's surging growth, it's not clear why the electric car maker would consider accepting a buyout from Apple, other than access to more cash for future investment. Tesla's shares have skyrocketed more than 1,100% since the company went public at just $17 per share in June 2010.
Besides the apparent interest in Tesla, Apple is heavily exploring medical devices, especially sensor technology that can help predict heart attacks, the Chronicle reported. Apple is searching for ways to predict heart attacks by studying the sound blood makes as it transits arteries, the paper said.
Cook has come under pressure from shareholders over Apple's reluctance to spend its horde of cash.
"We have no problem spending 10 figures for the right company, for the right fit," the Apple chief told The Wall Street Journal earlier this month.
Shares of Apple advanced 0.92% to $549.01 Tuesday afternoon, trimming their 2014 loss to 2.1%.