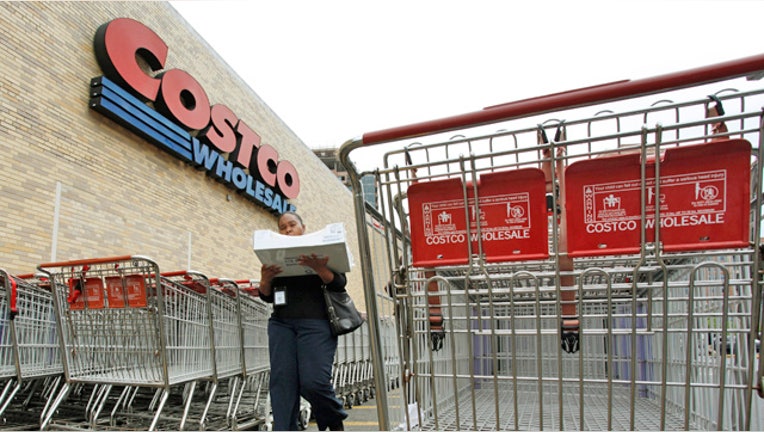 Costco Wholesale Corp. on Monday named Citigroup Inc. and Visa Inc. as its new credit-card partners, replacing American Express Co. as the exclusive credit-card network at its stores beginning in April of next year.
Citi will become the exclusive issuer of Costco's co-brand credit cards, and Visa will replace American Express as the credit card network for Costco's stores.
Visa shares rose 2.3% premarket, while Citi edged up 0.6%. Meanwhile, Capital One Financial Corp. and Mastercard Inc. declined 1.7% and 1.2%, respectively.
Last month Costco and AmEx announced the coming end of a 16-year partnership in which Costco only accepted AmEx cards. In addition, AmEx and Costco issued a credit card together that could also be used at other merchants. The unusual partnership had driven a significant chunk of business to the New York card company.
The announcement in February that the companies would end the deal pummeled AmEx's stock price and served as a fresh blow to AmEx, which was already falling short of some sales targets.
The Wall Street Journal previously reported that AmEx had approached Costco several months ago to renew the relationship, prompting the wholesale club to open up the process to other potential partners, according to a person familiar with the discussions. Costco had sought more favorable terms from AmEx, the person said.
AmEx, which issues credit and charge cards and owns a processing network, said it had been unable to reach a new agreement with Costco on terms that "would have made economic sense" for the company.
In the past decade, Costco has more than doubled its annual revenue to $112.6 billion for the fiscal year ended Aug. 31 and nearly doubled profits to $2.06 billion. Throughout that time, customers couldn't make purchases with credit cards branded by Visa Inc., MasterCard Inc. and Discover Financial Services. Costco, however, does accept debit cards from Visa and MasterCard.
Such partnerships, called "co-brands," are established to build loyalty among specific types of customers.