Corporations Focus on Employee Wellbeing…Retreat-style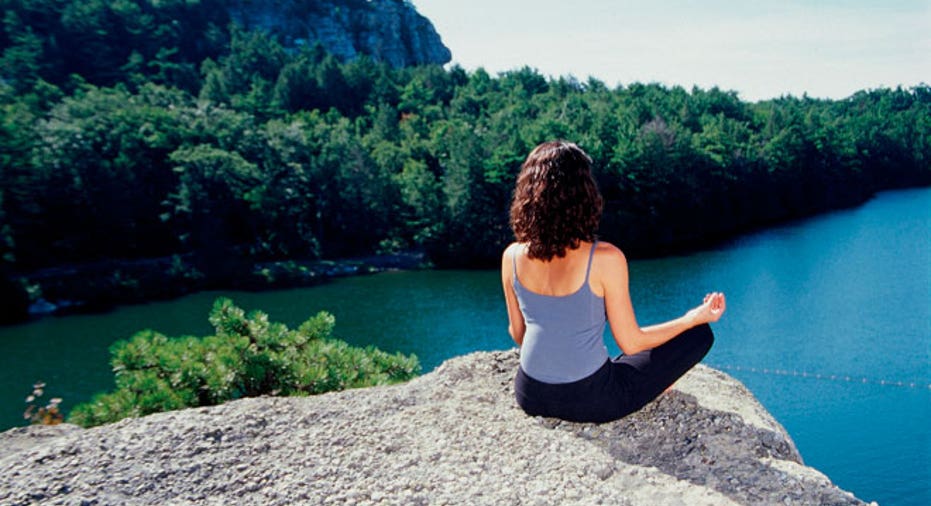 It never fails. The moment that the copy machine jams or your computer freezes is the same one that your boss demands the executive proposal you've been working on for the last several weeks.
Immediately your blood pressure escalates, your heart pounds and your neck gets tight. This "fight or flight" response is the same you'd feel in any threatening situation—and not only could your reaction hurt your career, it can also damage your health.
Excessive "fight or flight responses in the brain cause Repetitive Mental Stress Injury," says David Harp, a cognitive behavioral counselor. Stress takes its toll on our physical health and causes negative emotions that can lead to over-eating and obesity, smoking, alcohol abuse or other addictions.
Stress at work impacts interpersonal relationships at the office and home, limits our productivity and stifles our creativity and sense of team, says Harp. "When we're overstressed we can't do anything well!"
That's a scary pronouncement in a business world riddled with competitive pressure and an economic climate that has businesses demanding more from their workers for less.
Corporations increasingly understand the need to teach employees of all levels to relieve and reduce stress and are integrating physical health with emotional and spiritual wellbeing. This mix, according to Sara Harvey, COO of the Chopra Center at California's LaCosta Resort, leads to a healthier workforce, lower health care costs and a more engaged, productive workforce.
She explains that employers used to wine and dine overworked and stressed worker, but now they recognize more needs to be done.
The annual corporate physical isn't providing return on investment, says Dr. Mark Liponis, medical director at Canyon Ranch and coauthor of UltraLongevity. There are still heart attacks, high blood pressure and the need to take medication. "All this slows people down."  Now companies are showing their appreciation to employees by taking them to wellness and spiritual retreats to keep them fresh and have them relax.
Woodstock Chimes CEO Garry Kvistad is a firm believer in the power of stress relief. He has taken his senior sales team to Mohonk Mountain House and visited Canyon's Arizona location. Without the pressure to get orders out the door, his team focuses on exercise, yoga or meditation. "This reduces stress and has lasting lifestyle value."
Offsite and out of the rigid work zone, it's safe to have the "aha" moments that make deep change available, says Alex Sherwood, director of recreation at Mohonk Mountain House. In fact, 30% of Mohonk's corporations bring their teams back.
"Retreats offer a palpable experience and a supportive setting," says Liponis. Some executive teams visit Canyon twice a year, plus there's an uptick in corporate bookings.
These retreats aren't just about going to the spa for a massage, a manicure or facial. Instead they're engaged in an immersive health experience:  getting fit, eating right, sleeping well at night, reducing stress. "That "aha" moment comes with the realization they're doing things to feel permanently and sustainably better," Liponis says.
When leaders return to work, they interact more calmly with reports, claim experts.
They also come back to work refreshed, motivated and ready to do more for themselves and the company, says Watsco Inc CEO Al Nahmad who sends senior staff to Canyon every year.
This sets a tone and paradigm that impacts corporate culture and carries over to their home lives.
Breathe in. Breathe out.
Customized activities like a ropes course, sunrise walks or ice bowling combined with yoga and meditation teachings and the accompanying necessary breathing style help people develop a heightened awareness of themselves, their environment and the people around them.
Learning these physical techniques can change lives, says Dr. Nina Smiley, psychologist and director of marketing at Mohonk Mountain House.
Through meditation, people can learn to be "stillful," to not fly off the handle, Smiley says. Still, she cautions prudence. "New age or metaphysical references can be off-putting." The emphasis is stress reduction.
Focusing your attention tightly onto your breathing sounds simple, but it's not always easy, claims Harp. "Many people are resistant to the traditional "meditation-style" methods for teaching breath focus." Harp's solution: he uses the harmonica to teach correct breathing—a method he discovered by chance when teaching over 20 years ago. These days he's even added yoga.
Harp uses hand signals to show people when to breathe in and then out. People focus their attention onto their breathing in the most entertaining and rewarding way possible. "In just one session, they are conceivably playing blues and rock harmonica."
Harp's current clients champion harmonica yoga. "It makes stress reduction fun," says Jerry Greenfield, cofounder Ben & Jerry's.  "So people actually do it.  And keep doing it.  And get the benefits that reducing stress can provide in the workplace."
Tips to give your retreat lasting value:
Limit your take-home practices. Focus on two or three learned practices, integrating them into your daily routine, says Harvey.
Try alternate nostril breathing. Inhale and exhale to a four-count, alternately opening and closing one nostril to evoke calm in a tense situation, says Harvey.
Keep sandalwood oil handy. Rub the oil in your hands. Cup hands over your nose and take four deep breaths. "Within 30 seconds you're back in action," claims Harvey.
Clear your mind and be centered in the moment. Simply take three slow, relaxed breaths as you breathe from your center and let thoughts go. Focus on silently saying, "In"… "Out…"say Harp and Smiley in The Three Minute Meditator.
Digitally "Do-It." Set a reminder on your smart phone to tell you to breathe and center to stay calm when you know you're going to have a busy/stressful day.
Count your steps. On your way to a meeting, silently count steps taken on your in-breath and on your out-breath, releasing any thoughts that enter the mind. Says Smiley, "You'll get where you're going more relaxed than when you left your desk!"