Corporate America Cracks Piggy Bank for Oklahoma Tornado Victims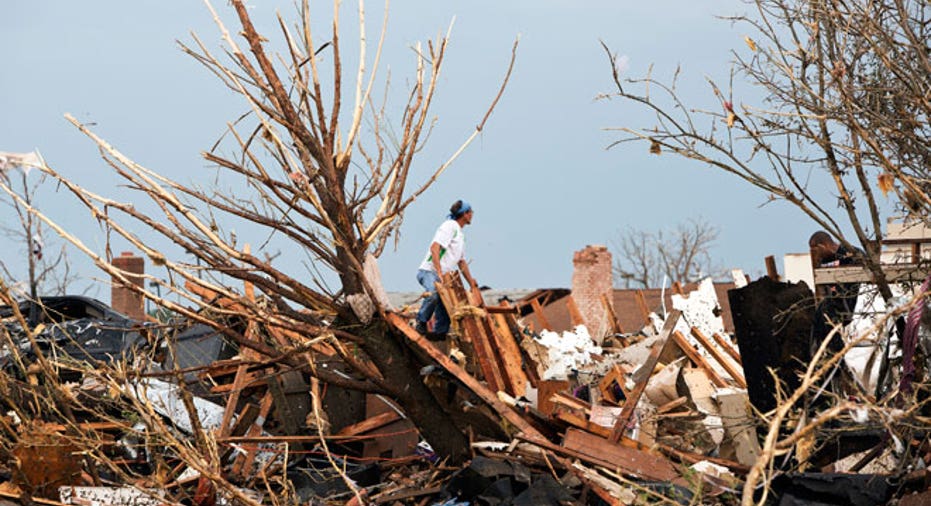 In the aftermath of the Oklahoma tornado disaster that killed at least 24 people and damaged or destroyed as many as 13,000 homes, the calls for help are being answered.
Major corporations have teamed with charities, and several, including Boeing (NYSE:BA), AT&T (NYSE:T), United Continental (NYSE:UAL) and PepsiCo (NYSE:PEP), have opened internal portals to allow employees and customers to donate directly to the relief through the Red Cross and Save the Children. Some companies are using their own balance sheets to funnel funds to non-profits directly involved with the cause.
Among the larger charities involved are Feeding America, which sent "truckloads of food" to Oklahoma victims, the Red Cross, which has deployed teams and shelters to the devastated city of Moore, as well as the Salvation Army and Save the Children.
American Airlines is encouraging customers to donate to the Red Cross Oklahoma relief efforts by making a cash donation, and it is rewarding members with a one-time award of 250 AAdvantage miles for a minimum donation of $50, or 500 miles for a donation of $100 or more.
New Jersey charities have also reached out to their peers on the ground in Oklahoma, offering support just seven months after Hurricane Sandy pummeled the East Coast, according to one of the founders of Rebuild Recover, a non-profit that emerged in the days after Sandy.
"We are raising awareness and asking local charities on the ground there if they need help," a spokesman for the group said. "Oklahoma sent a lot of aid to Jersey, utility trucks etcetera. A lot of support came from them."
Other corporations are working to provide direct relief.
Similar to their responses following Sandy, Verizon (NYSE:VZ) and AT&T have both deployed their own teams of employees to help stabilize the region's devastated wireless towers to restore service and provide mobile charging stations. They temporarily are waiving voice, data and text overage charges, and have both committed $100,000 to the efforts.
"Our network is fully operational and we're bringing in additional equipment to help support the high call volume," said Dean Taylor, president of Verizon Wireless-Oklahoma. "In addition to waiving phone overages, we have teams on the ground and in stores to assist customers."
"AT&T is continuing our on-the-ground coordination with authorities and emergency response teams as we deploy crews and resources," the wireless carrier said in a post.
Consumer electronics giant Best Buy (NYSE:BBY) has partnered with Verizon and AT&T to set up cell phone charging stations in the parking lot of its store located in Moore, which opened for commercial operation on Wednesday. Best Buy said none of its stores in Moore or Oklahoma City were damaged by the storm.
The Richfield, Minn.-based retailer also says it is also donating products like computers and mobile wireless hot spots and Geek Squad services to shelters and schools in the Moore area. Local Best Buy employees are "assessing urgent technology and service needs."
A foundation associated with Home Depot (NYSE:HD) created a $1 million weather impact fund this week to aid relief, recover and rebuilding efforts in response to recent tornados not just in Moore but throughout the Southwest and "in expectation of continuing violent storms throughout the spring season."
As part of that commitment, Home Depot Foundation donated $250,000 to the American Red Cross for immediate relief needs and committed $100,000 to Team Rubicon, whose primary mission is engaging veterans in disaster relief and recovery efforts.
"The violent storms that have recently stricken Moore and other areas throughout the Southwest make it incumbent upon us to respond quickly to help our communities recover and rebuild, both now and during the many months to come," Home Depot CEO Frank Blake said in a statement. "It is our sincere hope that the worst of this ferocious weather is behind us, but we stand ready to continue assisting through this funding, volunteerism and partnership with our communities."
Chicago-based jet maker Boeing, which has a facility near Moore and several employees who live in the nearby area, says it is committed to helping with the recovery effort. While it has not announced anything formally, it has opened an internal portal for employees to donate through the Red Cross and a spokesperson for the company said some Boeing employees have opened up their homes to victims while others are mobilizing teams and looking to head into the areas no longer restricted by emergency personnel to provide hands-on relief.
"They are very quickly organizing as of yesterday," the spokesperson said. "Help comes in various forms and they simply want to be where it is needed."
Meanwhile, drug giant Pfizer (NYSE:PFE) is offering replacement medicines for patients enrolled in its Pfizer Helpful Answers assistance programs, and Procter & Gamble (NYSE:PG) donated 10,000 pounds of free Duracell batteries to Oklahoma.