Cooking Up a Pricey Backyard Barbecue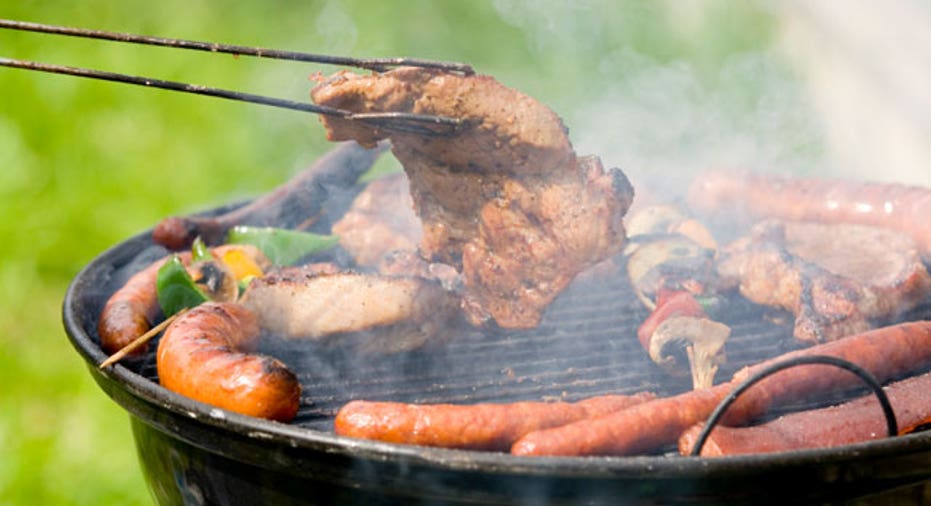 It might be physically impossible to have an American summer without participating in at least one barbecue.
Every time we fire up the grill, we seem to be reliving that universal 8mm movie of the quintessential barbecue scene. None of us will admit it, but we likely have our own "Wonder Years" inner monologue whenever we hear the crackle of fat on steel and sip an adult beverage while our foreheads crisp in the sun.
There's no real secret to it: Meat gets cooked outdoors and served to a gathering of friends, who ideally each brought a cheap drink and something that loosely complements cooked meat.
But what if you could rewrite the script one time and pull out all the stops for the most expensive barbecue your backyard has ever seen? What if you could tell Kevin Arnold to can it if he doesn't put on some bling? How would one go about constructing such an event? We're not talking about live entertainment and bounce houses, but the bare bones of a barbecue. Bare, expensive bones like a grill, burger, cutlery and beer.
Normally, these essential barbecue components are accessible and affordable. However, the barbecue that follows will not be confused with being either of these.
Grill Master
If you really want to pull out all the stops, the most expensive barbecue, of course, has to start with a grill that embarrasses that thing rusting in the corner of your deck. It has to simultaneously make no sense whatsoever and all the sense in the world. This why a gold-plated barbecue was made.
Introduced by BeefEater Barbecues, apparently because they can, they had the state of mind to hand-plate every square inch of this grill in 24-carat gold except for the cooking surface -- just in case someone actually wants to use a gold-plated barbecue. The value of such a grill? A mere approximate $164,000.
Though no one would question BeefEater's claim that the grill is "the ultimate in backyard bling," perhaps you like your remarkably expensive barbecues a little more understated. Thankfully, there's the Outdoor Kitchen Center, also from BeefEater Barbecues. Maxing out at four burners and about $50,000, there will be no mistaking that a statement is being made, in addition to burgers.
If you're one for dramatic effect, you can also opt to make your guests mill around in the backyard until they start wondering aloud where the food is. Then, you can answer them with the blaring horn of the 18-wheeler you have parked in your driveway that no one noticed on the way in. It's Texas Lil's -- noted as the world's largest transportable smoker. That claim doesn't seem disputable when the trailer is 57 feet long with 90,000 square inches of cooking surface.
David Klose, who manufactures mobile barbecue pits, says Texas Lil's cost is "half that of a Continental airplane." That must translate to "a lot."
5,000 Reasons to Love This Burger
Those blocks of frozen generic beef that have been accumulating frost in your freezer for the last two years? Not going to cut it for this barbecue.
Fleur restaurant in Las Vegas, owned by celebrity chef Hubert Keller, has something it calls the "fleurBurger 5000." Though it sounds like it traveled through time to be eaten, 5,000 is the number of dollars you'll be handing over to enjoy this stack of goodness. It's also a good template to follow for a tasty, albeit pricey, burger.
"Most people just want to see it's actually on the menu," says Yvonne Silva, front of house at Fleur. More than a dozen of the 5000s have been sold, she says, though many more patrons jump at the bargain version of $75, omitting the 1995 Chateau Petrus wine that accompanies the original.
If you'd like to reconstruct the fleurBurger 5000 in your backyard barbecue palace, you will need to start with tracking down some Wagyu beef, which can run about $65 to $70 per pound for a good cut. Next up, truffles (average about $75), foie gras (about $70) and some brioche buns (about $10).
A distant contender in terms of price, but delicious nonetheless, is the Black Label Burger at Minetta Tavern in New York, which sells for $26. Good luck attempting this one at home, as the patty is a blend of skirt steak, brisket, chuck, short rib and rib-eye, all dry-aged for 45 days and from renowned butcher Pat LaFrieda, seared medium-rare with caramelized onions on brioche from Balthazar Bakery.
Diamonds are a Knife's Best Friend
Diamond-encrusted cutlery leads to taste-encrusted beef. Isn't that the rule of thumb? Well, it is for this barbecue. You can't attempt to emulate a hamburger with "5000" in its name by prepping your protein with plastic butter knives. No, you need something equally brilliant and probably heralding from Japan or Germany.
Enter the Brilliant Nesmuk kitchen knife, literally meeting both criteria. Priced around $43,700 from jewelry designer Quintin Nel and Hoffman/Pieper, you may want to invest in a trumpet player and James Earl Jones to appropriately introduce the knife whenever you open its case.
You would think a remarkably detailed blade of carbon steel, a sterling silver handle and eight diamonds could handle cutting through a beef patty just fine. Still feel like there's something lacking? Nesmuk isn't finished yet. Your knife also includes a corresponding diamond ring. Just be sure not to let your polyester kitchen gloves catch on the diamond.
If this all seems a bit much for you, Nesmuk also offers the Exklusiv Crystallized, which seems to have gotten its name from the 647 Swarovski crystals adorning its handle and running onto the sheath. A bargain for about $22,600, but make sure you don't get stuck with dish duty.
Nesmuk says their entire knife collection is handmade to ensure they're among the strongest and sharpest in the world, allowing for unparalleled precision cutting. They don't specifically mention that the knives are ideal for greasy backyard grilling, but they don't say they're not ideal, either.
Ice Cold Beers
"Oh," you'd say to your arriving well-meaning guests. "Maybe leave those beers in the fridge."
You'd then lead them back to the high-rolling action in the backyard -- the beer you are serving is no light domestic beer. It might not raise any eyebrows when you mention that this brew is made from water that was once ice, but it might if you share that it was purchased for $1,850.
That's because that ice you were talking about? It's from Antarctica.
Antarctic Nail Ale, brewed in Australia, is actually sold on a donation basis for Sea Shepherd, a marine conservation organization. Nail Ale brewer John Stallwood says that largely explains the steep price, with a reserve set at $800.
"Breweries are always looking for something unique to do," says Stallwood, whose brother obtained the ice from Antarctica. "I think most people who have Antarctic won't drink it, as the cause is more special than what is in the bottle."
Stallwood added that there are only two bottles left anyway, so he recommends the Clout Stout, an imperial stout going for a buzz-killing $106 per bottle.