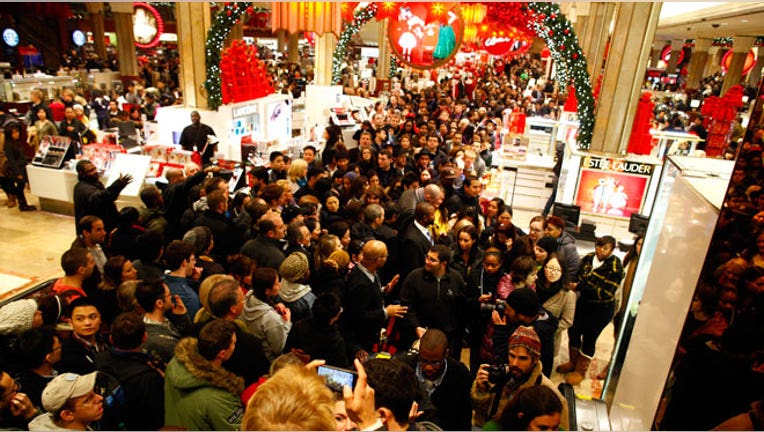 Last week I touched on several 2014 holiday shopping forecasts and shared my view that the one supplied by the National Retail Federation (NRF) will likely prove to be aggressive. In case you missed it, the NRF forecasts 2014 holiday spending to rise 4.1% year-over-year to $616.9 billion this November and December.
Even though we continue to see at the pump gas prices move lower -- I've personally seen $2.85 per gallon in New Jersey -- and odds are we will see them move even lower near-term, my thoughts were confirmed over the last few days thanks to a slew of disappointing earnings results from Wal-Mart (NYSE:WMT), Gap (NYSE:GPS) and Urban Outfitters (NASDAQ:URBN), among others. Each of those companies issued disappointing quarterly results in one form or another -- be it less-than-stellar results or softer-than-expected outlooks --, and that followed dim September retail sales per the Commerce Department.
Citing a tougher-than-expected sales environment, a stronger U.S. dollar and lower food-stamp payments, Wal-Mart cut its forecasted sales growth for 2014 to +2% to +3% from the prior guidance of from +3% to +5%. In looking at its September results, Gap shared its same-store sales at the namesake brand stores fell 3% during the month. Other companies that posted misses relative to same-store sales expectations included Fred's (NASDAQ:FRED), Costco (NASDAQ:COST) and once again Urban Outfitters. Once a high-flyer, Urban Outfitters has been plagued by challenges which led the company in a filing dated Sept. 9 to share that its then quarter-to-date retail segment's comparable sales posted a low-single-digit decline. Recently Urban shared the negative trend has continued in the balance of the quarter.
The hits kept coming this week as Hasbro Inc. (NASDAQ:HAS) posted third-quarter 2014 results that missed consensus estimates on both the top and bottom line due to softer preschool sales. VF Corp. (NYSE:VFC) delivered weaker than expected quarterly results and McDonald's (NYSE:MCD) saw its third quarter comparable sales in the U.S. drop 3.3% driven by negative guest traffic. Even Chipotle Mexican Grille (NYSE:CMG), which delivered better than expected September quarter results, offered a slower than expected view on what's ahead. Chipotle now expects comparable restaurant sales increases in the mid-teens for 2014 -- compared to 17% for the first nine months of 2014 -- and forecasts comparisons to dip to low to mid-single digit increases for 2015.
What's troublesome is the reluctance of consumers to spend during Back to School shopping, which historically kicks off the seasonal surge in consumer spending that ends in January when consumers return and exchange holiday gifts as well as take advantage of retailer discounts.
Despite the better domestic industrial and manufacturing data that we have been getting month after month and would-be job creation, we've seen little-to-no growth in real wages and that limits spending power. The fact that a job creation has been skewed toward part-time work hasn't helped either, but even with that job growth Gallup's payroll to population index stood at only 44.8% in September. In other words, there are more people in the U.S. not working than working -- not good for what many see as a consumer-driven economy.
While many are focused on the job creation and wages, myself included, we need to examine the other side of the consumer equation. In doing so we find that higher consumer debt in the form of credit card debt, auto loans and student loans per data from the Federal Reserve Flow of Funds Report issued in mid-September is weighing if not crushing the consumer. Per the report, even though mortgage debt has declined 22% since 2007 consumer debt has continued to increase and just reached an all-time high of $3.2 trillion in the second quarter. Meanwhile data from NerdWallet points to an average household credit card debt of $7,281 as of this past September. What's rather worrisome about this level of average household credit card debt is it's within striking distance from debt tipping point levels where per Cardhub.com minimum payments become unsustainable and delinquencies skyrocket.
At the same time, data from the Federal Reserve shows that nearly a third, or 31% of U.S. adults said they had no savings or pension to help them afford retirement. As scary as that statistic is, the Federal Reserve's findings also revealed that 19% of those very close to retirement age, between the ages of 55 and 64, said they had no savings and 25% of respondents said they didn't know how they would afford their golden years.
Looking at all inputs of the consumer spending equation -- jobs, wages, the need to save and the servicing existing debt levels -- it's not unrealistic to think the NRF's above-trend holiday shopping forecast that calls for a 4.5% increase year over year in 2014 could be a tad "irrationally exuberant" to steal from former Federal Reserve Chairman Alan Greenspan.
Perhaps we will once again hear of a yet another "new normal."
But perhaps a more realistic forecast is the one the NRF has for 2014 Halloween spending, which it sees growing 3.3% year over year to $77.52 per person. When presented on such a basis, you lose the sheer size of how big consumer spending on the eerie holiday has become. Doing some quick math we find U.S. consumer spending could reach $7.4 billion on costumes, decorations, candy and related items. In thinking about how it is we are spending so much on Halloween, here's a breakdown of the NRF's 2014 forecast:
$2.8 billion will be spent on Halloween costumes this year ($1.4 billion on adult costumes, $1.1 billion on children's costumes and $350 million on costumes for pets);
$2.2 billion spent on candy;
$2 billion spent on decorations.
With several hundred companies set to report their quarterly earnings in the coming weeks, we'll get a sharper view on how the consumer is fairing and to what degree he or she will be willing to open their respective purse strings this holiday season. If Halloween spending is filled with more tricks than treats, it could mean some coal holiday shopping forecasters this year. It could also signal cash-strapped consumers will be far more picky than more earnest bargain hunters this holiday shopping season.