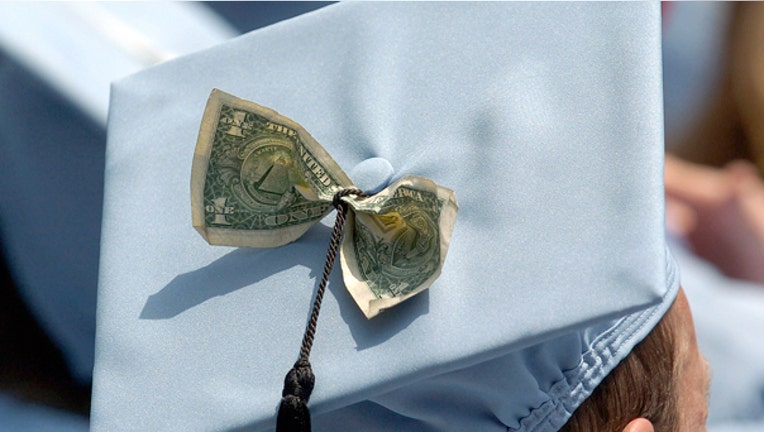 Growing up is tough enough without the worries of your financial future, so Money101  is here for you. E-mail us your questions and let us take off some of the pressure.
The sluggish job market has many recent and soon-to-be college grads considering continuing their education into graduate school in an attempt to increase their marketability and networks to help their job hunt.
According to a U.S. News survey of 1,756 undergraduate programs, 627 programs reported that an average of 26% of students decided to attend graduate school within a year of getting their diplomas.
"Given this economy, it might require for you to be even more deliberate about whether or not you go to graduate school, really thinking about what would be the benefit to you on the backend," says Candice Brown, an MBA student at the University of North Carolina.
The slumping economy has increased enrollment in MBA programs across the country, along with other graduate-level programs. But grad school isn't for everyone and shouldn't be students' back-up plan if they are having a hard time finding a job.
Don't just go because everyone else is
Students may feel compelled to jump on the bandwagon if it seems that all their friends are moving on to grad school. But experts warn that getting caught up in peers' intentions is not a compelling reason to invest the time and money required for grad school.
"I've seen people get into what I describe as the herd mentality," says Beth Flye, director of admissions for MBA@UNC. "People are feeling pressured and putting pressure on themselves and say, OK I need to go to grad school too."
Identify personal or professional reasons for going
Students may feel a sense of urgency that they need to rush back into school the second they get their bachelors degree and aren't able to find their dream job.
But graduate school isn't just a detour for those trying to find a career direction--students need to be confident in their motivation to pursue an advanced degree.
"Make sure that degree that you're looking to go back to receive matches up with your ultimate goals," says Brown. "If you get a degree without a plan for how this might work into your career, it just means you have an extra degree."
Emory grad student Lola Oguyemi advises that students do some self-reflection about their career goals before applying: "What field am I passionate about enough to invest in graduate school? What job can I see myself enjoying and do I need additional school for it? Do I have the time and the money?"
.Logistics of going back to school
The time it takes to complete a graduate degree can vary from a couple of years to five or six, and the experts say students should be prepared to devote the majority of their schedule toward class, studying, and projects.
Along with a substantial time commitment, there is also the major financial commitment.
"You have to weigh out what's going to be the debt factor, but also the other end which is the investment side--what are the fruits of my educational investment and what are those fruits going to be?" says Flye.  "When the rewards down the line can be terrific on the career front, then going into debt on the shorthand may be a worthwhile investment."
Use your resources and ask the right questions
Once the decision to attend grad school is made, the experts suggest students do their due diligence to choose a school or program that will support their academic needs.
College expert Lynn O'Shaughnessy recommends that students thoroughly research all aspects of the program they're considering, including talking to current grad students, faculty, and graduates in their field of interest.
Grad students often work closely and develop relationships with professors, so it's important to understand the kinds of relationships that can be cultivated at different schools.
"Does the department have good mentors? Are they responsive to grad students? What kind of requirements will there be for grad students to teach versus taking their own classes?" says O'Shaughnessy.
While there is no guarantee that getting a graduate degree will make a student more marketable or have greater success, Brown maintains that it can be the right choice for those who are driven and focused.
"I know individuals who went straight from graduate school into successful jobs and others who might have two or three graduate degrees who are still looking for that right opportunity," says Brown. "I think it's simply what tools someone might have in their toolkit to make them successful in the market."