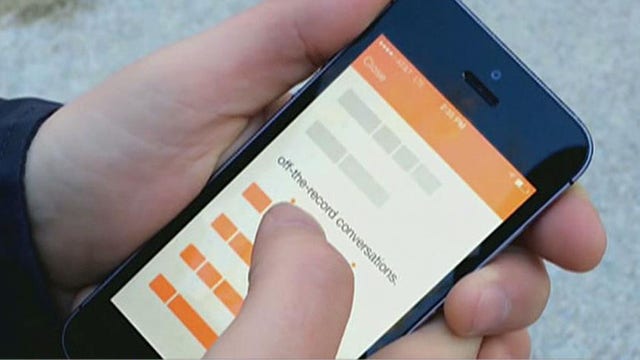 Howard Lerman and John Brod are hoping that one day, your "online permanent record" no longer exists.
The co-founders of Confide are leading the charge with their new app, which launched Wednesday, which allows users to send text-messages that self-destruct once opened. It works using end-to-end encryption and no data is ever stored on its servers—protections the duo say offer the utmost protection to users' texts.
"We can't read the messages," Lerman says. "You have a private key on your phone and can only read the messages sent to you."
The launch is well-timed as it comes a week after SnapChat's data breach that exposed the names and phone numbers of four million users. Snapchat allows users to send people pictures that disappear after a set number of seconds not to exceed 10 seconds.
But Lerman says there are big difference between the two apps.
"SnapChat's hack was a fundamentally different situation," Lerman says who also serves as CEO of Yext, a cloud computing business. "They exposed user names—it was a breach, but it wasn't like people could read the messages. They just exposed user names."
Brod , a former executive at AOL (NYSE: AOL), says that while their counterpart is popular among the teen and tween demo, Confide is aimed at professionals and business people.
Some claim that app enables adults to cheat on their significant others without getting caught, but he insists that is not the app's intent.
"We build this app to be an off-the-record messenger for professionals and business people," he says. "As such, people many use it for many different purposes—some good, some not so good. Any illicit activity is against our terms of service, but it's up to the user to use it appropriately in line with the law and their personal lives."
The pair is not disclosing any user data, but Confide can be downloaded in the iTunes store.
Brod says the two hope the app will help to spark more honest communication.
"This idea that everything you communicate is on your permanent digital record is crazy," he says. "This will help to establish more unfiltered, off-the-record communication."