ConAgra Profit Tops Expectations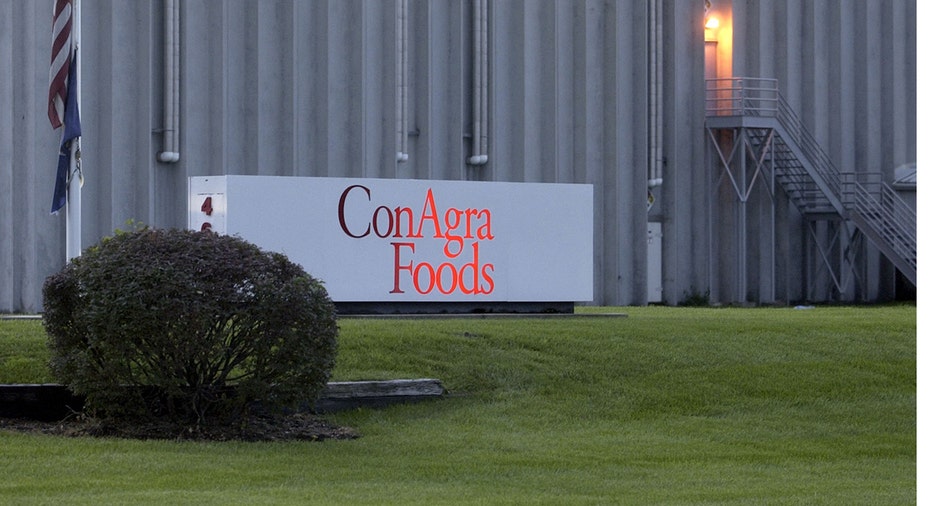 ConAgra Foods Inc. on Tuesday reported a dip in sales, though cost cuts and the planned sale of its private-label business helped drive adjusted profit above Wall Street expectations.
The Omaha-based food maker, known for brands like Pam cooking spray and Chef Boyardee canned pastas, has been reshaping its business this year as it battles weak demand for many traditional U.S. packaged foods.
In November, ConAgra agreed to sell its struggling private-label business for $2.7 billion. Weeks later, it said it would spin off a line of frozen-potato products. It has also announced a plan to cut $300 million in annual costs that included 1,500 layoffs, and said it would move its headquarters to downtown Chicago from Omaha, Neb.
The moves allow ConAgra to focus on making older brands such as Hunt's tomato sauce and Reddi-wip dessert topping more relevant.
Overall for the period ended Nov. 29, ConAgra posted a profit of $154.9 million, or 35 cents a share, up from $10 million, or 2 cents a share a year earlier. Profit in the prior-year period was weighed by a $203 million loss from discontinued operations.
On an adjusted basis, which includes a benefit related to the sale of the private-label business, per-share earnings rose to 71 cents from 61 cents a year earlier.
Analysts polled by Thomson Reuters had forecast 60 cents a a share in earnings.
Revenue fell 1.4% to $3.09 billion, while analysts had forecast $3.34 billion in revenue.
Sales in ConAgra's consumer business fell 2.9%, as a 3% decline in volume offset sales growth at brands such as Marie Callender's and Slim Jim. Operating profit rose 10%, helped by low commodity input costs.
In the commercial foods segment, which includes the potato business it plans to split off, sales rose 1% and operating profit rose 10%, driven by strong Lamb Weston potato sales.
For the current quarter, ConAgra said it expects earnings to be "modestly higher." Analysts are expecting 1% earnings growth, according to Thomson Reuters.
Write to Chelsey Dulaney at Chelsey.Dulaney@wsj.com
Copyright © 2015 Dow Jones Newswires