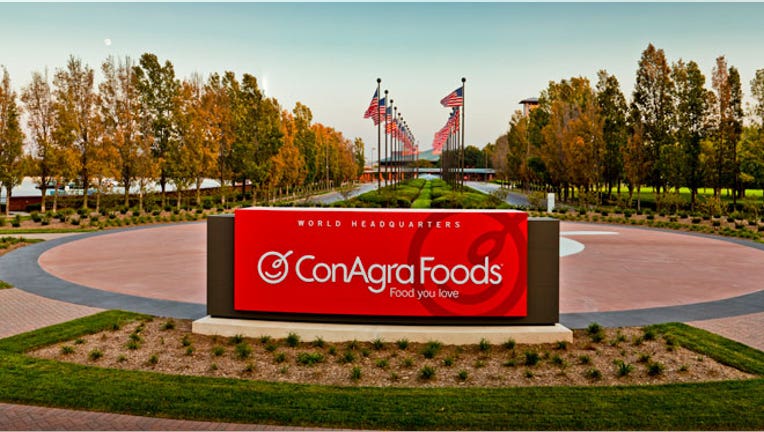 ConAgra Foods (NYSE:CAG) said Thursday its third-quarter earnings nearly doubled, as a sharp increase in sales overshadowed lower volumes.
The packaged-foods giant reported a profit of $234.3 million, or 56 cents a share, compared to $120 million, or 29 cents a share, in the same period a year earlier. Excluding one-time items, earnings climbed to 62 cents from 55 cents.
Revenue grew 15% to $4.39 billion, just short of a consensus estimate of $4.4 billion. ConAgra beat Wall Street's earnings view of 60 cents a share.
ConAgra, which makes Hunt's ketchup, Chef Boyardee pasta and other products, has struggled amid pressures on consumer spending.
The Omaha, Neb.-based company lowered its full-year outlook last month, citing weaker volumes. Meanwhile, it's taking ConAgra longer than anticipated to reach profitability targets at Ralcorp, its private brands business.
In the latest period, price cuts dragged down gross margins to 22.2% from 22.7%.
"As we have previously discussed, there are operating challenges that have impacted segment performance and overall EPS growth, but we are encouraged by some pockets of strength," CEO Gary Rodkin said.
ConAgra's consumer segment booked sales of $1.87 billion, a 3.5% drop. ConAgra said a 3% decline in volume was driven by weakness at Chef Boyardee, Orville Redenbacher's and other key brands.
The addition of Ralcorp, which was acquired for $4.95 billion last year, continued to lift ConAgra's revenue, with sales at its private brands unit more than doubling to $1.06 billion. Commercial foods sales ticked less than 1% lower to $1.47 billion.
Shares jumped 1.9% to $30.16 in pre-market trading. The stock was down 12.2% year-to-date through Wednesday's close.