Companion Tickets: The Perk That's Not Always Rewarding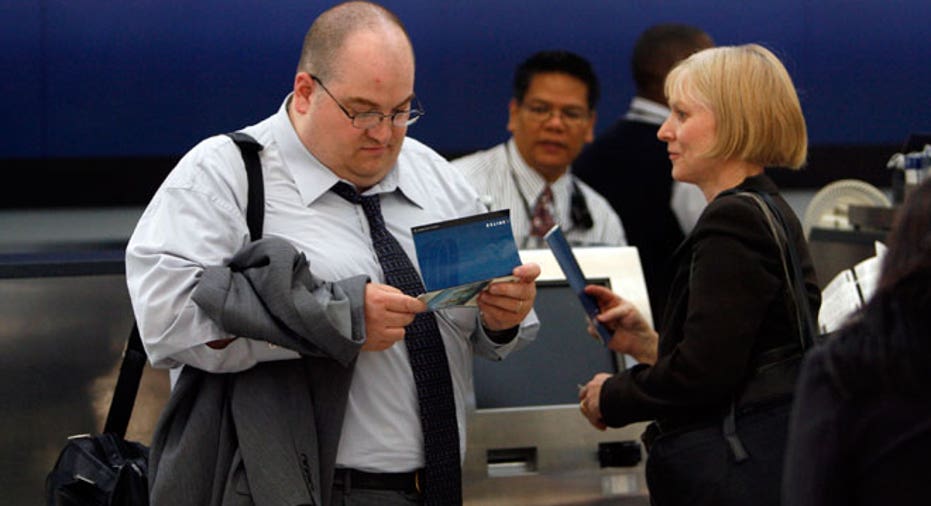 "Buy one, get one free" deals aren't confined to bags of chips at the supermarket or sneakers at the shoe store: Many travel-rewards credit cards offer free or heavily discounted companion tickets on plane flights.
Those perks can save travelers hundreds of dollars, but there are typically requirements and restrictions that can make the offers less appealing.
"It sounds good, but a lot of times it's a marketing angle," says Geoff Whitmore, founder of NoobTraveler, a site that focuses on travel rewards. "You think, 'Oh, a companion ticket.' Then you find out it's not as flexible as you thought when you applied for the card."
The best advice, Whitmore says, is to read the terms and conditions about the companion tickets before you apply for a card, especially if the ability to travel cheaply with a friend or relative is a major reason for applying.
As far as credit card travel perks go, companion tickets have traditionally been a minor selling point, an extra tacked on alongside other features. But with airlines making frequent flier miles more difficult to earn and spend for many travelers, the appeal of a companion ticket could become stronger.
Not all airlines offer companion tickets through credit card rewards programs, and those that do, run the programs in different ways (See chart). Some send yearly coupons. Others are targeted at big spenders or are redeemable only in conjunction with tickets that cost a certain amount. Many can be redeemed online, but with some, you have to book travel the old-fashioned way: by calling the airline or, in one case, a travel agent (remember them?).
Southwest Airlines' program -- one of the more popular ones -- issues a companion pass good for an unlimited number of flights for up to two years. To get it, you have to earn 110,000 frequent-flier points in a calendar year, but that includes spending and sign-up bonuses on Chase's Southwest Airlines Rapid Rewards credit cards.
Child-sleep consultant Lori Strong, 38, of Austin, Texas, qualified for the companion pass last year, through a combination of flights and spending on a Rapid Rewards business card, including a 50,000-point sign-up bonus. She designated her 4-year-old daughter as her companion, and the two have taken trips to California, New York and Maryland, usually to visit relatives with her husband and 8-year-old son.
"It's really been a great thing to have for our family," Strong says. She estimates it has saved more than $1,000. When she books a ticket for herself, she clicks a button on the Southwest website that lets her add a ticket for her daughter. She has to pay an airport security fee of up to $10, but says she has had no problems with availability, even over Christmas holidays.
Some programs 'convoluted'
Matt Hague, founder of finance and travel blog site Saverocity, says the Southwest companion deal is one of the best, especially when Chase offers 50,000-point sign-up bonuses, as it does periodically, including earlier this year. If you were to apply for both the personal and business versions of that card, you would very nearly reach the 110,000 points needed for the pass.
Hague says that approach can be a "great deal," if you happen to live near an airport served by Southwest. Other companion ticket programs can be "more convoluted," he says.
Some airlines offer not passes, but free or deeply discounted companion tickets, issued usually once a year. For instance, holders of cards affiliated with US Airways and Alaska Airlines receive certificates enabling them to buy a second ticket for $99. Holders of certain Delta Airlines-affiliated cards receive annual certificates for a companion to fly for free in coach, in certain fare classes. A card affiliated with Virgin America offers an annual $150 off a second fare.
Of course, there are restrictions. On Barclaycard's US Airways Premier World MasterCard, for example, the fare on the original ticket must be $250 or more, it's available only for coach travel in the U.S. and Canada, and for 2014, the certificate cannot be used on 28 specified dates throughout the year. Plus there are restrictions on flying to certain cities around the Super Bowl, Mardi Gras and the Kentucky Derby.
Other cards make it even more difficult to use a free companion ticket. For instance, with the Citi ThankYou Premier card -- one of the few non-airline cards to offer the benefit -- cardholders receive one free companion ticket a year for a round-trip coach flight in the U.S., but it and the primary ticket must be booked by calling a particular travel company to figure out fares and availability. The travel company's prices can be higher than those on airlines' websites, and the terms and conditions warn that the travel company "may not be able to honor requests for specific airports, airlines, flight times or routings."
International tickets, too
While some cards offer breaks on domestic coach travel, others target big-spending international travelers and are probably out of reach for most consumers. Take Chase's British Airways Visa Signature card. If you make $30,000 in purchases on that card in a year, you'll receive a "Travel Together Ticket," which enables a second person to accompany you when you redeem BA Avios miles for a free trip. It's good on BA flights in coach, business or first class -- but you still have to pay large fuel surcharges estimated between $682 and $1,250 per coach ticket.
Other international carriers such as Lufthansa offer a yearly free companion ticket in coach to holders of the Miles & More World MasterCard by Barclaycard. But downsides include having to pay expensive fuel surcharges and being unable to use the ticket unless you buy one of the more expensive coach fares.
Not every companion-ticket program is for everybody, but most every program will appeal to somebody.
Comedian Dan Nainan, 32, of New York City, says he likes using his free companion ticket on Delta Air Lines every year -- even if it doesn't count toward building up frequent flier miles.
In January, he bought a $253 round-trip coach ticket from New York to Florida to "get away from the freezing cold" for a long weekend visiting his cousin. His girlfriend traveled on the free companion ticket. One drawback to using the pass, Nainan says, is that it makes him ineligible for first-class upgrades he might receive as one of Delta's elite-level frequent fliers. Or, he muses, maybe it's a blessing that he won't catch grief for enjoying first-class perks while his girlfriend suffers in coach.
"Overall, I like it, and it's a great benefit," he says. "It kind of tips the scale toward getting the card and keeping it."
See related: Which travel card perk is the most popular?, Using credit cards to unlock elite airport lounges, 11 hidden credit card perks