Communication Lessons Learned from the Penn State Scandal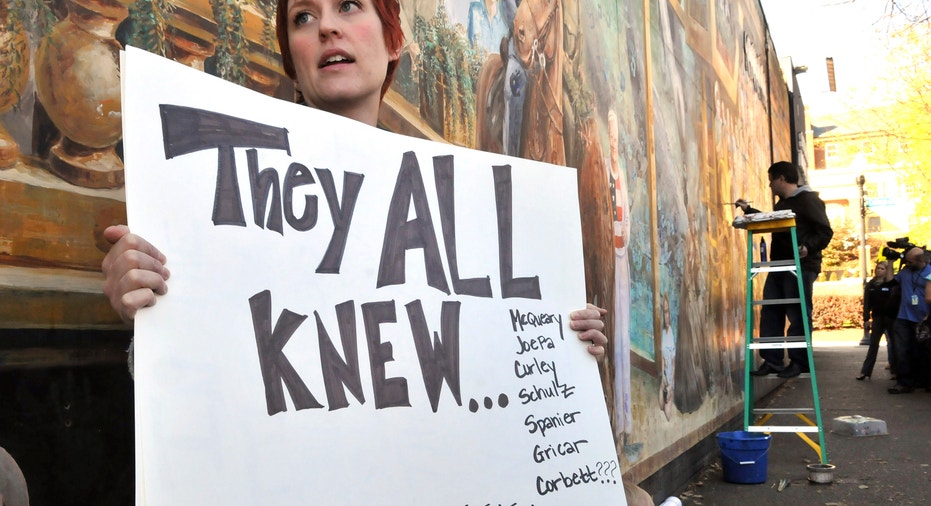 Penn State football received a monumental NCAA ruling Monday, hitting the university with $60 million in fines, taking it out of the postseason for four years and will cap scholarships at 20 for the next four years as well, below the normal limit. Once-revered coach Joe Paterno's 14 years of winnings were also stripped away.
Despite its venerated athletic prowess, Penn State lacked a game plan for workplace communication.
Missing was a formal system for:
Direct, open, 2-way communication, where everyone feels safe to speak up and provides an opportunity for individuals to be heard
Personal accountability, where everyone feels responsible and takes responsibility for sharing timely information
Regular assessment, where everyone is honestly evaluated for his or her behavior to clear, consistent performance criteria.
The result is horrific.
Findings of the widely-publicized report by Chief Investigator Louis J. Freeh indicate employees, managers and executives at the university either witnessed or were informed about the grievous actions of football coach Jerry Sandusky—and, yet, silence prevailed.
Freeh uncovered failures to effectively communicate at every level of the organization—from janitors, who kept mum in fear of losing their jobs, to university executives, who feared direct, swift reporting of incidents and issues could lead to "the opening of Pandora's Box."
Carving a culture of effective communication takes time and steadfast adherence to set standards that don't fade or bend when management or initiatives change.  Over the course of my career, I've helped all kinds of organizations overcome difficult challenges and work better together. The end state is what I call a Spectator-Free Workplace™.  Getting there requires leaders to operate with a game plan driven by these four fundamentals:
No. 1: Face reality head-on. Numbers don't lie. Let data be your guidepost in quantitative and qualitative forms on the current state of workplace communication. Don't assume that honesty or openness prevail. Research by my firm on Lying in the Workplace showed an upward trend in prevalence over the past five years across large and small organizations, non-profits and for-profit firms.
What's the state of your organization? Ask. Use paper surveys or online polls to quickly get data from all associates. Ask no-nonsense questions, like: Do managers sugarcoat messages? Do leaders listen to and value feedback that is considered negative or contrary?  Are people held accountable for sharing important information with team members? Are there real consequences for poor performance? Give people time on the job to answer them, anonymously. Use hard data to drive substantive discussion and decisions about the overarching strategy that will elevate openness and truth as a business imperative.
No. 2: Keep a steady-state schedule. All too often, initiatives designed to improve communication begin with big fan-fares and leader-studded roll-out campaigns, and then wither within months to afterthoughts. Don't commit to any strategy for change without accepting daily responsibility for visibly leading it. You can't delegate commitment. You've got to demonstrate it every day. Start your day with this reflection: What can I do or say at every appointment that will advance our strategy for effective communication? That will signal it's safe to speak up?  Every phone call or meeting is an opportunity to model new practices that will break silence barriers.
No. 3: Don't shoot the messenger. A few months ago, I interviewed a group of employees about the issue of silence during town hall meetings. "There's no way I'm speaking up anymore," emphatically said one worker. When pressed on the matter, he revealed that a question he posed at an earlier meeting raised the ire of his direct manager. Apparently, the manager scolded him for speaking up with a question that made him (the manager) look bad. The employee was verbally slapped silent. In our study, fear reigned in answers to the question: What is the single biggest factor that causes lying in the workplace?
More than half of the respondents cited fear of job loss, repercussion and getting in trouble. Does your behavior scare off feedback? Take stock of your body language and your words.  A scolding facial expression or stern verbal tone will deliver silence and feed the fear factor. When employees see and hear you calmly reward a potentially confrontational question with genuine interest, they will start to believe that it truly is safe to speak up.
No. 4: Stand by your plan. Our study revealed big holes for holding people accountable—regardless of established performance management programs. Respondents cited ill-trained managers who shrug responsibility for dealing with an associate who misses a project milestone or lies about an injury to get out of doing work.
Other comments alluded to information hoarding that pits work teams in opposition and raises organizational silos. And there were numerous mentions of broken promises by leaders, who vow to spend time talking with the troops, but quickly go missing in action and hide behind emails. Not walking the talk is the worst message that any leader can send. Stand by your plan by setting clear outcomes and metrics for evaluating progress. Execution with no excuses is required—just like a world-class athlete vying for a seat in the women's eight crew or men's medley swim team at the upcoming London Olympics.
Note: The absence of an effective, trusted communications process was a significant contributing factor to the scandal at Penn State. The tragedy that continues to unfold is a learning opportunity for every organization. My heart goes out to the innocent victims, their families, and the Penn State community who have been unwittingly affected.
This opinion column was written by Linda Dulye. Dulye is internationally recognized for helping many companies go spectator free. A former communications leader for GE and Allied Signal, Linda established Dulye & Co.  in 1998 with a practical, process-driven approach for improving communications and collaboration through an engaged workforce— a formidable competitive advantage, that she calls a Spectator-Free Workplace™.