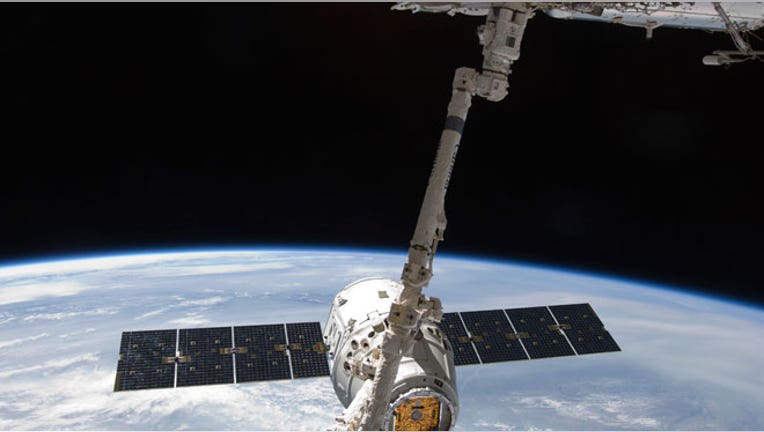 The SpaceX Dragon capsule returned to Earth Thursday in a precise Pacific Ocean splashdown, marking a momentous end to the California company's test mission to the International Space Station (ISS).
The bell-shaped capsule was rocketed into orbit last week, hooked to the ISS and then released back to Earth in a nearly flawless voyage, previously only completed by government bodies like NASA and the European Space Agency.
"In baseball terms, this would be like a grand slam," SpaceX's overjoyed founder, Elon Musk, said during a press conference.
"This couldn't have gone better," he added.
Guided by three massive parachutes through cloudy skies, the 19-foot (5.8m) tall, 12-foot (3.6m) wide capsule plopped into the ocean at 11:42am ET, hundreds of miles off the coast of the Baja California peninsula -- just two minutes earlier than scheduled and within a mile of its targeted location.
There, it was to be plucked from the water by recovery boats.
In the first photo SpaceX released of the capsule bobbing at the ocean's surface, Dragon's white coating appears charred from a fiery reentry into Earth's atmosphere.
"Welcome home, baby," Musk said in reaction to the picture, which he saw for the first time during the press conference.
Dragon will be shipped to the Port of Los Angeles and will then go to SpaceX's McGregor, Texas, facility, about 100 miles (160km) south of Dallas, where its 1,000 pounds (450kg) of cargo will be processed and handed over to NASA.
The capsule itself must also be inspected for a post-flight report, but Musk said initial assessments indicate Dragon "looks really good."
Sitting beside Musk at the news conference, Alan Lindemoyer, head of NASA's commercial cargo office, described SpaceX's success as "just an amazing, amazing mission."
At this point, "it looks like a 100 percent success," he told reporters, adding that SpaceX has created "quite a reliable space transportation system."
The completed mission is a major milestone for SpaceX in its goal to restore US access to the ISS. NASA retired its shuttle fleet last year and the US has since been dependent on Russian Soyuz spaceships to get to the orbiting lab 240 miles (390km) above the Earth.
Dragon was blasted off atop SpaceX's Falcon 9 rocket from Cape Canaveral, Fla., last Tuesday, three days after an initial launch attempt was aborted at the last second over a technical problem.
The capsule ferried only food, water and clothing to the six astronauts on board the ISS, though SpaceX vehicles could soon start regular cargo runs to the station carrying more valuable supplies -- and one day, astronauts.
SpaceX will have to prove "many times over" that its unmanned vehicles can safely go to space and back before it can start putting humans on board, Musk said.
He noted however, "If someone had stowed away on board Dragon, they actually would have been OK."