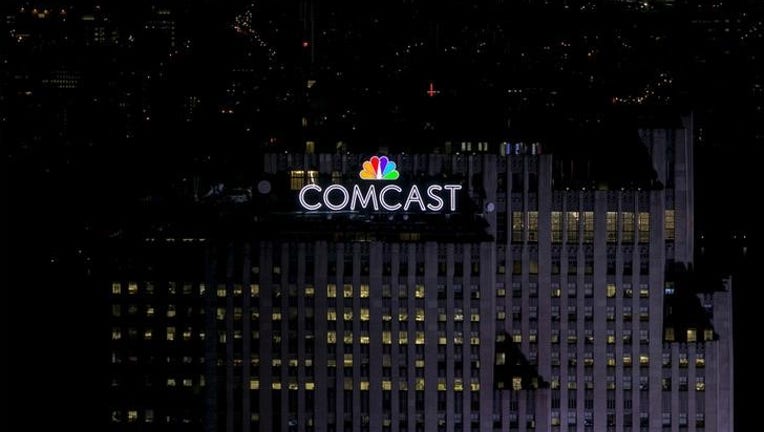 Comcast Corp said on Thursday it is launching a new wireless service with an unlimited data plan, making it the first major U.S. cable provider to enter into the highly competitive wireless market, as it faces pressure in its core business.
Unlimited data, talk and text will be available by mid-year for $65 per line for up to five lines, or $45 per line for customers with Comcast's top X1 packages, which bundle together TV, internet and phone services. Alternatively, customers can opt to pay $12 per gigabyte each month.
In recent months, the four major U.S. wireless carriers - Verizon Communications Inc , AT&T Inc , T-Mobile US Inc and Sprint Corp - have offered unlimited data plans ranging from $50 a month for a single line to $90 a month. [nL1N1FY1FA]
The move into the wireless business by the U.S. No. 1 cable provider shows how cable companies are looking to add more services to their offerings with the hope of reducing customer churn, or attrition, as younger viewers back away from high-priced subscriptions in favor of cheaper options, such as "cutting the cord" entirely and watching online.
Rival cable provider Charter Communications Inc is also planning to launch a wireless service in 2018.
Details released on Thursday offer a glimpse of how Comcast plans to make inroads in an oversaturated market for U.S. wireless service that is increasingly price-driven.
"We believe we have very competitive unlimited plans," said Greg Butz, president of Comcast's mobile business, adding that the company was able to pass savings it generated by packaging the service with high-speed data and video on to consumers. The company does not plan to offer phone subsidies.
The service, dubbed Xfinity Mobile, will launch on Verizon's airwaves as part of a 2011 agreement between the two companies. It will employ Comcast's 16 million Wi-Fi hotspots within its footprint, allowing customers to automatically switch onto Wi-Fi from 4G LTE.
Comcast will limit the service's rollout to customers within its footprint, which includes major markets like Philadelphia and Chicago. It will initially be available only to subscribers who have Xfinity broadband service. Comcast had roughly 25 million high-speed Internet customers in 2016, according to a filing.
Comcast did not say how much it has invested in Xfinity Mobile or what kind of return it expects. Analysts at JPMorgan said in a note in January that building a wireless business could cost Comcast hundreds of millions of dollars a year in the first few years, potentially cutting as much as 5 cents to 10 cents off earnings per share in 2017.
The wireless service will be available on Apple Inc's iPhones as well as Samsung Electronics Co Ltd <005930.KS> Galaxy phones.
(Reporting by Anjali Athavaley; Editing by Bill Rigby)